Top 50 Best High-End Major Art Magazines and Media

An ART MAGAZINE is a publication whose main topic is art. They can be in print form, online, or both and may be aimed at different audiences, including galleries, buyers, amateur or professional artists and the general public. Art magazines can be either trade or consumer magazines or both.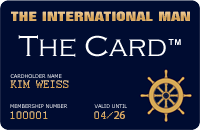 Upcoming VIP Privilege Membership Card
The International Man will in the near future be launching its own PRIVILEGE & BENEFIT VIP MEMBERSHIP CARD - named simply 'The Card'. Members will receive special privileges, benefits and preferential rates with selected partner hotels, restaurants, our LUXURY WEBSHOP, and more. Enter your name and e-mail address to receive FREE INFO about 'The Card' HERE.
RETURN TO TOP OF PAGE