Top Social Networking and Business Network Services

A SOCIAL NETWORKING service is a platform to build social networks or social relations among people who, share interests, activities, backgrounds or real-life connections. A social network service consists of a representation of each user (often a profile), his social links, and a variety of additional services. Social networking is web-based services that allow individuals to create a public profile, to create a list of users with whom to share connection, and view and cross the connections within the system. Most social network services are web-based and provide means for users to interact over the Internet, such as e-mail and instant messaging. Social network sites are varied and they incorporate new information and communication tools such as, mobile connectivity, photo/video/sharing and blogging. Online community services are sometimes considered as a social network service, though in a broader sense, social network service usually means an individual-centered service whereas online community services are group-centered. Social networking sites allow users to share ideas, pictures, posts, activities, events, interests with people in their network.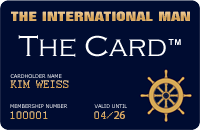 Upcoming VIP Privilege Membership Card
The International Man will in the near future be launching its own PRIVILEGE & BENEFIT VIP MEMBERSHIP CARD - named simply 'The Card'. Members will receive special privileges, benefits and preferential rates with selected partner hotels, restaurants, our LUXURY WEBSHOP, and more. Enter your name and e-mail address to receive FREE INFO about 'The Card' HERE.
RETURN TO TOP OF PAGE