60 Best High-End Tailors On Savile Row & In London

"Being perfectly well-dressed gives one a tranquillity that no religion can bestow." - Ralph Waldo Emerson.

SAVILE ROW is a shopping street in Mayfair, central London, famous for its traditional men's bespoke tailoring. The term "bespoke" is understood to have originated in Savile Row when cloth for a suit was said to "be spoken for" by individual customers. The short street is termed the "golden mile of tailoring", where customers have included Winston Churchill, Lord Nelson and Napoleon III. Savile Row runs parallel to Regent Street between Conduit Street at the northern end and Vigo Street at the southern. Linking roads include Burlington Place, Clifford Street and Burlington Gardens. Savile Row was built between 1731 and 1735 as part of the development of the Burlington Estate, and is named after Lady Dorothy Savile, wife of the 3rd Earl of Burlington. It originally ran from Burlington Gardens (then Vigo Lane) to Boyle Street, with houses only on the east side, but in 1937-8 it extended to Conduit Street, and in the 19th century houses were built on the west side.

During the 19th century, the gentry became concerned with neat dress, and Beau Brummell epitomised the well-dressed man. He patronised the tailors congregated on the Burlington Estate, notably around Cork Street, and by 1803 some were occupying premises in Savile Row. None of those original tailors survive today. In 1846, Henry Poole is credited as being the 'Founder of Savile Row' after opening a second entrance to his late father's tailoring premises at No. 32 Savile Row; however, there were tailors on the Row long before Poole's. In 1969, Nutters of Savile Row modernised the style and approach of the traditional tailors; a modernisation which continued in the 1990s with the arrival of designers like Richard James, Ozwald Boateng and Timothy Everest.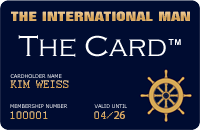 Upcoming VIP Privilege Membership Card
The International Man will in the near future be launching its own PRIVILEGE & BENEFIT VIP MEMBERSHIP CARD - named simply 'The Card'. Members will receive special privileges, benefits and preferential rates with selected partner hotels, restaurants, our LUXURY WEBSHOP, and more. Enter your name and e-mail address to receive FREE INFO about 'The Card' HERE.
RETURN TO TOP OF PAGE