Top 100 Best High-End Designer Polo Shirts & T-Shirts

A POLO SHIRT, also known as a golf shirt and tennis shirt, is a T-shaped shirt with a collar, typically a two- or three-button placket, and an optional pocket. Polo shirts are usually made of knitted cloth (rather than woven cloth), usually piqué cotton or, less commonly, silk, merino wool, or synthetic fibers.

In the 19th and early 20th centuries, tennis players ordinarily wore "tennis whites" consisting of long-sleeved white button-up shirts (worn with the sleeves rolled up), flannel trousers, and ties. This attire presented problems for ease of play and comfort.

René Lacoste, the French 7-time Grand Slam tennis champion, decided that the stiff tennis attire was too cumbersome and uncomfortable. He designed a white, short-sleeved, loosely knit piqué cotton (he called the cotton weave jersey petit piqué) shirt with an unstarched, flat, protruding collar, a buttoned placket, and a longer shirt-tail in back than in front (known today as a "tennis tail"), which he first wore at the 1926 U.S. Open championship. Beginning in 1927, Lacoste placed a crocodile emblem on the left breast of his shirts, as the American press had begun to refer to him as "The Crocodile", a nickname which he embraced.

PIQUÉ refers to a weaving style, normally used with cotton yarn, which is characterized by raised parallel cords or fine ribbing. It creates a fine textured surface that appears similar to a waffle weave. Commonly used for polo shirts.

A T-SHIRT is a shirt which is pulled on over the head to cover most of a person's torso. A T-shirt is usually buttonless and collarless, with a round neck and short sleeves.

T-shirts are typically made of cotton or polyester fibers (or a mix of the two), knitted together in a jersey stitch that gives a T-shirt its distinctive soft texture. T-shirts can be decorated with text and/or pictures, and are sometimes used to advertise.

The T-shirt evolved from undergarments used in the 19th century, through cutting the one-piece "union suit" underwear into separate top and bottom garments, with the top long enough to tuck under the waistband of the bottoms. T-shirts, with and without buttons, were adopted by miners and stevedores during the late 19th century as a convenient covering for hot environments.

Following World War II it became common to see veterans wearing their uniform trousers with their T-shirts as casual clothing, and they became even more popular after Marlon Brando wore one in A Streetcar Named Desire, finally achieving status as fashionable, stand-alone, outer-wear garments.

A T-shirt typically extends to the waist. Variants of the T-shirt, like the tank top, crew neck, A-shirt (with the nickname "wife beater"), muscle shirt, scoop neck, and the V-neck have been developed. Hip hop fashion calls for "tall-T" T-shirts which may extend down to the knees. A 1990s trend in women's clothing involved tight-fitting "cropped" T-shirts that are short enough to reveal the midriff. Another popular trend is wearing a "long-sleeved T-shirt", then putting a short-sleeved T-shirt of a different color over the long-sleeved shirt; this is known as "layering".

A HENLEY shirt is a collarless men's casualwear pullover shirt, characterized by a 4-6" long slit beneath the round neckline, usually having 2-5 buttons. It essentially resembles a collarless polo shirt. The sleeves may be either short or long sleeve, and it can be made in almost any fabric, although cotton and cotton-polyester blends are by far the most popular. Henley shirts are generally regarded as menswear, although women sometimes wear them, too.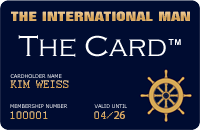 Upcoming VIP Privilege Membership Card
The International Man will in the near future be launching its own PRIVILEGE & BENEFIT VIP MEMBERSHIP CARD - named simply 'The Card'. Members will receive special privileges, benefits and preferential rates with selected partner hotels, restaurants, our LUXURY WEBSHOP, and more. Enter your name and e-mail address to receive FREE INFO about 'The Card' HERE.
RETURN TO TOP OF PAGE