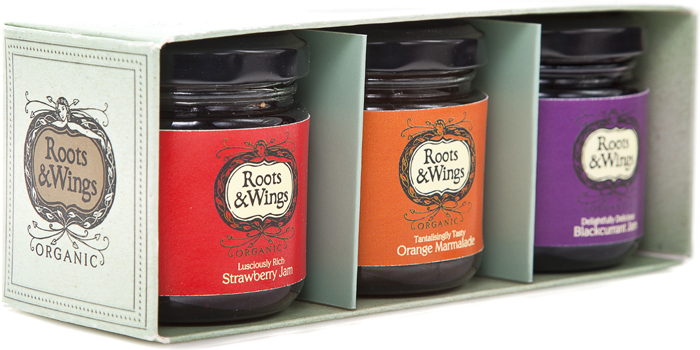 Top 20 best English jam & marmalade online suppliers

"Wit ought to be a glorious treat like caviar; never spread it about like marmalade." - Noël Coward.

"Marmalade in the morning has the same effect on taste buds that a cold shower has on the body." - Jeanine Larmoth.

MARMALADE is a fruit preserve made from the juice and peel of citrus fruits boiled with sugar and water. It can be produced from kumquats, lemons, limes, grapefruits, mandarins, sweet oranges, bergamots and other citrus fruits, or any combination thereof.

The benchmark citrus fruit for marmalade production in Britain is the Spanish Seville orange, Citrus aurantium var. aurantium, prized for its high pectin content, which gives a good set. The peel has a distinctive bitter taste which it imparts to the marmalade.

Marmalade is generally distinguished from jam by its fruit peel. It may also be distinguished from jam by the fruits used.

JAM typically contains both the juice and flesh of a fruit or vegetable, although some cookbooks define it as a cooked and jelled puree.

The term "jam" refers to a product made of whole fruit cut into pieces or crushed then heated with water and sugar to activate its pectin before being put into containers: "Jams are usually made from pulp and juice of one fruit, rather than a combination of several fruits. Berries and other small fruits are most frequently used, though larger fruits such as apricots, peaches, or plums cut into small pieces or crushed are also used for jams. Good jam has a soft even consistency without distinct pieces of fruit, a bright color, a good fruit flavor and a semi-jellied texture that is easy to spread but has no free liquid." – Berolzheimer R (ed) et al. (1959).

Jam is an interesting condiment because its neither a solid or a liquid. It can contain chunks of fruit which are solids, but if let out of the refrigerator the juicy bit becomes a liquid. Also jam moves to fit a container, which is one of the properties of a liquid.

Top 20 Best English Jam & Marmalade Online Suppliers

Chivers Olde English Marmalade 340g 12oz
ENGLISH JAM AT AMAZON.COM'S GROCERY & GOURMET FOOD - 324 results as of January 17, 2018.
DALLMAYR - founded in 1700.
DEAN & DELUCA - "Purveyors of Fine Food & Online Gourmet Suppliers Since 1977."
DEMEL - since 1786. K. u. K. Hofzuckerbäcker. Vienna, Austria. Online store.
Duerr's - since 1881. Jams & marmalades.
Dundee Orange Marmalade - 16 oz (2 pack)
Elizabethan Pantry Jams - "Handmade in England."
follÁin jams - "The Irish for wholesome."
FORTNUM & MASON - since 1707. Traditional English marmalades. "Marmalade is the backbone of the British breakfast table, and has long been a favourite at Fortnum's. Our considerable collection of marmalades includes every variety one could wish for. Every marmalade is made by hand in small batches in the traditional manner to ensure a superb breakfast experience."
FRANK COOPER'S ORIGINAL OXFORD MARMALADE
Fruitfield Old Time Coarse Irish Marmalade - 454g - 16oz
Grant's of Scotland's Christmas Orange Marmalade with Champagne - 12oz
HARRODS - "Luxury Jams & Preserves."
HARVEY NICHOLS - jam & preserves.
Keiller Dundee Orange Marmalade - named after its creator Janet Keiller, and is believed to have been the first commercial brand of marmalade, originating in Dundee, Scotland.
Mackays - since 1938. "Mackays are the only remaining producers of 'The Dundee Orange Marmalade' in the Dundee area – the home of Marmalade."
Mrs. Bridges Dundee Orange Marmalade, 12-Ounce Jars (Pack of 4)
Ritz Paris Gourmet - Jams.
Robertson's - "The genius who created Robertson's Marmalade was Mrs James Robertson who started making preserves in the back of a shop in 1864. So good is Robertson's marmalade that it has held a Royal Warrant since 1933. The most recognised product in the range is Golden Shred which is great on hot toast and a must for every family's fridge."
The Royal Collection - "Whether you are packing your picnic hamper or preparing for a delicious afternoon tea with freshly baked scones, add our delightful jars of fruity jam to the selection. From traditional strawberry preserve to tangy orange marmalade these condiments are handmade in the United Kingdom from the finest ingredients."
Tiptree - "Marmalades to suit every taste, from sweet and tangy fine cut varieties to strong, thick cut bitter marmalades. All are made from the finest citrus fruits using traditional recipes."
Wilkin & Sons - since 1885. "Quality Jams and Preserves."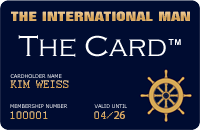 Upcoming VIP Privilege Membership Card
The International Man will in the near future be launching its own PRIVILEGE & BENEFIT VIP MEMBERSHIP CARD - named simply 'The Card'. Members will receive special privileges, benefits and preferential rates with selected partner hotels, restaurants, our LUXURY WEBSHOP, and more. Enter your name and e-mail address to receive FREE INFO about 'The Card' HERE.
RETURN TO TOP OF PAGE