Top 100 Best Luxury Pocket Squares & Handkerchiefs

A HANDKERCHIEF (also called handkercher or hanky) is a form of a kerchief, typically a hemmed square of thin fabric that can be carried in the pocket or purse, and which is intended for personal hygiene purposes such as wiping one's hands or face, or blowing one's nose. A handkerchief is also sometimes used as a purely decorative accessory in a suit pocket. When used as an accessory to a suit, a handkerchief is known as a POCKET SQUARE. There are a wide variety of ways to fold a pocket square, ranging from the austere to the flamboyant.

The material of a handkerchief can be symbolic of the social-economic class of the user, not only because some materials are more expensive, but because some materials are more absorbent and practical for those who use a handkerchief for more than style. Handkerchiefs can be made of cotton, cotton-synthetic blend, synthetic fabric, silk, or linen.

Historically, white handkerchiefs have been used in place of a white flag to indicate surrender or a flag of truce; in addition to waving away sailors from port. King Richard II of England, who reigned from 1377 to 1399, is widely believed to have invented the cloth handkerchief, as surviving documents written by his courtiers describe his use of square pieces of cloth to wipe his nose.

HANDKERCHIEF FOLDING STYLES:
The Presidential, perhaps the simplest, is folded at right angles to fit in the pocket.

The TV Fold looks similar but is folded diagonally with the point inside the pocket.

The One-point Fold is folded diagonally with the point showing.

The Two-point Fold is folded off-center so the two points do not completely overlap.

The Three-point Fold is first folded into a triangle, then the corners are folded up and across to make three points.

The Four-point Fold is an off-center version of the Three-point Fold.

The Cagney is basically a backwards version of the Four-point Fold.

The Puff or The Cooper is simply shaped into a round puff.

The Reverse Puff is like the Puff, except with the puff inside and the points out, like petals.

The Astaire is a puff with a point on either side.

The Straight Shell is pleated and then folded over to give the appearance of nested shells.

The Diagonal Shell is pleated diagonally and then folded.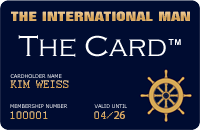 Upcoming VIP Privilege Membership Card
The International Man will in the near future be launching its own PRIVILEGE & BENEFIT VIP MEMBERSHIP CARD - named simply 'The Card'. Members will receive special privileges, benefits and preferential rates with selected partner hotels, restaurants, our LUXURY WEBSHOP, and more. Enter your name and e-mail address to receive FREE INFO about 'The Card' HERE.
RETURN TO TOP OF PAGE