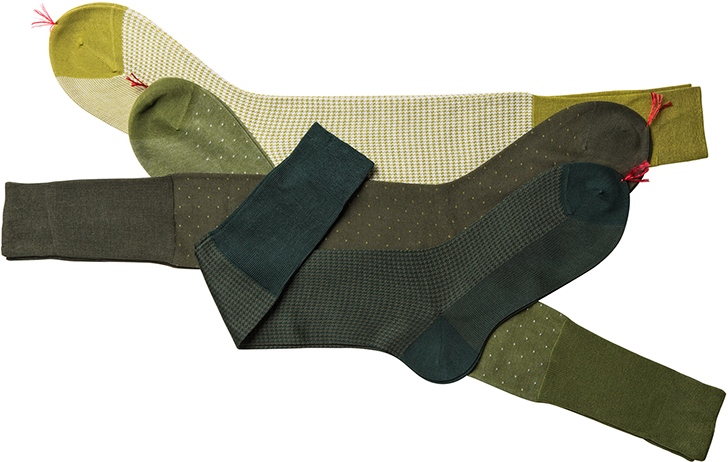 Top 150 Best High-End Luxury Socks / Hosiery Makers

A SOCK is an item of clothing worn on the feet. The foot is among the heaviest producers of sweat in the body, able to produce over a pint of perspiration per day. Socks help to absorb this sweat and draw it to areas where air can evaporate the perspiration. In cold environments, socks decrease the risk of frostbite. Its name is derived from the loose-fitting slipper, called a soccus in Latin, worn by Roman comic actors.

Socks have evolved over the centuries from the earliest models which were made from animal skins gathered up and tied around the ankles. In the 8th century BC, the Ancient Greeks wore socks from matted animal hair for warmth. The Romans also wrapped their feet with leather or woven fabrics. By the 5th century AD, socks called "puttees" were worn by holy people in Europe to symbolise purity. By 1000 AD, socks became a symbol of wealth among the nobility. From the 16th century onwards, an ornamental design on the ankle or side of a sock has been called a clock.

The invention of a knitting machine in 1589 meant that socks could be knitted six times faster than by hand. Nonetheless, knitting machines and hand knitters worked side by side until 1800.

The next revolution in sock production was the introduction of nylon in 1938. Until then socks were commonly made from silk, cotton and wool. Nylon was the start of blending two or more yarns in the production of socks, a process that still continues.

Socks are manufactured in a variety of lengths. Bare or ankle socks extend to the ankle or lower and are often worn casually or for athletic use. Bare socks are designed to create the look of "bare feet" when worn with shoes. Knee-high socks are sometimes associated with formal dress or as being part of a uniform, such as in sports or as part of a school's dress code or youth group uniform. Over-the-knee socks or socks that extend higher (thigh-high socks) are today considered female garments. They were widely worn by children, both boys and girls, during the late-19th and early-20th centuries, although the popularity varied widely from country to country.

HOSIERY, also referred to as legwear, describes garments worn directly on the feet and legs. The term originated as the collective term for products of which a maker or seller is termed a hosier; and those products are also known generically as hose. The term is also used for all types of knitted fabric, and its thickness and weight is defined in terms of denier or opacity. Most hosiery garments are made by knitting methods. Modern hosiery is usually tight-fitting by virtue of stretchy fabrics and meshes. Older forms include binding to achieve a tight fit. Due to its close fit, most hosiery can be worn as an undergarment, but it is more commonly worn as a combined under/outer garment.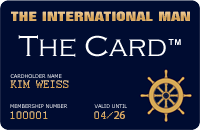 Upcoming VIP Privilege Membership Card
The International Man will in the near future be launching its own PRIVILEGE & BENEFIT VIP MEMBERSHIP CARD - named simply 'The Card'. Members will receive special privileges, benefits and preferential rates with selected partner hotels, restaurants, our LUXURY WEBSHOP, and more. Enter your name and e-mail address to receive FREE INFO about 'The Card' HERE.
RETURN TO TOP OF PAGE