Top 50 Best High-End Chef's & Kitchen Knives Brands

"As a starter chef's knife, the Global is pretty good for a first timer." - Anthony Bourdain.

In cooking, a CHEF'S KNIFE, also known as a cook's knife, is a cutting tool used in food preparation. The chef's knife was originally designed primarily to slice and disjoint large cuts of beef. Today it is the primary general-utility knife for most western cooks.

A chef's knife generally has a blade eight inches (20 centimeters) in length and 1½ inches (3.8 cm) in width, although individual models range from 6 to 14 inches (15 to 36 centimetres) in length. There are two common types of blade shape in western chef's knives, French and German. German-style knives are more deeply and continuously curved along the whole cutting edge; the French style has an edge that is straighter until the end and then curves up to the tip. Neither style is inherently superior; personal preference will dictate the choice.

A Japanese chef's knife is known as a gyuto, literally meaning 'beef knife'. Its blade resembles a flatter version of a French chef's knife. Japanese cutlery is known for sharpness due to its acute blade geometry, and the hardness of the steel used, sometimes exceeding 60 HRC on the Rockwell scale. A typical western chef's knife may be sharpened to an edge angle of 20-22°, while a Japanese gyuto generally has a sharper edge angle of 15-18°, which requires a harder, more brittle grade of steel. In recent years Japanese gyuto have gained in popularity with western chefs.

A modern chef's knife is a multi-purpose knife designed to perform well at many differing kitchen tasks, rather than excelling at any one in particular. It can be used for mincing, slicing, and chopping vegetables, slicing meat, and disjointing large cuts.

A KITCHEN KNIFE is any knife that is intended to be used in food preparation. While much of this work can be accomplished with a few general-purpose knives – notably a large chef's knife, a tough cleaver, and a small paring knife – there are also many specialized knives that are designed for specific tasks. Kitchen knives can be made from several different materials.

A HONING STEEL, sometimes referred to as sharpening steel, whet steel, sharpening stick, sharpening rod, butcher's steel, and chef's steel, is a rod of steel, ceramic or diamond-coated steel used to realign blade edges. They are flat, oval, or round in cross-section and up to 1 foot (30 cm) long. The steel and ceramic honing steels may have longitudinal ridges, whereas the diamond-coated steels are smooth but embedded with abrasive diamond particles.

8 Very Best Knife Sets - "Best overall | Best less expensive | Best simple | Best four-piece | Best with steak knives included | Best without a serrated knife | Best high level | Best for camping." The Strategist.
An overview of the different steel types for kitchen knives - "Steel types for kitchen knives." When you purchase a knife we recommend getting familiar with the types of steel available and choosing one that suits the expectations you have for a knife. We made an overview of the most common types of steel used for kitchen knives.
Aritsugu - Japanese knife and cooking utensil producer and store, founded by Fujiwara Aritsugu in 1560. It is one of the oldest knifemakers in Japan.
Best Direct-to-Consumer Kitchen Knives in 2022 - "Go ahead, slice out the middleman."
Best kitchen knife sets of 2023 - "High-quality, super-sharp kitchen knives make culinary tasks easier and safer. (Did you know that dull knives are actually more dangerous?) While many home cooks will fare just fine with a basic chef's, paring and serrated knife, investing in a set, housed neatly in a handsome knife block, adds versatility - and, for real cooking nerds, even joy - to meal making. To help you choose the best knife set for you, we spent the past several weeks testing 11 of the top-rated knife sets. We chopped, diced and sliced, loading our cutting board with fruit, veggies, herbs, bread, meat and cheese to see which blades did the best job. In the end, we came up with three winners any home chef would find to be - er - a cut above the rest."
Best Knife Sharpener for 2023 - "After testing 11 sharpeners - and slicing through 10 pounds of tomatoes - we think the Chef'sChoice Trizor XV is the best for home cooks. It gently puts a razor edge on dulled knives of almost every sort: Japanese- and German-style, stamped and forged, cheap and expensive." Reviews by Wirecutter.
Can one kitchen knife do the job of a full set? - "Many of our cooks say they use only one knife - so make it a good one."
Chef Knife Roll Bag Holds 10 Knives PLUS Slots for Culinary Tools - Canvas and Leather Knife Carrying Case for Professional Chefs - Bag Only. At Manazon.com
CHEF'S KNIFE - Wikipedia.
Elements of steel - types of steel: from hard high carbon shiro-ko steel to stain resistant ao-ko steel.
Honing steel - sometimes referred to as sharpening steel, whet steel, sharpening stick, sharpening rod, butcher's steel, and chef's steel, is a rod of steel, ceramic or diamond-coated steel used to realign blade edges.
Honyaki - (literally true-fired) is the name for the Japanese traditional method of construction most often seen in kitchen knives (but also other tools) of forging a blade in technique most similar to the tradition of nihonto from a single piece of high-carbon steel covered with clay to yield upon quench a soft, resilient spine, a hamon (or temper line), and hard, sharp edge.
How To Improve Your Knife Skills In The Kitchen - Jen Reviews.
'I sliced the tops off four fingers': what my worst kitchen accidents taught me - "Broken glass, boiling water, sausages: you name it, it's possible to injure yourself with it. As I have demonstrated ..."
Japanese Chef Knives at Amazon.com - as of February 7, 2020: 4,000+ results.
JAPANESE CUTLERY - Wikipedia.
KITCHEN KNIFE - Wikipedia.
Knife sharpening - Wikipedia.
Paris RhÔne 16-Piece Kitchen Knife Set Review - Delishably.
Rockwell scale - hardness scale based on indentation hardness of a material. There are different scales, denoted by a single letter, that use different loads or indenters. The result is a dimensionless number noted as HRA, HRB, HRC, etc., where the last letter is the respective Rockwell scale.
Santoku Knife - general-purpose kitchen knife originating in Japan.
Sharpening stone - water stones or whetstones are used to sharpen the edges of steel tools and implements through grinding and honing.
Shirogami vs. Aogami: What's the Difference? - "When shopping for Japanese high carbon steel knives, you're bound to come across the two main types of steel: Shirogami and Aogami. Both types of steel are excellent for knife making, but there are some critical differences between them. Shirogami is what most refer to as white steel, while Aogami is the coveted blue paper steel. The main difference between Shirogami vs. Aogami is that Shirogami can be sharpened to a razor-sharp edge but is more brittle and susceptible to rust. In contrast, Aogami is harder and more corrosion-resistant but tougher to sharpen. Another difference is that blue steel contains chromium (Cr) and tungsten (W)."
SLICE & CHOP IN ELEGANCE WITH THESE LOVELY KITCHEN KNIVES - "Edge of Belgravia's new $299 Japanese-steel knife set will inspire your most wishful culinary dreams."
Taiwan's 2,000-year-old knife massage - "Quick chopping motions are expected in many types of massage. But in daoliao, or knife massage, the chopping is done with real blades."
The Biggest Drawback Of Magnetic Knife Strips - "The ultra-strong magnet might keep your knives fastened to the wall, but that strength will also damage the blades over time and compromise their structural integrity. Knife strips can also leave cosmetic scratches on the side of your knife's blade."
The Case for Mastering Basic Knife Skills - The New York Times.
These Are the Only Kitchen Tools You Need - The New York Times.
THESE BEAUTIFUL CERAMIC KNIVES WILL KEEP YOUR KITCHEN LOOKING SHARP - "Super-hard ceramic meets super-smart design in a lovely set of kitchen knives."
Top 10 Wetstone Sharpening 2019 - SVMS.org.
Why You Should Never Use A Metal Knife To Slice An Avocado - "Since stainless steel knives contain copper and iron, says Allrecipes, these metals activate the enzymes in avocados that cause the fruit's flesh to turn brown in the presence of oxygen. Slicing into an avocado with a metal knife speeds up the browning process, which can lead your avocado to go bad prematurely."
YOU NEED A NEW KITCHEN KNIFE - "Our kitchen gear expert gives you some points to consider when adding a new blade to your quiver."

Top 50 Best High-End Chef's & Kitchen Knives Brands

Alain Saint Joanis - "Designing and creating exceptional cutlery since 1876." Made in France. All Collections.
ARITSUGU KNIVES - since 1560. "Aritsugu is established by Fujiwara-no Aritsugu, a gifted sword craftsman more than 400 years ago. Today, Aritsugu is known as one of the best knife makers in Japan and has gained the highest reputation by top Japanese chefs. Aritsugu's handcrafted knives are surprisingly sharp, well balanced and will fit in your hand smoothly."
Athena Cutlery - "Damascus Steel Kitchen Knives." Athena Blades' skilled artisans specialize in one of history's most alluring and mysterious materials: Damascus steel. Made from layering hard carbon steels together, the end result is incredibly durable as well as aesthetically striking.
BERTI CUTLERY - handmade knives since 1895. "Original Italian Knives." Coltellerie Berti has built up through the 600+ models that we have developed over the course of the past century.
BÖKER Solingen - since 1869. "Your Knife Made in Solingen." Not only professionals rely on the best tools in the kitchen, but also in everyday life, the sharpness, ergonomics and quality of a good chef's knife is extremely valuable. Anyone who has ever known and appreciated sharp knives in the kitchen would not want to miss them in the future. Our kitchen knives impress with high-quality workmanship, extraordinary designs and innovative blade materials.
BRIETO KNIVES - since 1958. "Brieto kitchen knife series are produced by by KATAOKA & Co.,Ltd. that is one of the excellent kitchen knife manufacturers in Niigata, Japan. Futuristic and Stylish - Brieto knives are durable, sharp, and have high hardness due to the heat and cooling treatment during production."
Couzon Steak Knives - since 1934. "Couzon offers a variety of styles and prices ranges on boxed sets of steak knives. Couzon steak knives are available in mixed sets of wood handles as well as stainless handles in a variety of textures and finishes."
Eden kitchen knives - "Eden kitchen knives, amazing quality for amazing prices." The kitchen knives of Eden are exclusively sold at knivesandtools.co.uk. With Eden knives we always provide an alternative for the famous brands of kitchen knives: a very high quality at a very affordable price. If you want a professional kitchen knife at a perfect price, choose an Eden kitchen knife.
F. Dick Pro-Dynamic Offset Bread/Utility Knife 7" blade high carbon steel - since 1778. "Pro Dynamic: the modern knife range, with full plastic handle and quality blade. The ergonomic handle will not slip in your hand. The plastic handle and the blade are connected seamlessly. High quality steel to ensure high sharpness retention. Safety through slip resistant handle material."
F. Dick - since 1778. "Chef's knives come in a variety of shapes and designs. Their shapes are primarily based on their range of application. Filleting, tourning, slicing and many other applications are completely covered by F. DICK knives."
Fiskars - since 1649. "At Fiskars we understand how important good knives are for successful cooking. That's why we have developed a wide range of knives for all chefs and cooking needs. Our knives are made of quality materials, and the selection spans knives for everyday cooking as well as award-winning specialty knives for the most demanding gourmet chefs."
GLESTAIN KNIVES - since 1971. "Glestain knives can be recognized by their patented hollow ground design. The dimples on the blade's surface prevent ingredients from sticking, allowing for faster, easier, and more efficient cutting. Glestain blades are constructed out of Acuto 440 steel, which undergoes a sub-zero manufacturing process to ensure a durable edge. Some styles feature a stainless steel cap on the bottom of the water resistant hardwood handle that can be used for opening shellfish shells."
GLOBAL KNIVES - "The first GLOBAL knives were designed in 1985 by Komin Yamada whose aim was to develop a range of knives which was truly new and revolutionary, harnessing the best materials available and the most modern design concepts." Made from the finest stainless steel material. The blades utilize CROMOVA 18 stainless steel.
Hiromoto Tenmi-Jyuraku Aogami Super Series - "Master Futoshi Nagao has spent tremendous times to study each characteristic of steel chemicals. After trial and error in forging and heat treatment processes, he has succeeded in obtaining the utmost performance of the steel."
HONYAKI KNIVES - "The Honyaki knives can only be made by a few skilled craftsmen in Japan in same method as traditional Japanese sword. It is an art of craftsmanship with Japanese traditional techniques, and features outstanding sharpness and durability. The production is very small, due to the difficulty and time-consuming process."
ITTOSAI KOTETSU KNIVES - "Our founder Kusutaro Takahashi named it meaning 'the knife of KOTETSU' in honor of 'KOTETSU,' a famous Japanese swordsmith of the Edo period. The signature 'Ittosai KOTETSU' is engraved in our high quality knives."
J.A. Henckels International Forged Premio 8-Inch Chef - since 1731. Fabricated from high-quality German stainless steel. Forged bolster construction offers durability and a seamless transition from blade to handle. Professional satin-finished blade boasts precision cutting and is finely honed for long-lasting sharpness. Modern triple-rivet design is curved for comfort. Dishwasher safe.
Japanese Chef Knives at Amazon.com - as of November 3, 2022: 879 results.
JAPANESE CHEFS KNIFE.COM - "Fine Japanese Chef's Knives direct from Japan." JapaneseChefsKnife.Com (JCK, since 2003) ship Japan's top brand knives worldwide at special price. Over 1500 kinds of huge selections!
Kai Kitchen KNIVES - "Kai knives have true cult status in Japan. Kai knives was created in 1908 in the knife centre of the world: Seki."
KANEHIRO KNIVES - since 1928. "Kanehiro knives come in two flavors. Ginsan and Aogami Super steel." The knives have high hardness of HRC 62-63.
Kanetsugu - since 1345. "Amazing sharpness! Kanetsugu's own research and technique made it possible. Located in Seki city of Japanese knife capital and 800 years long Sword making history, Kanetsugu is producing Katana sharp kitchen knives at reasonable price."
KORIN - since 1982. "Fine Japanese Tableware and Chef Knives." Korin is proud to offer the world's finest handmade Japanese knives, all crafted in Japan by master artisans. Two broad categories define Japanese chef knives: Traditional Japanese chef knives like yanagi, usuba and deba, and Western-style chef knives, also called gyuto. The Bugatti Veyron of knives.
Korin Special Inox Orange Handle - "The Korin Special Inox is an original design created by Korin's resident knife master, Chiharu Sugai and Knife System's founder, Junro Aoki. The special grade stain resistant AUS-10 steel has a higher carbon content, giving it the cut and feel similar to a carbon knife without the maintenance. Korin recommends this line for those with experience using a sharpening stone. This line is available with a black or orange handle."
Kramer Knives - since 1994. "Combine Japanese aesthetics, the ease and familiarity of Western-style blades, and legendary bladesmith Bob Kramer, and the result is the revolutionary Meiji collection."
Lorenzi Milano - since 1929. "Like a curtain that opens to reveal the tastiest of stages, the new collection of the wall-mounted knife holder is designed for those who see cooking as the finest of all arts. Made of Canaletto walnut wood, the board features engraved descriptions of each tool it houses, holding them with hidden magnets for a sleek and functional design. Lighting can be customised by choosing between a wall-wash solution for a diffuse glow or an internal light to fully illuminate the set. Both lighting solutions are turned on and off using two different switches. All blades are made of mirror-polished stainless steel with the handles in our different natural materials."
MAC - "World's Sharpest Knives." Entirely manufactured in Japan, MAC knives are precision tools, shaped, assembled, polished, and sharpened by professional Japanese craftsmen. Each knife is equipped with a razor-sharp edge, comfortable handles, and great balance. Popular with professional cooks and cooking enthusiasts throughout the world, and over 25 million knives sold since 1964.
Mac Knife Professional 8 Inch Hollow Edge Chef Knife - "With its super-sharp edge, sleek tapered shape, and comfortable handle, this knife will make your everyday dicing and slicing tasks smoother and quicker."
MARUYOSHI KNIVES - since 1969. Best seller: Tanaka Damascus Steel Hand-Made Japanese Kitchen Knife 32 layers of stainless steels sround the core blade of powdered stainless steel. The handle of dessert iron wood promises comfortable gripping. Each knife is coming with a traditional wooden case. Other sizes are also available.
MASAHIRO KNIVES - since 1932. "Masahiro Knives come directly from Seki City, Japan. The quality of these Masahiro knives can be seen at the edge. The left side of the blade is flat the other side of the knife is beveled to the edge and then polished. This modern Japanese blade design results in a superior blade with a smoother action, placing the pressure on the item being cut rather than against your fingers. The MV Series is made of Molybdenum Vanadium stainless steel."
MASAMOTO Japanese chef / kitchen knives - since 1884. "One of the best Japanese chef knives in the world." Masamoto Sohonten was founded towards the end of the Edo period by Minosuke Matsuzawa, the first generation of Matsuzawa knife craftsmen. The founder devoted his life to developing crafting techniques and producing consistently high quality knives. Over six generations, Masamoto Sohonten has been refining and protecting the founder's integrity. We believe the tradition of MASAMOTO® lives on in every knife, and reaches the hearts of diners through those who prepare cuisine.
MASANOBU KNIVES - "Masanobu knives are made out of a VG-10 cobalt stain resistant steel blade and a pressed wood handle with a metal bolster to provide exceptionally balanced weight. This line was developed by combining traditional Japanese knife aesthetics with state of the art computerized laser processing technology. The VG-10 cobalt blade is one of the highest quality steels used in knife production and has excellent edge retention. Masanobu knives are available in the standard and Damascus styles. Masanobu Damascus knives are laser printed to have a Damascus look and without sacrificing sharpness."
MATCH - since 1995. "Berti kitchen knives are available with or without a magnetized wood block. Knives purchased with a magnetized block are part of a system named Insieme (pronounced in-see-em-ay), which means "together" in Italian."
Mcusta Zanmai KNIVES - "Mcusta Zanmai is a leader in the Japanese knife industry. Their modern Japanese designs and technologically advanced workshop are the envy of their peers. Unlike many mass produced blades which are stamped, MCUSTA blades are precision laser cut, and the components are CNC machined to assure a perfect fit."
MEGLIO KNIVES - "Culinary knives designed using the most cutting edge technology and methods available."
MISONO KNIVES - "Misono was established in 1935, and the company has been kept a small, exclusively family-owned business for decades. The company began as a kitchen tool blade maker for vegetable peelers. Misono did not begin producing their own knives until the late 1960s. Today Misono is Japan's oldest Western-style knife maker, with only fifty workers producing 150,000 knives a year. Misono produces 100% of their knives in house with extreme attention to detail for quality assurance. Misono's production process is very similar to that of traditional Japanese style knives, as they are largely made by hand."
MIYABI KNIVES - "Premium Japanese Cutlery". MIYABI knives are manufactured in the tradition of the ancient masters, who once produced the finest Japanese swords. They are designed by the Japanese, have a contemporary Japanese design and are produced in ZWILLING's own factories in Japan. Exceptionally sharp with beautiful design.
Nenox (Nenohi) KNIVES - "Nenox Cutlery, known for its Nenohi Original (also known as Nenox) knives, was established in 1975 and has continued to provide the finest quality cutlery at their store in the world renowned Tsukiji Market since 1999. Nenox's master craftsmen heat all the knives at a low temperature for an extended period of time in order to prevent any damage to the blades. Nenox is well known for its beautifully designed and well balanced knives, but customers will also experience the comfortable grip and the long lasting sharpness and ductility of the blades."
PARIS RHÔNE 16-Piece High-Carbon Stainless Steel Knife Set - "Precise Cutting & Enduring Sharpness: Premium high-carbon stainless steel blade boasts precise and rapid cutting performance and lasting sharpness; the exceedingly sharp edge easily glides through tough ingredients with a razor-sharp cutting angle for easy meal preparation."
PORSCHE DESIGN - since 1972. Kitchen knives, whetstones, knife block & bag.
RICHMOND KNIVES - "Richmond Artifex line of knives that are designed for professionals that want good steel at a reasonable price."
SABATIER KNIVES - since 1834. "Le diamant du cuisinier." The pinnacle of excellence in quality cutlery. The manufacturing process of forged knives requires a perfect knowledge of the cutlery tradition of smith and temperer inherited from our forefathers. Right in the beginning of the process, the "smith" and his blazing fire wreak their magic, working the metal to give birth to the elementary blade. The blank produced by the smith is then passed to the "temperer". His job is to make the blade hard, flexible and strong. Then, the finishing operations by hand will perfect the quality of materials used in the production of SABATIER DIAMANT knives.
Sakai Takayuki kitchen knives - since 1946. "The Sakai Takayuki knives are hand crafted in Sakai, Japan with much care and craftsmanship. The traditional Japanese kitchen knives are still made by real knife masters. These knives are extremely sharp out of the box, being finished by true sharpening masters. The knives are fully in line with Japanese cuisine, for the preparation of vegetables, meat and fish."
SEKI MAGOROKU CHEF'S KNIFE - "Having received the reddot Design Award 2013, the Seki Magoroku Composite Series is the symbol of contemporary design expertise stemming from the house of kai. The series combines dynamism and lightness: the composite blade comprises two different steel grades, laminated and bonded using copper solder. This results in a stunning flash of copper running along its length. The resulting appearance is impressive and turns the blade into a highlight of hightech engineering." Series with 5 shapes. Hardness 61 (±1) HRC.
SHUN Classic KITCHEN KNIVES - "Classic features beautiful Damascus-clad blades with a cutting core of Shun's proprietary VG-MAX stainless steel and D-shaped PakkaWood handles. Classic also offers the widest assortment of traditional culinary blade shapes and cutting-edge designs."
Shun Cutlery Sora 8-Inch Chef's Knife - "You will love preparing meals with the Shun Sora Chef's Knife. Comfortable to hold, cuts with precision. Handcrafted in Japan." This is the place to start your Shun Sora collection. In Japan, the Sora Chef's Knife would be called a gyuto. It's used for all the same purposes as a chef's knife—all-around food preparation. But it has slightly less curve than a Western chef's knife, which means it contacts the cutting board along more of its length, so more food is cut per slice. THE must-have kitchen knife.
Shun Premier Grey Chef Knife - 8 inch VG-MAX Steel Blade, Cutlery Handcrafted in Japan. Premier 8-inch Chef's knife will quickly become the most used knife in the kitchen; lightweight, agile and offering an extremely comfortable grip. Razor-sharp edge of blade is perfect for slicing, dicing and chopping a full range of fruits, vegetables and other foods; thinner, lighter blade makes this knife less tiring to use.
Smeg Pastel Blue 7-Piece Knife Block Set - "This vintage-inspired knife block set charms on the kitchen counter. The six all-stainless steel kitchen knives ably handle a wide range of cutting tasks. This set includes vegetable, utility, meat, santoku, bread and chef's knives nestled in a glossy pastel blue block with chrome accents and a contrasting warm acacia wood center."
STELTON - since 1960. "Sharp design for the kitchen." High functionality and a tight, stylish look. As with the rest of the Pure Black collection, the transition from handle to knife blade is fluid, as the knife is made from a single piece of stainless chromium steel. The large chef's knife is essentialin any kitchen.
SUGIMOTO KNIVES - "History of Sugimoto cutlery can go back to 1830s, started our from a metal smith that specialized in sword and knife making, After World War? Sugimoto was the first to begin producing Western and Chinese-style knives. Sugimoto Cutlery has now become recognized by professional chefs world-wide."
SUISIN KNIVES - since 1990. "Born into a family of knife craftsmen, Junro Aoki was anxious to step out of his father's shadow and establish his own family brand. After spending twenty years under his father's tutelage at Aoki Knife Craft, one of the oldest knife crafting companies in Sakai, Japan. He resolved to apply his skills to crafting a new kind of Japanese knife, and in 1990 Aoki's determination paid off. He established the Knife System Company, where he merged traditional techniques and modern technology to create Suisin brand knives. Made from a unique combination of high carbon steel, chromium and molybdenum that gives them their superior rust resistance."
TOGIHARU KNIVES - "Togiharu is Korin's house brand and was created with the user in mind. The Togiharu brand was created for functionality and is Korin's most affordable brand of knives. The brand name was derived from Grand Master sharpener Shouzou Mizuyama's father's sharpening store. Master Mizuyama's father was a celebrated sharpener in his own right, having received recognition from the emperor for his traditional sharpening skills. Togiharu knives are produced by a highly respected knife maker in Japan who manufactures the top-name Japanese brands. The difference in the Togiharu lines lies in the quality control and hand-finishing aspects of production. These knives are inspected one-by-one for quality - they are not mass handled. The final edge finishing process is done by hand, ensuring unparalleled sharpness right out of the box."
Togiharu Virgin Carbon Steel - "To many professional chefs, carbon knives are the only way to go. For these knife purists, Togiharu Virgin Steel Knives are made with the same level of carbon steel as a Japanese yanagi. The Togiharu carbon line is crafted out of junkou steel (virgin carbon) with a bacteria resistant polyacetal resin handle. The purity of the junkou carbon steel makes the blade harder, which allows it to hold a sharper edge for a longer period of time. Professionals agree that carbon knives can teach cooks how to be organized and care for their tools."
Tojiro - since 1953. "The history of TOJIRO knives started with stainless steel fruit knife that was released in 1955. At that time, it was said that stainless steel blades were not sharp enough compare to carbon steel. Therefore, TOJIRO pursued in earnest 'cuttable knives', realizing continuous improvement and evolution. Today, our corporate message is 'More than just sharpness'. Clad steel is the material that we use most in our production. It is forged in the same way of forging a traditional Japanese sword 'Katana' from Tamahagane." Western Style Knives. Japanese Style Knives. Chinese Knives. Whetstones / Sharpeners.
Ugglan & Eggen - since 2013. "Our knives are made with handles in Swedish wood and Japanese blades of carbon steel. The hard carbon steel can be sharpened to superior cutting properties. Knives are made to order and we can offer most Swedish woods for the handle. The blades are available in two qualities: Damascus blade where the core has been laminated with 15 layers of steel giving it the characteristic Damascus pattern. Multi-layer blade where the core has been laminated with several layers of steel, and the blade have a dark patina."
Victorinox Chef's Knives - since 1884. "You do not have to be a chef to know the secret of a successful kitchen: perfectly sharpened knives. Victorinox chef's knives are incredibly sharp and excellently balanced. If you get hold of one of these masterpieces, it will almost seem as if everything cuts itself. And that is the secret of a good chef."
VIKING CUTLERY & Knives - since 1987. "Professional Performance for the Home."
WÜSTHOF - since 1814. "Wüsthof knives are adored by many of the world's most famous chefs due to their extraordinary feel and sharp edge."
YOSHIKIN - since 1954. Global & Bunmei Japanese knives.
ZWILLING - "Our expertly crafted knives are a cut above the rest. No matter how you slice or dice it. ZWILLING has been synonymous with exceptionally high-quality kitchen knives and scissors since 1731. Since then, our innovative products have gained recognition from professional chefs and amateur cooks the world over." Chef's Knives: Sturdy, heavy knife with broad, strong blade and fine cutting edge. The all-rounder for professionals and hobby chefs suitable for chopping herbs, cutting vegetables, slicing and dicing fish and meat. Can be used in the circular, rocking and chopping motion.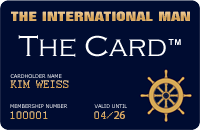 Upcoming VIP Privilege Membership Card
The International Man will in the near future be launching its own PRIVILEGE & BENEFIT VIP MEMBERSHIP CARD - named simply 'The Card'. Members will receive special privileges, benefits and preferential rates with selected partner hotels, restaurants, our LUXURY WEBSHOP, and more. Enter your name and e-mail address to receive FREE INFO about 'The Card' HERE.
RETURN TO TOP OF PAGE