Top 15 Best High-End Armored Vehicle Manufacturers

A civilian ARMORED CAR is a security vehicle which made by replacing the windows of a standard vehicle (typically a limousine or SUV) with bulletproof glass and inserting layers of armor plate into the body panels. Unlike a military armored car, which has armor plate mounted on the outside of the vehicle, a civilian armored car typically looks no different from a standard vehicle.

Top 15 Best Armored Vehicle Manufacturers

EVADE - "Elegant, intelligent and utillitarian. The new standard in luxury handcrafted SUVs."
KNIGHT XV - "Conquest Vehicle Inc's flagship vehicle, the KNIGHT XV defines the future of the ultra-luxurious, handcrafted fully armored SUV. This one-of-a-kind, V10, 6.8-litre, Bio-fuel powered SUV was inspired by military vehicle designs and features security appointments that are unrivaled in today's SUV marketplace."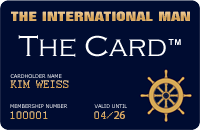 Upcoming VIP Privilege Membership Card
The International Man will in the near future be launching its own PRIVILEGE & BENEFIT VIP MEMBERSHIP CARD - named simply 'The Card'. Members will receive special privileges, benefits and preferential rates with selected partner hotels, restaurants, our LUXURY WEBSHOP, and more. Enter your name and e-mail address to receive FREE INFO about 'The Card' HERE.
RETURN TO TOP OF PAGE