Top 50 High-End Luxury Tie Bars, Clips & Pins Brands

A TIE CLIP (also tie slide, TIE BAR, or tie clasp) is a clothing accessory that is used to clip a tie to the underlying shirt front, preventing it from swinging and ensuring that the tie hangs straightly, resulting in a neat, uniform appearance. Tie clips are commonly made of metal and often have decorative patterns or embellishments. Some clips have a small badge indicating membership to a club or some other affiliation, or some other commemorative token, in a similar manner to the way in which ties themselves may be used as signs of membership. The use of tie clips gained prominence during the 1920s, during which period the use of straight ties made of delicate materials such as silk became more fashionable, and they largely came to replace the more traditional tie pin. In the United States, a tie clip is one of the few items of jewelry allowed to be worn by servicemen and women.

A TIE PIN (or tiepin, also known as a stick pin/stickpin) is a neckwear-controlling device, originally worn by wealthy English gentlemen to secure the folds of their cravats. Gold or silver safety pins were commonly used as tie and collar pins from the beginning of the 20th century (Woolworths used to stock cheaper bar type pins). A tie pin was used to fasten the tie to the shirt and was an integral part of a man / boy's uniform or clothing. In the 21st Century, other devices are now available to secure an unruly tie though a safety pin may be used as an unobtrusive 'underpin' to achieve the same degree of neatness.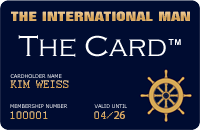 Upcoming VIP Privilege Membership Card
The International Man will in the near future be launching its own PRIVILEGE & BENEFIT VIP MEMBERSHIP CARD - named simply 'The Card'. Members will receive special privileges, benefits and preferential rates with selected partner hotels, restaurants, our LUXURY WEBSHOP, and more. Enter your name and e-mail address to receive FREE INFO about 'The Card' HERE.
RETURN TO TOP OF PAGE