Top 200 Best High-End Architects - Past and Present

"Architecture is the art of capturing noble simplicity." - Jørn Utzon.

An ARCHITECT is a person trained and licensed to plan, design, and oversee the construction of buildings. To practice architecture means to provide services in connection with the design and construction of buildings and the space within the site surrounding the buildings, that have as their principal purpose human occupancy or use. Professionally, an architect's decisions affect public safety, and thus an architect must undergo specialized training consisting of advanced education and a practicum (or internship) for practical experience to earn a license to practice architecture. Practical, technical, and academic requirements for becoming an architect vary by jurisdiction.

Throughout ancient and medieval history, most architectural design and construction was carried out by artisans - such as stone masons and carpenters, rising to the role of master builder. Until modern times there was no clear distinction between architect and engineer. In Europe, the titles architect and engineer were primarily geographical variations that referred to the same person, often used interchangeably.

It is suggested that various developments in technology and mathematics allowed the development of the professional 'gentleman' architect, separate from the hands-on craftsman. Paper was not used in Europe for drawing until the 1400s, but became increasingly available after 1500. Pencils were used more often for drawing by 1600. The availability of both allowed pre-construction drawings to be made by professionals. Concurrently, the introduction of linear perspective and innovations such as the use of different projections to describe a three-dimensional building in two dimensions, together with an increased understanding of dimensional accuracy, helped building designers communicate their ideas. However, the development was gradual. Until the 1700s buildings continued to be designed and set-out by craftsmen, with the exception of high status projects.

In most developed countries, only qualified persons with appropriate licensure, certification, or registration with a relevant body, often governmental may legally practice architecture. Such licensure usually requires an accredited university degree, successful completion of exams, and a training period. The use of terms and titles, and the representation of oneself as an architect is restricted to licensed individuals by law, although in general, derivatives such as architectural designer are not legally protected.

To practice architecture implies the ability to practice independently of supervision. The term building design professional (or Design professional), by contrast, is a much broader term that includes professionals who practice independently under an alternate profession, such as engineering professionals, or those who assist in the practice architecture under the supervision of a licensed architect, such as architectural technologists and intern architects. In many places, independent, non-licensed individuals may perform design services outside the professional restrictions, such design houses and other smaller structures.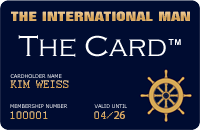 Upcoming VIP Privilege Membership Card
The International Man will in the near future be launching its own PRIVILEGE & BENEFIT VIP MEMBERSHIP CARD - named simply 'The Card'. Members will receive special privileges, benefits and preferential rates with selected partner hotels, restaurants, our LUXURY WEBSHOP, and more. Enter your name and e-mail address to receive FREE INFO about 'The Card' HERE.
RETURN TO TOP OF PAGE