Top 25 Best High-End Personal Organizers & Planners

A PERSONAL ORGANIZER, day planner, personal analog assistant, or personal planner is a small book/binder, designed to be portable, usually containing a diary, calendar, address book, and other sections usually including blank paper. It may also include pages with useful information, such as maps, telephone codes. It is related to the separate desktop stationery items that have one or more of the same functions, such as appointment calendars, rolodexes, notebooks, and almanacs.

For some the function of paper-and-binder personal organizers, a 20th century innovation, is being assumed by electronic personal digital assistants (PDAs) and personal information manager software on personal computers. Some personal organizers attempt to bridge the gap by featuring holders for PDAs.

A NOTEBOOK (notepad, writing pad, drawing pad, legal pad) is a small book or binder of paper pages, often ruled, used for purposes such as recording notes or memoranda, writing, drawing or scrapbooking.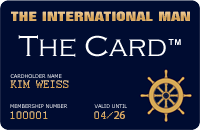 Upcoming VIP Privilege Membership Card
The International Man will in the near future be launching its own PRIVILEGE & BENEFIT VIP MEMBERSHIP CARD - named simply 'The Card'. Members will receive special privileges, benefits and preferential rates with selected partner hotels, restaurants, our LUXURY WEBSHOP, and more. Enter your name and e-mail address to receive FREE INFO about 'The Card' HERE.
RETURN TO TOP OF PAGE