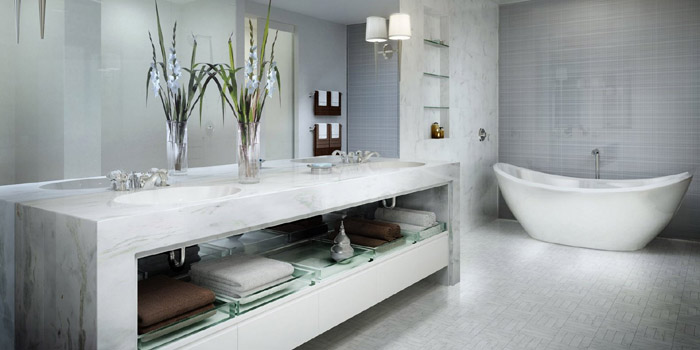 Top 75 High-End Bathrooms, Fixtures, Saunas, Towels

BATHROOM is a room for personal hygiene, generally containing a bathtub or a shower, and possibly also a bidet. In North America and some other regions, it characteristically contains a toilet and a sink; hence in North American English the word "bathroom" is commonly used to mean any room containing a toilet, even a public toilet (although in the United States this is more commonly called a restroom). In other countries, including the UK, Australia, France and Japan, homes may have a separate toilet. In Iran almost all homes have two distinct rooms for bathroom and toilet room.

A SAUNA is a small room or house designed as a place to experience dry or wet heat sessions, or an establishment with one or more of these and auxiliary facilities. The steam and high heat make the bathers perspire. Saunas can be divided into two basic styles: conventional saunas that warm the air or infrared saunas that warm objects. Infrared saunas may use various materials in their heating area such as charcoal, active carbon fibers, and other materials.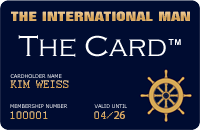 Upcoming VIP Privilege Membership Card
The International Man will in the near future be launching its own PRIVILEGE & BENEFIT VIP MEMBERSHIP CARD - named simply 'The Card'. Members will receive special privileges, benefits and preferential rates with selected partner hotels, restaurants, our LUXURY WEBSHOP, and more. Enter your name and e-mail address to receive FREE INFO about 'The Card' HERE.
RETURN TO TOP OF PAGE