Cigars | (E-)Cigarettes | Humidors | Pipes | Tobaccos

"Sometimes a cigar is just a cigar." - Sigmund Freud.

"Smoking is indispensable if one has nothing to kiss." - Sigmund Freud.

""A woman is an occasional pleasure but a cigar is always a smoke." - Groucho Marx.

"A cigarette is the perfect type of a perfect pleasure. It is exquisite, and leaves one unsatisfied. What more can one want?" - Oscar Wilde.

"My rule of life prescribed as an absolutely sacred rite smoking cigars and also the drinking of alcohol before, after and if need be during all meals and in the intervals between them." - Winton Churchill, one of the world's most celebrated cigar smokers, reportedly smoked more than 300,000 cigars in his lifetime.

A CIGAR is a tightly rolled bundle of dried and fermented tobacco that is ignited so that its smoke may be drawn into the mouth. Cigar tobacco is grown in significant quantities in Brazil, Cameroon, Cuba, Dominican Republic, Honduras, Indonesia, Mexico, Nicaragua, Sumatra, Philippines, and the Eastern United States.

Explorer Christopher Columbus is generally credited with the introduction of tobacco to Europe. Two of Columbus's crewmen during his 1492 journey, Rodrigo de Jerez and Luis de Torres, are said to have encountered tobacco for the first time on the island of San Salvador in the Bahamas, when natives presented them with dry leaves that spread a peculiar fragrance. Tobacco was widely diffused among all of the islands of the Caribbean and therefore they again encountered it in Cuba, where Columbus and his men had settled.

Tobacco leaves are harvested and aged using a process that combines use of heat and shade to reduce sugar and water content without causing the large leaves to rot. This first part of the process, called curing, takes between 25 and 45 days and varies substantially based upon climatic conditions as well as the construction of sheds or barns used to store harvested tobacco. The curing process is manipulated based upon the type of tobacco, and the desired color of the leaf. The second part of the process, called fermentation, is carried out under conditions designed to help the leaf die slowly. Temperature and humidity are controlled to ensure that the leaf continues to ferment, without rotting or disintegrating. This is where the flavor, burning, and aroma characteristics are primarily brought out in the leaf.

Once the leaves have aged properly, they are sorted for use as filler or wrapper based upon their appearance and overall quality. During this process, the leaves are continually moistened and handled carefully to ensure each leaf is best used according to its individual qualities. The leaf will continue to be baled, inspected, unbaled, reinspected, and baled again repeatedly as it continues its aging cycle. When the leaf has matured according to the manufacturer's specifications, it will be used in the production of a cigar.

Cigars are composed of THREE TYPES OF TOBACCO LEAVES, whose variations determine smoking and flavor characteristics:

WRAPPERS: A cigar's outermost leaves, or wrapper, come from the widest part of the plant. The wrapper determines much of the cigar's character and flavor, and as such its color is often used to describe the cigar as a whole.

FILLERS: The majority of a cigar is made up of fillers, wrapped-up bunches of leaves inside the wrapper. Fillers of various strengths are usually blended to produce desired cigar flavors. In the cigar industry this is referred to as a "blend". Many cigar manufacturers pride themselves in constructing the perfect blend(s) that will give the smoker the most enjoyment. The more oils present in the tobacco leaf, the stronger (less dry) the filler. If a cigar is completely constructed (filler, binder and wrapper) of tobacco from only one country, it is referred to in the cigar industry as a "puro" which in Spanish means "pure".

BINDERS: Elastic leaves used to hold together the bunches of fillers. Essentially, binders are wrappers that are rejected because of holes, blemishes, discoloration, or excess veins.

SIZE AND SHAPE: Cigars are commonly categorized by the size and shape of the cigar, which together are known as the vitola. The size of a cigar is measured by two dimensions: its ring gauge (its diameter in sixty-fourths of an inch) and its length (in inches). The most common shape is the parejo, sometimes referred to as simply "coronas", which have traditionally been the benchmark against which all other cigar formats are measured.

A CIGARETTE (French "small cigar", from cigar + -ette) is a product consumed through smoking and manufactured out of cured and finely cut tobacco leaves and reconstituted tobacco, often combined with other additives, then rolled or stuffed into a paper-wrapped cylinder (generally less than 120 mm in length and 10 mm in diameter). The cigarette is ignited at one end and allowed to smoulder for the purpose of inhalation of its smoke from the other (usually filtered) end, which is inserted in the mouth. They are sometimes smoked with a cigarette holder.

A cigarette is distinguished from a cigar by its smaller size, use of processed leaf, and paper wrapping, which is usually white, though other colors are available. Cigars are typically composed entirely of whole-leaf tobacco.

The earliest forms of cigarettes have been attested in Central America around the 9th century in the form of reeds and smoking tubes. The Maya, and later the Aztecs, smoked tobacco and various psychoactive drugs in religious rituals and frequently depicted priests and deities smoking on pottery and temple engravings. The cigarette, and the cigar, were the most common method of smoking in the Caribbean, Mexico and Central and South America until recent times.

In the English-speaking world, the use of tobacco in cigarette form became increasingly popular during and after the Crimean War, when British soldiers began emulating their Ottoman Turkish and Russian comrades. This was helped by the development of tobaccos that are suitable for cigarette use, and by the development of the Egyptian cigarette export industry.

During the second half of the 20th century, the adverse health effects of cigarettes started to become widely known and text-only health warnings became commonplace on cigarette packets.

PIPE SMOKING is a practice of 'tasting' or inhaling the smoke produced by burning a substance, most commonly tobacco, in a pipe. It is the oldest and most traditional form of smoking.

A number of Native American cultures had pipe-smoking traditions, long before the arrival of Europeans. Tobacco was often smoked, generally for ceremonial purposes, though other mixtures of sacred herbs were also common. The calumet (called "peace pipe" by Europeans), was smoked in ceremony to seal covenants and treaties. Tobacco was introduced to Europe from the Americas in the 16th century and spread around the world rapidly.

Pipes have been fashioned from an assortment of materials including briar, clay, ceramic, corncob, glass, meerschaum, metal, gourd, stone, wood and various combinations thereof, most notably, the classic English calabash pipe.

A smoking pipe for tobacco smoking typically consists of a small chamber (the bowl) for the combustion of the tobacco to be smoked and a thin stem (shank) that ends in a mouthpiece (the bit). Pipes can range from the very simple machine-made briar pipe to highly-prized handmade and artful implements created by renowned pipemakers which are often very expensive collector's items.

The bowls of tobacco pipes are commonly made of briar, corncob, meerschaum, or clay. Less common are cherrywood, olivewood, maple, mesquite, and oak. Generally a dense-grained wood is ideal. Minerals such as catlinite and soapstone have also been used. Pipe bowls of all these materials are sometimes carved with a great deal of artistry.

SNUS is a moist powder tobacco product originated from a variant of dry snuff, in the early 19th century in Sweden, consumed by placing it under the lip for extended periods of time. Since snus is not intended nor recommended for inhalation, it does not affect the lungs as cigarettes do. The World Health Organization (WHO) acknowledges that Swedish men have the lowest rate of lung cancer in Europe, partly due to the low tobacco smoking rate, but does not argue for substituting snus for smoking.

TOBACCO - Wikipedia.

Cigars

Electronic Cigarettes | E-Cigarettes

Electronic Cigarette News, Reviews & Resources

Electronic Cigarettes

Humidors

Top 35 High-End Humidor Brands

Lighters

Pipes

Top 40 High-End Smoking Pipe Brands

Snus | Snuff

SNUFF - Wikipedia.
SNUS - Wikipedia.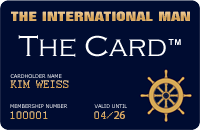 Upcoming VIP Privilege Membership Card
The International Man will in the near future be launching its own PRIVILEGE & BENEFIT VIP MEMBERSHIP CARD - named simply 'The Card'. Members will receive special privileges, benefits and preferential rates with selected partner hotels, restaurants, our LUXURY WEBSHOP, and more. Enter your name and e-mail address to receive FREE INFO about 'The Card' HERE.
RETURN TO TOP OF PAGE