Top 100 Best Unusual and High-End Theme Hotels

An ICE HOTEL is a temporary hotel made up of snow, sculpted blocks of ice, and, in some cases, some steel framing. They are promoted by their sponsors and have special features for travellers who are interested in novelties and unusual environments, and thus are in the class of destination hotels. Their lobbies are often filled with ice sculptures, and food and drinks are specially chosen for the circumstances.

All of the ice hotels are reconstructed every year, and are dependent upon constant sub-freezing temperatures during construction and operation. The walls, fixtures, and fittings are made entirely of ice or compacted snow, and are held together using a substance known as snice, which takes the place of mortar in a traditional brick-built hotel.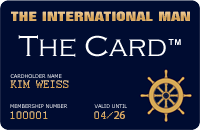 Upcoming VIP Privilege Membership Card
The International Man will in the near future be launching its own PRIVILEGE & BENEFIT VIP MEMBERSHIP CARD - named simply 'The Card'. Members will receive special privileges, benefits and preferential rates with selected partner hotels, restaurants, our LUXURY WEBSHOP, and more. Enter your name and e-mail address to receive FREE INFO about 'The Card' HERE.
RETURN TO TOP OF PAGE