Top 200 High-End Luxury Designer Jewellery Brands

JEWELLERY or JEWELRY consists of small decorative items worn for personal adornment, such as brooches, rings, necklaces, earrings, and bracelets. Jewellery may be attached to the body or the clothes, and the term is restricted to durable ornaments, excluding flowers for example. For many centuries metal, often combined with gemstones, has been the normal material for jewellery, but other materials such as shells and other plant materials may be used.

COSTUME JEWELRY, trinkets, fashion jewelry, junk jewelry, fake jewelry, or fallalery is jewelry manufactured as ornamentation to complement a particular fashionable costume or garment as opposed to "real" (fine) jewelry which may be regarded primarily as collectibles, keepsakes, or investments.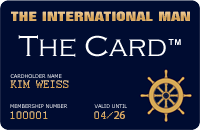 Upcoming VIP Privilege Membership Card
The International Man will in the near future be launching its own PRIVILEGE & BENEFIT VIP MEMBERSHIP CARD - named simply 'The Card'. Members will receive special privileges, benefits and preferential rates with selected partner hotels, restaurants, our LUXURY WEBSHOP, and more. Enter your name and e-mail address to receive FREE INFO about 'The Card' HERE.
RETURN TO TOP OF PAGE