Coolest Top High-End Electronics, Gadgets and Tech

"You can involve yourself in electronics, computers, puzzles... there's a lot of creativity and brain working. There's a lot to model trains that people don't realize." - Gary Coleman.

"The great thing about a computer notebook is that no matter how much you stuff into it, it doesn't get bigger or heavier." - Bill Gates.

"Computers are like Old Testament gods; lots of rules and no mercy." - Joseph Campbell.

"Press the any key ... hmmm where's the any key?" - Dan Castellaneta.

A GADGET is a small technological object (such as a device or an appliance) that has a particular function, but is often thought of as a novelty. Gadgets are invariably considered to be more unusually or cleverly designed than normal technological objects at the time of their invention. Gadgets are sometimes also referred to as gizmos.

ELECTRONIC GADGETS are based on transistors and integrated circuits. Unlike the mechanical gadgets one needs a source of electric power to use it. The most common electronic gadgets include transistor radio, television, cell phones and the quartz watch.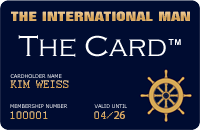 Upcoming VIP Privilege Membership Card
The International Man will in the near future be launching its own PRIVILEGE & BENEFIT VIP MEMBERSHIP CARD - named simply 'The Card'. Members will receive special privileges, benefits and preferential rates with selected partner hotels, restaurants, our LUXURY WEBSHOP, and more. Enter your name and e-mail address to receive FREE INFO about 'The Card' HERE.
RETURN TO TOP OF PAGE