Top 5 Best High-End Portable Media Players Brands

A PORTABLE MEDIA PLAYER (PMP) or digital audio player (DAP) is a portable consumer electronics device capable of storing and playing digital media such as audio, images, and video files. The data is typically stored on a CD, DVD, flash memory, microdrive, or hard drive. In contrast, analog portable audio players play music from non-digital media such as cassette tapes, or records.

Often mobile digital audio players are marketed and sold as "portable MP3 players", even if they also support other file formats and media types. Increasing sales of smartphones and tablet computers have led to a decline in sales of portable media players, leading to some devices being phased out, though flagship devices like the Apple iPod and Sony Walkman are still in production. Portable DVD players are still manufactured by brands across the world.

WALKMAN is a brand of portable media players manufactured by Sony. The original Walkman, released in 1979, was a portable cassette player that changed listening habits by allowing people to listen to music of their choice on the move. It was devised by Sony founders Masaru Ibuka and Akio Morita, who felt Sony's existing portable player was too unwieldy and expensive. A prototype was built from a modified Sony Pressman, a compact tape recorder designed for journalists and released in 1977.

Top 5 High-End Portable Media Player (PMP) Brands

Shop all iPod accessories - "It goes with everything." Whether itís a great pair of headphones or wireless speakers that can turn any room into a dance party, thereís an accessory that complements iPod touch perfectly.

Astell&Kern A&ultima SP1000 - "The A&ultima SP1000 is a one-of-a-kind, high-end, powerful flagship high resolution music player equipped with the latest advanced features. "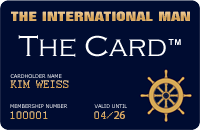 Upcoming VIP Privilege Membership Card
The International Man will in the near future be launching its own PRIVILEGE & BENEFIT VIP MEMBERSHIP CARD - named simply 'The Card'. Members will receive special privileges, benefits and preferential rates with selected partner hotels, restaurants, our LUXURY WEBSHOP, and more. Enter your name and e-mail address to receive FREE INFO about 'The Card' HERE.
RETURN TO TOP OF PAGE