Top 20 Best On-Demand Music Streaming Services

STREAMING media is multimedia that is constantly received by and presented to an end-user while being delivered by a provider. The verb "to stream" refers to the process of delivering or obtaining media in this manner; the term refers to the delivery method of the medium, rather than the medium itself, and is an alternative to file downloading, a process in which the end-user obtains the entire file for the content before watching or listening to it.

A music download is the digital transfer of music via the Internet into a device capable of decoding and playing it, such as a home computer, MP3 player or smartphone. This term encompasses both legal downloads and downloads of copyrighted material without permission or legal payment. According to a Nielsen report, downloadable music accounted for 55.9% of all music sales in the US in 2012. By the beginning of 2011, Apple's iTunes Store alone made US$1.1 billion of revenue in the first quarter of its fiscal year.

Top 20 Best On-Demand Music Streaming Services

Amazon.com MP3 Music Downloads - as of May 15, 2021: 100,000+ results.
Apple Music - since June 30, 2015. "Music Lives Here. Lose yourself in 75 million songs." Music streaming service by Apple Inc. Users select music on a device, which then plays on the device via Internet streaming. The service also provides music recommendations based on user taste. While Apple Music's cost and music library are similar to other music streaming services, the service aims to distinguish itself with added features and content exclusives. US$9.99 / month for single license US$99.00 / year for single license US$14.99 / month for family license US$4.99 / month for student.
Deezer - since 2007. French online music streaming service. It allows users to listen to music content from record labels including Sony Music, Universal Music Group, and Warner Music Group (whose parent company access industries also owns) on various devices online or offline. Created in Paris, France, Deezer currently has 53 million licensed tracks in its library, with over 30,000 radio channels, 14 million monthly active users, and 6 million paid subscribers as of 3 April 2018. The service is available for Web, Android, iOS, Windows Mobile, BlackBerry OS and Windows, MacOS.
EMUSIC - since 1998. "Discover and Download Music." A blockchain-based music distribution platform that pays artist more fairly and efficiently. Discover and download music with our free personalized discovery tools. Read reviews, listen to samples, and buy tracks or albums from your favorite artists. Over 20 million independent artist songs and albums with new hundreds new added each month.
Google Play - since 2012. Bringing together the Android Market, Google Music, and the Google eBookstore under one brand, marking a shift in Google's digital distribution strategy. The services included in the Google Play are Google Play Books, Google Play Games, Google Play Movies & TV, Google Play Music. Following their re-branding, Google has gradually expanded the geographical support for each of the services.
Google Play Music - since 2011. "40 millions songs on-demand." Music and podcast streaming service and online music locker operated by Google. With a paid subscription to Google Play Music, in addition to the standard features users get access to on-demand streaming of 40 million songs, without advertisements during listening, no limit on number of skips, and offline music playback on the mobile apps. A one-time 30-day free trial for a subscription to Google Play Music is offered for new users. Paid subscribers also receive access to YouTube Premium (including YouTube Music) in eligible countries.
HYPE MACHINE - since 2005. "The place for the best new music. Every day, thousands of people around the world write about music they love - and it all ends up here." It aggregates the most recently posted songs from a selection of music blogs (about 800) and lists them on the website's main page. Users have the ability to "love" songs, which saves the song to their Loved List. The site has thirteen different genres to select music from. Users can also select the "Latest" tracks from categories including "Freshest", "Remixes Only", "No Remixes", and blogs in the user's country. Hype Machine also provides a full directory of the blogs from which their database of music is derived. Additionally, Hype Machine maintains a Popular List for the last three days and the previous week, both of which are determined by the number of "loves" given to each song by users.
ITUNES - since 2001. "50 million songs. Zero ads." Stream over 50 million songs, ad-free. Or download albums and tracks to listen to offline. All the music in your personal iTunes library - no matter where it came from - lives right alongside the Apple Music catalog. Start your free three-month trial with no commitment, and cancel anytime. iTunes is the best way to organize and enjoy the music, movies, and TV shows you already have - and shop for the ones you want. Enjoy all the entertainment iTunes has to offer on your Mac and PC.
LAST.FM - since 2002. "Explore Top Music Powered by your Scrobbles." We bring together your favourite music services and join up listening, watching and sharing to connect your musical world. Need new music? Last.fm lets you effortlessly keep a record of what you listen to from any player. Based on your taste, Last.fm recommends you more music and concerts!
Napster - since 2005. "Napster is the original music service, created by music lovers for music lovers. We have a huge catalogue of over 40 million tracks, with new music added every day. You can play all the music you want, as often as you want."
Openwhyd - since 2012. "Discover and collect the best music tracks from the web." Discover and collect music gems from Youtube, Soundcloud, Deezer and more.
Pandora - since 2000. "Listen to Free Music You'll Love. At Pandora, we have a single mission: To play only music you'll love. To understand just how we do this, and why we think we do it really, really well, you need to know about the Music Genome Project. Since we started back in 2000, we have been hard at work on the Music Genome Project. It's the most comprehensive analysis of music ever undertaken. With Pandora you can explore this vast trove of music to your heart's content. Just drop the name of one of your favorite songs, artists or genres into Pandora and let the Music Genome Project go." Pandora is only available in the U.S. right now - but we are working on bringing our music service to other parts of the world.
PlayStation Music - since 2015. On-demand streaming music service powered by Spotify. Providing free and premium access to over 30 million tracks, it is available in 41 markets via the PlayStation Network on PlayStation 3, PlayStation 4, Xperia tablet and mobile devices.
Primephonic Classical Streaming - since 2014. "The streaming service designed for classical music." Easy search. Premium sound. Inspiring recommendations. Explore new works, discover hidden gems and gain insights behind the classics. From classic recordings to the very latest releases, the biggest labels to the most obscure indies – the Primephonic catalogue has you covered, with new albums being added every day. If an album is available in 24-bit, that's what you get. Primephonic is a Dutch-American start-up founded by a team of classical music lovers with the ambition to create a better future for classical music by finally developing a streaming service that gets classical right. Get your 14-day free trial now.
Qobuz - since 2007. "70 Million Tracks. Artist-Approved Sound." The richest Hi-Res catalogue available for streaming and download. French commercial music streaming and downloading service. Qobuz offers all music in MP3 at 320 kbps, CD-DA quality lossless (16-bit/44.1 kHz) as well as hi-res quality lossless (up to 24-bit/192 kHz) for certain music; downloads are offered in either WAV, AIFF, ALAC, and FLAC for hi-res quality, with lossless WMA also available for CD quality music only, and MP3, standard WMA, and AAC in 128 kbps or 320 kbps for lossy quality. Qobuz and Tidal are the only available hi-res streaming services for popular music, as Deezer's HiFi plan includes CD quality at most, and Primephonic provides only classical music. Qobuz currently offers four plans: Studio Premier (Base subscription, monthly as well as annual with discount), and Studio Sublime (An annual-only subscription that adds a discount on downloads,) as well as Family variants, with up to six users, of each plan.
SOUNDCLOUD - since 2007. "Hear the world's sounds." Online audio distribution platform and music sharing website based in Berlin, Germany that enables its users to upload, promote, and share audio. SoundCloud is the world's leading social sound platform where anyone can create sounds and share them everywhere. Recording and uploading sounds to SoundCloud lets people easily share them privately with their friends or publicly to blogs, sites and social networks. It takes just a click to share sounds to Twitter, Tumblr, Facebook and Foursquare. SoundCloud can be accessed anywhere using the official iPhone and Android apps, as well as hundreds of creation and sharing apps built on the SoundCloud platform.
SPOTIFY - since 2006. "Listening is everything. Millions of songs and podcasts. No credit card needed." Spotify offers digital copyright restricted recorded music and podcasts, including more than 70 million songs, from record labels and media companies. As a freemium service, basic features are free with advertisements and limited control, while additional features, such as offline listening and commercial-free listening, are offered via paid subscriptions. Users can search for music based on artist, album, or genre, and can create, edit, and share playlists. The best way to listen to music and podcasts on mobile or tablet. Spotify is now free on mobile, tablet and computer. Listen to the right music, wherever you are. Millions of songs on your computer, on your mobile and available offline. Brought to you ad free. It is one of the world's largest music streaming service providers, with over 356 million monthly active users, including 158 million paying subscribers, as of March 2021.
Tidal - since 2014. "Clearly the best sound. All your favorite music. Best sound quality available. With our library of over 70 million tracks and 250,000 videos, you'll get the ultimate music experience." Subscription-based music streaming service that combines lossless audio and high definition music videos with curated editorial. The service has over 25 million tracks and 75,000 music videos. Currently offering no free subscription plans, Tidal claims to pay the highest percentage of royalties to music artists and songwriters within the music streaming market.
TUNECORE - since 2005. "The best way to sell your music on iTunes, Amazon, Spotify & more." TuneCore principally offers musicians and other rights-holders the opportunity to distribute and sell or stream their music through online retailers such as iTunes, Deezer, Spotify, Amazon Music, Google Play, Tidal, and others. TuneCore also offers music publishing administration services, helping songwriters register their compositions and collect royalties internationally.
YouTube Music - since 2015. Mobile app developed by YouTube; it provides a tailored version of the service oriented towards music streaming, allowing users to browse through music videos on YouTube based on genres, playlists, and recommendations. The service integrates with the YouTube Red subscription service, which enables ad-free and audio-only background playback. As of May 2019, the app is available in 50 countries.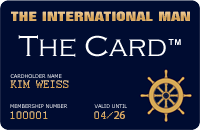 Upcoming VIP Privilege Membership Card
The International Man will in the near future be launching its own PRIVILEGE & BENEFIT VIP MEMBERSHIP CARD - named simply 'The Card'. Members will receive special privileges, benefits and preferential rates with selected partner hotels, restaurants, our LUXURY WEBSHOP, and more. Enter your name and e-mail address to receive FREE INFO about 'The Card' HERE.
RETURN TO TOP OF PAGE