Africa's Top High-End Department Stores and Shops

Kenya

Nairobi

The Sarit Centre - shopping mall located in the Westlands neighbourhood of Nairobi, Kenya. Opened in 1983, it is Kenya's first ever shopping mall, whose "City within a City" concept of providing everything under one roof has since irrevocably changed retailing patterns and spurred shopping mall development throughout East Africa.

Morocco

Casablanca

MOROCCO MALL - "All for You." The first destination mall in Africa.

South Africa

Durban

Gateway Theatre of Shopping - shopping centre located on Umhlanga Ridge in Umhlanga, north of Durban, KwaZulu-Natal. It also has almost all of South Africa's and many major international retail stores. Gateway sees more than two million visitors coming through its doors per month. The centre was modeled on the Mall of America and West Edmonton Mall centres.

Johannesburg

Sandton City - upmarket shopping centre located in Sandton, Johannesburg. The centre covers a gross leasable area of 128,000 sq m (1,380,000 sq ft). of retail space. Office space and the Sandton Sun Hotel increase total space to 215,000 sq m (2,310,000 sq ft). Sandton City and the adjacent Nelson Mandela Square together form the largest retail complex in Africa. A pyramid-shaped roof provides the distinguishing feature of Sandton City.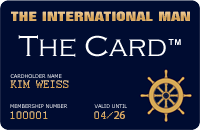 Upcoming VIP Privilege Membership Card
The International Man will in the near future be launching its own PRIVILEGE & BENEFIT VIP MEMBERSHIP CARD - named simply 'The Card'. Members will receive special privileges, benefits and preferential rates with selected partner hotels, restaurants, our LUXURY WEBSHOP, and more. Enter your name and e-mail address to receive FREE INFO about 'The Card' HERE.
RETURN TO TOP OF PAGE