Top 50 Most Beautiful Gardens and Parks In The World

"Gardening is the best therapy in the world." - C. Z. Guest.

"To plant a garden is to believe in tomorrow." - Audrey Hepburn.

"I've always felt that having a garden is like having a good and loyal friend." - C. Z. Guest.

A GARDEN is a planned space, usually outdoors, set aside for the display, cultivation, and enjoyment of plants and other forms of nature. The garden can incorporate both natural and man-made materials. The most common form today is known as a residential garden, but the term garden has traditionally been a more general one. Western gardens are almost universally based on plants, with garden often signifying a shortened form of botanical garden.

A PARK is an area of open space provided for recreational use. It can be in its natural or semi-natural state, or planted, and is set aside for human enjoyment or for the protection of wildlife or natural habitats. It may consist of rocks, soil, water, flora and fauna and grass areas, but may also contain buildings and other artifacts such as play grounds. Many natural parks are protected by law.

LANDSCAPE ARCHITECTURE is the design of outdoor public areas, landmarks, and structures to achieve environmental, social-behavioral, or aesthetic outcomes. It involves the systematic investigation of existing social, ecological, and soil conditions and processes in the landscape, and the design of interventions that will produce the desired outcome. The scope of the profession includes landscape design; site planning; stormwater management; environmental restoration; parks and recreation planning; visual resource management; green infrastructure planning and provision; and private estate and residence landscape master planning and design; all at varying scales of design, planning and management. A practitioner in the profession of landscape architecture is called a landscape architect.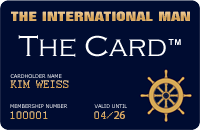 Upcoming VIP Privilege Membership Card
The International Man will in the near future be launching its own PRIVILEGE & BENEFIT VIP MEMBERSHIP CARD - named simply 'The Card'. Members will receive special privileges, benefits and preferential rates with selected partner hotels, restaurants, our LUXURY WEBSHOP, and more. Enter your name and e-mail address to receive FREE INFO about 'The Card' HERE.
RETURN TO TOP OF PAGE