Top 280 Best Mobile App News, Reviews & Resources

A MOBILE APP or mobile application is a computer program designed to run on a mobile device such as a phone/tablet or watch. Mobile applications often stand in contrast to desktop applications which run on desktop computers, and with web applications which run in mobile web browsers rather than directly on the mobile device.

Apps are usually available through application distribution platforms, which began appearing in 2008 and are typically operated by the owner of the mobile operating system, such as the Apple App Store, Google Play, Windows Phone Store, and BlackBerry App World. Some apps are free, while others must be bought. Usually, they are downloaded from the platform to a target device, such as an iPhone, BlackBerry, Android phone or Windows Phone, but sometimes they can be downloaded to laptops or desktop computers. For apps with a price, generally a percentage, 20-30%, goes to the distribution provider (such as iTunes), and the rest goes to the producer of the app. The same app can therefore cost the average Smartphone user a different price depending on whether they use iPhone, Android, or BlackBerry 10 devices.

Mobile apps were originally offered for general productivity and information retrieval, including email, calendar, contacts, and stock market and weather information. However, public demand and the availability of developer tools drove rapid expansion into other categories, such as mobile games, factory automation, GPS and location-based services, banking, order-tracking, ticket purchases and recently mobile medical apps. The explosion in number and variety of apps made discovery a challenge, which in turn led to the creation of a wide range of review, recommendation, and curation sources, including blogs, magazines, and dedicated online app-discovery services.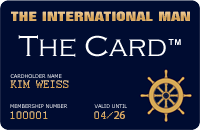 Upcoming VIP Privilege Membership Card
The International Man will in the near future be launching its own PRIVILEGE & BENEFIT VIP MEMBERSHIP CARD - named simply 'The Card'. Members will receive special privileges, benefits and preferential rates with selected partner hotels, restaurants, our LUXURY WEBSHOP, and more. Enter your name and e-mail address to receive FREE INFO about 'The Card' HERE.
RETURN TO TOP OF PAGE