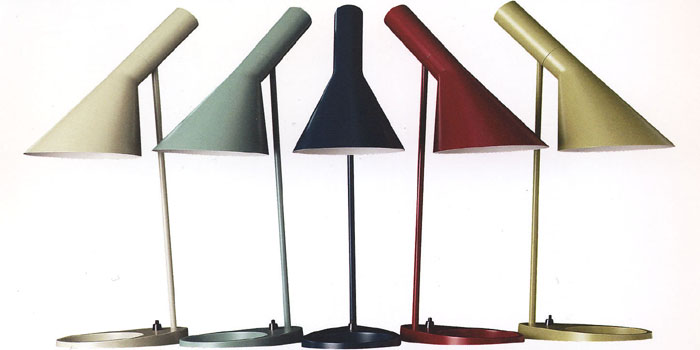 Top 100 High-End (Designer) Lamp & Lighting Brands

A LIGHT FIXTURES (US English), light fitting (UK English), or luminaire is an electrical device used to create artificial light by use of an electric lamp. All light fixtures have a fixture body and a light socket to hold the lamp and allow for its replacement. Fixtures may also have a switch to control the light. Fixtures require an electrical connection to a power source; permanent lighting may be directly wired, and moveable lamps have a plug. Light fixtures may also have other features, such as reflectors for directing the light, an aperture (with or without a lens), an outer shell or housing for lamp alignment and protection, and an electrical ballast or power supply. Portable light fixtures are often called "lamps", as in table lamp or desk lamp. In technical terminology, the lamp is the light source, what is typically called the light bulb.

LIGHTING or illumination is the deliberate use of light to achieve a practical or aesthetic effect. Lighting includes the use of both artificial light sources like lamps and light fixtures, as well as natural illumination by capturing daylight. Daylighting (using windows, skylights, or light shelves) is sometimes used as the main source of light during daytime in buildings. This can save energy in place of using artificial lighting, which represents a major component of energy consumption in buildings. Proper lighting can enhance task performance, improve the appearance of an area, or have positive psychological effects on occupants.

A LAMP is a replaceable component such as an incandescent light bulb, which is designed to produce light from electricity. These components usually have a base of ceramic, metal, glass or plastic, which makes an electrical connection in the socket of a light fixture. This connection may be made with a screw-thread base, two metal pins, two metal caps or a bayonet cap.

- J -

J & L LOBMEYR - "Various styles and originals of world-famous designers describe today`s offer from 1780 until today." Chandeliers, wall sconces, table- & floorlamps, lamps & lanterns.
JAMES PLUMB - since 2010. Cluster chandelier: 26 shades. Design duo James Plumb created this chandelier of many mismatched lampshades in vintage fabrics. The lamps are suspended by hand-dyed silk flex.
Jesper Garde Kongshaug - since 1980. "International Award winning Lighting Designer Jesper Garde Kongshaug."
JOCELYN WARNER - since 1999. Timeless lighting products.
JOHN POMP STUDIOS - since 1999. "Handcrafted Lighting." Chandeliers, clusters, floor, pendants, sconces & table lamps.
JONATHAN ADLER - since 1993. "Go for grandeur with larger-than-life modern lighting, or complement your already maximal palace with subtle shine." Chandeliers, flush mounts & lamps, pendants, sonces, table & wall lamps.

A B C D E F G H I J K L M N O P Q R S T U V W X Y Z

- K -

KATHARINE POOLEY - since 2004. Luxury lamps.
KINZIG DESIGN - since 1987. "Traditional lighting with a twist." All lamps.
Koket - since 2010. "Love Happens." KOKET brings empowering style to a highly edited collection of furniture & soft goods while exuding a feeling of entitlement, exclusivity & prestige. Chandeliers, floor lamps, pendants, sconces & table lamps.
Kolarz - since 1918. "Inspiring chandeliers, contemporary pendant lights, modern floor lamps, decorative wall lights, designer downlights, stunning stairwell lighting – beautifully decorated with high quality crystals or Murano glass – all this and more can be found in the Kolarz Collection.

A B C D E F G H I J K L M N O P Q R S T U V W X Y Z

- L -

Lalique - since 1888. Crystal lamps.
LAURA ASHLEY - since 1954. "It's the lighting that sets the ambience in a room ..." All models: wall lights, ceiling lights & lamp shades.
Lawson Glass - since 2002. "Handcrafted Luxury Lighting Manufacturer using old world techniques and materials to create modern day chandeliers and sculpture."
LE KLINT LAMPS - "Danish Design and Craftsmanship since 1943." In cooperation with designers and architects LE KLINT offers a wide range of contemporary lamps with emphasis on functionality, aesthetics, and quality.
LIGNE ROSET - since 1860. "Ligne Roset is synonymous with modern luxury and invites consumers to revel in a contemporary, design-forward lifestyle."
LINDSEY ADELMAN STUDIO - since 2006. "Lighting and Objects."
LINLEY - since 1985. "The LINLEY range of luxury lights suit your every requirement, with specially designed lighting for the outdoors as well as the indoors."
L'Objet - since 2004. "L'OBJET aspires to offer designs for the home that are both luxurious and functional, to the highest degree of excellence possible, with a commitment to artistic integrity and material innovation, to produce objects that integrated beauty with design." All models.
LOUIS POULSEN - since 1874. "Louis Poulsen is an international lighting manufacturer and part of Polaris Private Equity. Louis Poulsen serves the professional and private lighting markets, and produces and develops lighting solutions for indoor and outdoor applications."
LUCEPLAN - founded in Milan 1978. "Made in Light" Luceplan creates innovative lighting fixtures since its creation more than 30 years ago. Indoor & outdoor lighting.
Lumio - since 2013. "A multi-functional modern lamp that unfolds from a book."
Luxo - since 1934. In 1937, Jacob Jacobsen, the founder of Luxo, invented the Luxo L-1 lamp, which was the inspiration for the animated short film Luxo Jr. by Pixar and a subsequent lawsuit by Luxo.
Luxxu - since 1994. "Luxxu Modern Design & Living! A design not only to enjoy but also to live for!" Luxxu Modern Lamps is all about reinventing through design classic chandeliers.
LZF lamps - "Wood Touched By Light." In 1994 we started designing and manufacturing hand-made wood-veneer lamps from a small studio in Valencia's historic centre. Since that time we've grown to become one of the world's most respected boutique lighting companies.

A B C D E F G H I J K L M N O P Q R S T U V W X Y Z

- M -

Margaux Island Pendant Lamp - Island Lights.
MATCH - since 1995. "Pewter Handmade in Italy." Toscana Table Lamp with Raw Silk Shade.
Memphis Milano - since 1980. "The Memphis movement has become an almost mythical symbol of 'New Design' and its influence is still strong in many areas of production and beyond."
METALARTE - since 1932. Hanging lamps, floor lamps, table lamps, ceiling lamps, wall brackets.
MOLO DESIGN - since 2003. "Recognized for poetic beauty and pragmatic innovation." Paper lighting fixtures.
MOOOI - since 2001. "For more than ten years Moooi has inspired and seduced the world with sparkling and innovative designs. Moooi takes pride in producing timeless objects of beauty which posses the uniqueness and character of antiques combined with the freshness of modern times."
MURANO-LITE - since 1995. "Over 2000 products of Murano glass and best crystal." Over 1000 amazing glass chandeliers of Murano glass and crystal! From classic chandeliers to ultra modern, including Venetian, Art Deco, Rezzonico, Empire ...

A B C D E F G H I J K L M N O P Q R S T U V W X Y Z

- N -

Natuzzi Italia - since 1959. "Natuzzi Italia brings light and style to any room. The collection includes ceiling, table, standing and floor lamps designed to fit any decor."
Nemo - since 1993. "The Italian lighting design firm." One of the global leaders in lighting striving to constantly create innovative cutting edge design.
Nicholas Haslam Ltd - established in 1980. Ceiling, table, standing & wall lamps.

A B C D E F G H I J K L M N O P Q R S T U V W X Y Z

- O -

OCHRE - since 1996. Chandeliers, floor lamps, table lamps and wall lights. Created in glass, bronze, brass and the more unusual materials such as chainmail, horn, horse hair and coconut shell.
OLUCE - since 1945. "Lamps and Lighting for Interior Design." The oldest Italian lamps and lighting design company still active today. Our table, ceiling, floor, suspension and outdoor lamps, are at the cutting edge.
ORIGINAL BTC - since 1990. "British Lighting Manufacturers." Established in 1990, Original BTC manufactures relaxed, familiar lighting for traditional and contemporary homes. Pendant, table & wall lights.

A B C D E F G H I J K L M N O P Q R S T U V W X Y Z

- P -

PAPIER À ÊTRES - since 2002. "Poésies Sculptées." Sophie Mouton-Perrat and Frédéric Guibrunet give life to paper.
PARNIAN - since 1977. "Live the life of luxury. Live Parnian." All lamps.
Peter Mikic - since 2006. "Beautifully Crafted Luxury." Chandeliers, Pendant Lights & Wall Lights.
PH 3/2 Brass metalized Table Lamp - designed by Poul Henningsen.
PH 4/3 Table Lamp - designed by Poul Henningsen.
PH Artichoke - since 1958. "The fixture provides 100% glare-free light. The 72 precisely positioned leaves form 12 unique rows of six leaves each. They illuminate the fixture as well as emitting diffused light with a unique pattern. The fixture provides decorative and comfortable lighting. For the energy saving LED variant the quality of light and atmosphere surrounding the product is kept at the highest level." Poul Henningsen originally developed the PH Artichoke lamp for the Langelinie Pavillonen restaurant in Copenhagen.
Philippe Starck - since 1976. All categories & models.
Philips Wake-up Light - "Light therapy." Wake up naturally with a Wake-up Light that gradually wakes you up.
Phillips Collection - since 1983. "Every piece a conversation." All models.
PINTO PARIS - "Since 2009, Pinto Paris has been creating furniture, tableware, and accesory collections that are predominantly one of a kind or limited edition and made using rare materials."
Porta Romana - since 1988. "Luxury Lighting." Destined for the world's most beautiful interiors. Bathroom lighting, ceiling, floor & table lamps.
POUL HENNINGSEN - "The PH 3½-2½ Glass Table lamp was designed in 1928 and is one of many advanced projects undertaken by Poul Henningsen in the development of his world-famous three-shade system from 1926. Poul Henningsen devoted most of his life to taming electric light. He based his three-shade design on a logarithmic spiral to make optimum use of the light source." All models.

A B C D E F G H I J K L M N O P Q R S T U V W X Y Z

- R -

RALPH LAUREN - since 1967. Floor & Table lamps.
Rchard Ginori 1735 - "Made in Italy." Beauty is not meant to remain in the shadows. Choose your splendour. Porcelain meets fabrics and handicrafts meet tailoring in the Lumières collection, which displays all of the skills of the Florentine atelier. Each lampshade is handmade with the same detailed attention as the porcelain base. Table lamps.
Ritz Paris Essentials - since 2016. "This luxury bedside lamp, a faithful reproduction of the light fitting installed when the hotel first opened in 1898, takes us back to XIXth Century Paris."
Rue Monsieur Paris - since 2012. "French luxury furniture company." Table lamp.

A B C D E F G H I J K L M N O P Q R S T U V W X Y Z

- S -

Saint-Louis Cristallerie - founded in 1586. The oldest & one of the most prestigious manufacturer of Glassmaking in Europe. Chandeliers, floor, sconces & table lamps.
Santa & Cole - since 1985. Huge collection of modern and contemporary lighting products to choose from. Floor, pendant, table & wall lamps.
SHARON MARSTON - since 1997. "Working to an architectural scale Sharon Marston specialises in the design and creation of bespoke sculptural light installations for interiors. The studio has won international acclaim for its range of breathtaking chandeliers, vibrant backdrops and luxurious room dividers and has pioneered the use of fibre optic technology in bespoke lighting."
SKITSCH - KITSCH debuted at the Salone del Mobile in Milan 2009. "Innovation, great design in its purest form, becomes accessible to everyone through the genius of the biggest worldwide artists."
Something Special - established in 1983 in Copenhagen. "Timeless, international and unique design with a touch of luxury, glamor and exuberance. Specialty: Art Deco & Jugend styles." Floor & table lamps.
STUDIO DREIMANN - since 2010. "The inspiration for AKI was the sun running through the branches of a tree, creating a wonderful atmosphere." Aki pendant lamp.
Svenskt Tenn - since 1924. Swedish interior design company. Ceiling lamps, floor lamps, table lamps & wall lamps.

A B C D E F G H I J K L M N O P Q R S T U V W X Y Z

- T -

Taccia LED Floor or Table Lamps - Made in Italy. Designed by Achille & Pier Giacomo Castiglioni in 1962. Produced by FLOS.
The Future Perfect - since 2003. Special editions, suspension, flush mounted, floor, table & wall lamps.
The White Company London - since 1993. "Everything you need for stylish living - mainly in white." Brighten the dark nights with our bigger-than-ever lighting range, which includes everything from show-stopping chandeliers and pendant ceiling lights to wall lights, table lamps and more.
Themis Z - since 2016. Tall table lamp with white Greek marble base and cotton lampshade.
TIFFANY LAMPS - since 1893. Type of lamp with a glass shade made with glass designed by Louis Comfort Tiffany and his design studio. The most famous was the stained leaded glass lamp. Tiffany lamps are considered part of the Art Nouveau movement.
Tolomeo Table - designed by Michele De Lucchi and Giancarlo Fassina in 1986 for Artemide. Base and cantilevered arms in polished aluminium; diffuser in matt anodised aluminium; joints and supports in polished aluminium. System of spring balancing. The code refers to the luminaire's body only. Tolomeo Table has become an icon almost 30 years after its birth.
TOM DIXON - since 2002. "Contemporary lighting by Tom Dixon." Full Tom Dixon collection of pendants, chandeliers, floor and table lights, including the bestselling Copper Shade, Beat and Melt lights and Mirror Ball.
TRUMP HOME LIGHTING COLLECTION - Amazon.com.

A B C D E F G H I J K L M N O P Q R S T U V W X Y Z

- V -

Venini - since 1921. "A kaleidoscopic array of lamps, lights and luminous sculptures that lends a unique atmosphere to any setting. Timeless pieces that have been created in the Fornace (Kiln) since VENINI was founded. ARTLIGHT is the undisputed star of home interiors and masterpieces of architecture alike." Floor / Table, Wall & Ceiling lighting.
Vipp - since 1939. "Turn off the darkness." Desk, floor & wall lamps.

A B C D E F G H I J K L M N O P Q R S T U V W X Y Z

- W -

WATERFORD - originally founded in 1783. Crystal lamps.
WILLIAM YEOWARD - since 1998. "Our beautiful range of table, desk and floor lamps have been designed to suit any space. Amazing crystal lamps are handmade in England and come in beautiful jewel like colours. Ceramic lamps are available in range of glazes and hand painted finishes, all hand crafted in England.. Contemporary metal floor and desk lamps in antiqued bronze and brushed and polished nickel finishes complete the look. Shades are available in linen or silk to suit your choice of lamp." Designer floor & table lamps.
WILLOW LAMP - since 2005. "Our designs fuse organic forms with high tech materials and processes to create a dramatic new genre of lighting."
WOLFARD GLASSBLOWING - since 1972. "Hand Blown Glass Oil Lamp Company."

A B C D E F G H I J K L M N O P Q R S T U V W X Y Z

- Y -

YLIGHTING - since 2001. "The Best in Modern Lighting." We're one of the largest retailers for brands such as Artemide, Flos, Modern Fan, Fontana Arte and Louis Poulsen, and many more!

A B C D E F G H I J K L M N O P Q R S T U V W X Y Z

- Z -

Zoffany - since 1983. "Designed through collaboration between Heathfield & Co and Zoffany, this latest lighting collection provides the ideal accompaniments to Zoffany's own exquisite range of luxury wall coverings, fabrics and furnishings."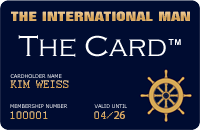 Upcoming VIP Privilege Membership Card
The International Man will in the near future be launching its own PRIVILEGE & BENEFIT VIP MEMBERSHIP CARD - named simply 'The Card'. Members will receive special privileges, benefits and preferential rates with selected partner hotels, restaurants, our LUXURY WEBSHOP, and more. Enter your name and e-mail address to receive FREE INFO about 'The Card' HERE.
RETURN TO TOP OF PAGE