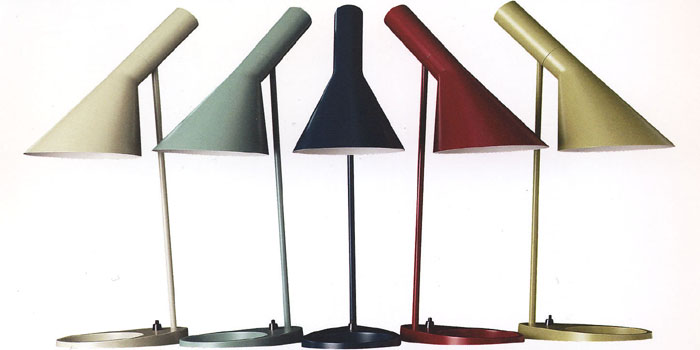 Top 100 High-End (Designer) Lamp & Lighting Brands

A LIGHT FIXTURES (US English), light fitting (UK English), or luminaire is an electrical device used to create artificial light by use of an electric lamp. All light fixtures have a fixture body and a light socket to hold the lamp and allow for its replacement. Fixtures may also have a switch to control the light. Fixtures require an electrical connection to a power source; permanent lighting may be directly wired, and moveable lamps have a plug. Light fixtures may also have other features, such as reflectors for directing the light, an aperture (with or without a lens), an outer shell or housing for lamp alignment and protection, and an electrical ballast or power supply. Portable light fixtures are often called "lamps", as in table lamp or desk lamp. In technical terminology, the lamp is the light source, what is typically called the light bulb.

LIGHTING or illumination is the deliberate use of light to achieve a practical or aesthetic effect. Lighting includes the use of both artificial light sources like lamps and light fixtures, as well as natural illumination by capturing daylight. Daylighting (using windows, skylights, or light shelves) is sometimes used as the main source of light during daytime in buildings. This can save energy in place of using artificial lighting, which represents a major component of energy consumption in buildings. Proper lighting can enhance task performance, improve the appearance of an area, or have positive psychological effects on occupants.

A LAMP is a replaceable component such as an incandescent light bulb, which is designed to produce light from electricity. These components usually have a base of ceramic, metal, glass or plastic, which makes an electrical connection in the socket of a light fixture. This connection may be made with a screw-thread base, two metal pins, two metal caps or a bayonet cap.

A B C D E F G H I J K L M N O P Q R S T U V W X Y Z

- A -

ACOOCOORO - Mexico City-based design studio founded in 2016. "Furniture, lighting and objects. Emotional stories in every piece, every interior."
Akari Light Sculptures - "In 1951 Isamu Noguchi visited the town of Gifu, Japan, known for its manufacture of lanterns and umbrellas from mulberry bark paper and bamboo. Noguchi designed the first of his lamps that would be produced by the traditional Gifu methods of construction. He called these works Akari, a term meaning light as illumination, but also implying the idea of weightlessness."
Alessi - since 1921. "Lamps make your house better with high quality products. Discover Alessi Lamps and buy online now!"
Ambiente Direct - "Leading online shop for design since 1997." Buy design lighting, lamps & lights online. Our brands: Adelta, ADWOOD, Alessi, Alias, AndTradition, Anta, Anthologie Quartett, april allterior, Arper, Artek, Artemide, Artificial, Audio Pro, Authentic, B&B Italia ...
American DJ - since 1985. "Manufacturer of professional lighting fixtures, LED effects and DJ Audio products for advanced Lighting & Audio Entertainment."
Andrew Martin - since 1978. Desk, table & wall lamps.
Angelo Mangiarotti Lighting - since 1960. "Italian architect, designer, teacher and urban planner Angelo Mangiarotti was a leading light in the international design community from the 1960s onward. While he was an adherent of the rationalist principles of purity of line and simplicity of construction, he sought to imbue his designs for coffee tables, dining chairs, sconces and other furnishings with a sense of character and lightness of spirit that was often lacking in late-20th-century modernist architecture and design."
Antonio Citterio with Toan Nguyen - MiniKelvin LED Table Lamp.
APPARATUS STUDIO - since 2011. "Aged brass, painted glass, and found objects are assembled by hand to create eclectic, utilitarian fixtures."
Apure - since 2013. "Seduction of Light." The first architectural lighting brand to collaborate with Porsche Design Studio, announces the launch of its revolutionary system and products.
Aram - "London's best modern furniture store since 1964." Offering timeless elegance that never goes out of style, the modern collection of designer lighting available at Aram is the perfect way to illuminate your living space.
Arco 100W Incandescent Stainless Steel Marble Floor Lamp - Made in Italy. Designed by Achille Castiglioni in 1962. Produced by FLOS.
architectural lighting - since 1980. "International Award winning Lighting Designer Jesper Garde Kongshaug."
ARMANI / CASA - since 2000. "Having proper lighting in your home, aside from being a practical convenience, is key to creating a comfortable space and for setting a specific mood." Floor & table lamps.
Arne Jacobsen - since 1960. World famous Danish modernistic architect. All models.
ARTEMIDE - since 1960. "One of the global leaders of the residential illumination sector and high end professionals."
Artemest - since 2015. "An innovative e-commerce company that brings the best Italian artisans and designers to an international audience."
Arteriors - "Founded by Mark Moussa in 1987, Arteriors is a leader in sophisticated lighting, furniture, wall décor and accessories, beloved by discerning interior designers and retailers worldwide." Chandeliers, pendants, sconces, flush mounts, table & accent lamps, floor lamps, desk & task lighting, outdoor lighting, vanity lights & essential lighting,
ATELIER ARETI - since 2008. Desk lights, floor lights, pendant / ceiling lights & wall lights.
Azucena - "Design made in Italy founded in 1947." All lamps.

A B C D E F G H I J K L M N O P Q R S T U V W X Y Z

- B -

BACCARAT CRYSTAL - founded 1764. "Discover bright new creations." Modern crystal lighting: chandeliers, lamps & pendant lights.
Barovier & Toso - "The most ancient glass company in the world, established in 1295 and still based in Venice Murano, Italy, devoted to maintain and innovate the glass tradition." The company mission is to create high-end decorative lighting solutions – both classic and contemporary - that are timeless masterpieces, unique for design, exquisite manufacture, technology fused with creativity, to inspire true emotions, positive feelings and special atmosphere. Chandeliers, Suspensions, Ceiling lamps, Wall sconce, Table & Floor lamps.
BELUX - since 1970. "Belux develops and manufactures lamps for office and home interiors. These long-lasting products combine modern lighting technology functional design."
Bert Frank - since 2013. "Award Winning Luxury Lighting." Designer lighting inspired by mid century styles for today's interiors. Original pendant, table lamps & wall lights designed and manufactured in the UK.
BESTLITE - since 1930. Desk, Table & Floor Lamps. Winston's Churchill's favorite desk lamp. Design by Robert Dudley Best.
Birch & Willow - since 1997. "Art & Nature of Light." Birch & Willow Studio designs and creates limited edition and one-of-a-kind sconces and pendants in Massachusetts. The work is inspired by the natural play between light and shadow.
Black Lion Workshops - since 2021. "Reclaimed and Bespoke Hand-Painted Lamps." Established as a business which aimed to give unwanted lamps a new lease of life, Freya Marton designs completely unique bespoke patterns for each lamp, transforming the unloved into pieces of functional art for beautiful homes.
Boca do Lobo - since 2005. "Exclusive Design Furniture." Floor, table & wall lamps.
Bomma lighting - since 2014. "Cutting Edge Crystal | Contemporary Designers | Bohemian Artisans."
Borne BÉton lamp - "Nemo reissues cement lamp designed by Le Corbusier 1952."

A B C D E F G H I J K L M N O P Q R S T U V W X Y Z

- C -

Catellani & Smith - since 1989. "We create our light." Floor/standing, table, wall, ceiling, pendant, chandeliers, recessed & outdoor lamps.
Chauvet - since 1990. "Major innovator, developer and manufacturer, leading the entertainment lighting market in terms of design, flexibility and options."
CHRISTOFLE - since 1830. "Setting an elegant table is an art form. A silver candelabra adds elegance and create a dreamy atmosphere for an unforgettable night. Whether it is a special occasion or an intimate dinner with your loved ones, a silver-plated candelabra helps set the right mood for your guests. Combine scented candles, small table lamps, and a sterling silver candelabra with flowers to add a festive touch to the table."
CHRISTOPHE CÔME - since 2008. "Materiality of sculpture: glass, steel and light. Reality of the spectator, the author and those choses that stimulate the senses."
COLGAO 'HANGED' TABLE LAMP BY enPieza eStudio - since 2007. "Table lamp with gallows-shape metal support. The electric cable gives life to this person whose head is a lamp, hanging from the structure."
Copenhagen Joinery - since 2006. "Handmade Furniture." KBH brass lamps.
Currey & Company - since 1988. Chandeliers, Semi-Flush Mounts, Flush Mounts, Wall Sconces, Table Lamps, Floor Lamps & Outdoor Lamps.

A B C D E F G H I J K L M N O P Q R S T U V W X Y Z

- D -

DAB - Spanish design domestic lighting dab bulb cluster 9 lamps 10 lamps 15 lamps.
DARE STUDIO - since 2009. "Dare Studio design and produce luxury hand made contemporary furniture and lighting products."
DelightFull - since 2008. "Unique Lamps." Mid-century modern lighting.
Delta Lighting Solutions - "Established in Dubai in 1998 with one simple mission: to offer the highest standard of creative lighting design and client service. We have achieved this by recruiting top design talent from all over the world, having strong project ownership, providing effective and efficient project communication and response times and providing excellent ground support."
Diego Giacometti lamps - on 1stDibs.
Donghia - since 1959. "All hand-made by Venetian craftsmen on the island of Murano, Italy."
Driade - since 1968. "Home lamps, patio and outdoor Italian lighting."
Dyson CSYS task lighting - since 2015. "Powerful light precisely where you need it. With light quality that lasts 60 years." Powerful, warm white task lighting. With a 2700K color temperature, engineered for use in a relaxing space. Eight high-power LEDs last up to 144,000 hours at 648 lux. Vertical, horizontal and 360° movement. Conical reflectors focus the powerful light and help reduce glare. All models.

A B C D E F G H I J K L M N O P Q R S T U V W X Y Z

- E -

Ecart Paris - "Since 1978: re-editing & editing furniture, lamps and decorative objects." All our products, lighting, furniture and accessories, are manufactured in our workshops in France. We preserve a hand made and artisanal production to ensure you receive the finest quality.
Eichholtz - since 1998. "Create a beautiful play of light in your décor with luxury Eichholtz hanging ceiling lights. Our opulent collection of pendant light fixtures covers various sorts of height-adjustable light fittings, such as candelabra lusters, tiered chandeliers, Sputnik lamps, ceiling lanterns and drop lights." 895 lighting products.
Eileen Gray - Irish furniture designer and architect and a pioneer of the Modern Movement in architecture.
emmemobili - since 1879. All models.
ERIC SCHMITT - since 2006. All models.
Established & Sons - since 2005. "British brand representing all that is innovative in contemporary design."

A B C D E F G H I J K L M N O P Q R S T U V W X Y Z

- F -

FLOS - since 1962. "Decorative Modern Lighting for Contemporary Spaces." Discover the entire Flos lighting product range.
Flos Taccia - LED Table Lamp Dimmable with Glass Diffuse - Made in Italy. Designed by Achille and Pier Giacomo Castiglioni in 1962. Produced by FLOS.
FOCUS LIGHTING - "Founded in Denmark in 1975, Focus Lighting has gained a profound knowledge of lighting solutions to public and private entrepreneurs."
Fornasetti - since 1950. "Fornasetti is an Italian decorative arts company. A whimsical place where craftsmanship meets design, producing timeless handmade creations that inspire imagination and bring beauty to the world." All models.
Fortuny - since 1922. "Fortuny lamps and other luxury lighting products here are prepared by the expert Italian designers to make your home look apart." Glass & silk lamps.
FOSCARINI - since 1981. "Lights that change everything." Italian lighting company that gives life to its creative dreams by designing, manufacturing and selling decorative lamps worldwide with a distinctive design inherit to Italian style." Table, floor, suspension, ceiling, wall & outdoor lighting.
Frank Lloyd Wright Taliesin II Floor Lamp - "Soft, indirect lighting is provided by this dramatic lamp originally designed by Frank Lloyd Wright in 1955 for Taliesin, his Wisconsin home and workshop. Cherry wood blocks climb in geometrical sequence around a central column, creating a sculptural effect. 80-inchh, 16-inch square base, 38 lbs."

A B C D E F G H I J K L M N O P Q R S T U V W X Y Z

- G -

GALERIE KREO - since 1999. Paris, France. Contemporary & vintage lighting: ceiling, floor, table & wall lights.
Giacometti lamps - on 1stDibs.
Govee Flow Pro Wi-Fi TV Light Bars - since 2017. "Our ColorSense camera intelligently recognizes and captures the colors on your TV screen and automatically applies them to your backlights. What's more, the Govee Home app provides an incredible Video mode, which includes both a Gaming and Movie option. Add dynamic lighting to your gaming adventures or enhance your favorite movie with soft, relaxing colors."
Graf Paris - since 1982.

A B C D E F G H I J K L M N O P Q R S T U V W X Y Z

- H -

Hannah Nunn - since 2004. "I have called these floor lamps because they look great on the floor - but they can look as great sitting on a table too."
HermÈs - since 1837. Floor Lamps; Mobile Lamps & Table Lamps.
Holland & Sherry - since 1836. Floor, pendant & table lamps.
HOPE SUSPENSION LAMP - since 2009. Design by Paolo Rizzatto and Francisco Gomez Paz for LucePlan.
Horchow - since 1971. Designer Lighting.

A B C D E F G H I J K L M N O P Q R S T U V W X Y Z

- I -

IGUZZINI - since 1959. "International community at the service of architecture and light culture, for a better life." Indoor & outdoor lighting.
IKEA - since 2019. "Fill your home with music. Our speakers have a clean, modern design that makes them perfect to show off as part of your décor. Easy to use, their rich and powerful sound can be controlled wirelessly with WiFi or Bluetooth: just connect a speaker to your phone, computer, or any other compatible device and play your favourite tunes out loud - but don't keep the neighbours awake!" All models.
IKEA SYMFONISK - Floor lamp with WiFi speaker, bamboo/smart.
IKEA'S VERSATILE SOLAR-POWERED LAMP LETS YOU SWITCH ON VIRTUAL SUN IN PLANETARY MAGNIFICENCE - "It's high time we adopt alternative energy solutions like solar power for lighting up our homes. IKEA is heedful of this need, and so is Little Sun, founded way back in 2012 by engineer Frederik Ottesen and Olafur Eliasson artist. The unison between the world's most recognized home furnishing retailers and the determined creative duo goes back to 2019 when they released a prototype of a solar-powered lighting collection dubbed SAMMANLÄNKAD."
Sonos & Ikea made a floor lamp speaker that could be perfect for surround sound - "They basically just stuck some long legs onto the second-gen Symfonisk lamp speaker and switched to a bamboo shade."
INGO MAURER - since 1970. "Ingo Maurer started to design exceptional lamps, lighting systems and objects beginning in the middle of the 1960s, which his company produces and distributes worldwide. This is why we can realize our ideas without compromises." Ceiling, floor, hanging, pendant, table & wall lamps.

A B C D E F G H I J K L M N O P Q R S T U V W X Y Z

- J -

J & L LOBMEYR - "Various styles and originals of world-famous designers describe today`s offer from 1780 until today." Chandeliers, wall sconces, table- & floorlamps, lamps & lanterns.
JAMES PLUMB - since 2010. Cluster chandelier: 26 shades. Design duo James Plumb created this chandelier of many mismatched lampshades in vintage fabrics. The lamps are suspended by hand-dyed silk flex.
Jean-Louis Deniot - since 2000. Featured on lists of world's preeminent talents in architecture & interior design, Jean-Louis Deniot has long been in the business of creating atmospheres.
Jesper Garde Kongshaug - since 1980. "International Award winning Lighting Designer Jesper Garde Kongshaug."
JOCELYN WARNER - since 1999. Timeless lighting products.
JOHN POMP STUDIOS - since 1999. "Handcrafted Lighting." Chandeliers, clusters, floor, pendants, sconces & table lamps.
JONATHAN ADLER - since 1993. "Go for grandeur with larger-than-life modern lighting, or complement your already maximal palace with subtle shine." Chandeliers, flush mounts & lamps, pendants, sonces, table & wall lamps.

A B C D E F G H I J K L M N O P Q R S T U V W X Y Z

- K -

KATHARINE POOLEY - since 2004. Luxury lamps.
Kelly Wearstler - since 1995. "Lighting is the unifying element of an interior and impacts how other design components work in tandem with one another. From modern contemporary ceiling fixtures to luxury table lamps, wall sconces and statement chandeliers, the right lighting fixture can make." American designer creating multi-faceted, experiential residential, hospitality, commercial and retail environments as well as expansive collections of lifestyle product designs. Kelly Wearstler's Gallery is an evolution of the studio's long history of collaboration with emerging and established artists to create custom pieces for private clients and hospitality projects. Kelly Wearstler reunites with longstanding creative partners on a series of exclusive collections for her digital Gallery. Bringing focus to artists around the globe, Gallery offers a unique platform to view these collaborations in one place. Ceiling, Floor, Table, Wall & Outdoor.
KINZIG DESIGN - since 1987. "Traditional lighting with a twist." All lamps.
Koket - since 2010. "Love Happens." KOKET brings empowering style to a highly edited collection of furniture & soft goods while exuding a feeling of entitlement, exclusivity & prestige. Chandeliers, floor lamps, pendants, sconces & table lamps.
Kolarz - since 1918. "Inspiring chandeliers, contemporary pendant lights, modern floor lamps, decorative wall lights, designer downlights, stunning stairwell lighting – beautifully decorated with high quality crystals or Murano glass – all this and more can be found in the Kolarz Collection.

A B C D E F G H I J K L M N O P Q R S T U V W X Y Z

- L -

Lalique - since 1888. Crystal lamps.
LAURA ASHLEY - since 1954. "It's the lighting that sets the ambience in a room ..." All models: wall lights, ceiling lights & lamp shades.
Lawson Glass - since 2002. "Handcrafted Luxury Lighting Manufacturer using old world techniques and materials to create modern day chandeliers and sculpture."
LE KLINT LAMPS - "Danish Design and Craftsmanship since 1943." In cooperation with designers and architects LE KLINT offers a wide range of contemporary lamps with emphasis on functionality, aesthetics, and quality.
LIGNE ROSET - since 1860. "Ligne Roset is synonymous with modern luxury and invites consumers to revel in a contemporary, design-forward lifestyle."
LINDSEY ADELMAN STUDIO - since 2006. "Lighting and Objects." Lindsey Adelman has long been obsessed with illumination in all its forms. Her work treads the porous border between sculpture and design, taking inspiration from such diverse sources as Eva Hesse's Rope sculptures, the pattern, colors, and bodily ornamentation of the Maasai, and the films of David Lynch. Ever since the debut of the Branching Bubble chandelier, the first product made in her newly opened studio in 2006, her goal has been to transform the ephemeral nature of light into something not merely tangible but enduring. Combining organic, handwrought materials like blown glass with the strong industrial beauty of machine-milled components, her lighting systems create radiant warmth while underscoring the drama of shadows and emptiness.
LINLEY - since 1985. "The LINLEY range of luxury lights suit your every requirement, with specially designed lighting for the outdoors as well as the indoors."
L'Objet - since 2004. "L'OBJET aspires to offer designs for the home that are both luxurious and functional, to the highest degree of excellence possible, with a commitment to artistic integrity and material innovation, to produce objects that integrated beauty with design." All models.
LOUIS POULSEN - since 1874. "Louis Poulsen is an international lighting manufacturer and part of Polaris Private Equity. Louis Poulsen serves the professional and private lighting markets, and produces and develops lighting solutions for indoor and outdoor applications."
LUCEPLAN - founded in Milan 1978. "Made in Light" Luceplan creates innovative lighting fixtures since its creation more than 30 years ago. Indoor & outdoor lighting.
Lumio - since 2013. "A multi-functional modern lamp that unfolds from a book."
Luxo - since 1934. In 1937, Jacob Jacobsen, the founder of Luxo, invented the Luxo L-1 lamp, which was the inspiration for the animated short film Luxo Jr. by Pixar and a subsequent lawsuit by Luxo.
Luxxu - since 1994. "Luxxu Modern Design & Living! A design not only to enjoy but also to live for!" Luxxu Modern Lamps is all about reinventing through design classic chandeliers.
LZF lamps - "Wood Touched By Light." In 1994 we started designing and manufacturing hand-made wood-veneer lamps from a small studio in Valencia's historic centre. Since that time we've grown to become one of the world's most respected boutique lighting companies.

A B C D E F G H I J K L M N O P Q R S T U V W X Y Z

- M -

Mamacloud by Frank Gehry - designed in 2008. "Their poetic character and great variety transform the fair-weather belux mamacloud, into an atmospheric light sculpture. Its durable high-tech material can be sculptured to make each light unique. Standard lengths range up to 7m - with other forms and sizes individually made. The voluminous lamp is suitable for large rooms and has sound-softening features. The material is a multirefined polyester fleece which is virtually tear-proof, resistant to ageing and is almost nonflammable."
Margaux Island Pendant Lamp - Island Lights.
mario luca giusti - since 2007.
MATCH - since 1995. "Pewter Handmade in Italy." Toscana Table Lamp with Raw Silk Shade.
Memphis Milano - since 1980. "The Memphis movement has become an almost mythical symbol of 'New Design' and its influence is still strong in many areas of production and beyond."
METALARTE - since 1932. Hanging lamps, floor lamps, table lamps, ceiling lamps, wall brackets.
MOLO DESIGN - since 2003. "Recognized for poetic beauty and pragmatic innovation." Paper lighting fixtures.
MOOOI - since 2001. "For more than ten years Moooi has inspired and seduced the world with sparkling and innovative designs. Moooi takes pride in producing timeless objects of beauty which posses the uniqueness and character of antiques combined with the freshness of modern times."
MURANO-LITE - since 1995. "Over 2000 products of Murano glass and best crystal." Over 1000 amazing glass chandeliers of Murano glass and crystal! From classic chandeliers to ultra modern, including Venetian, Art Deco, Rezzonico, Empire ...

A B C D E F G H I J K L M N O P Q R S T U V W X Y Z

- N -

Natuzzi Italia - since 1959. "Natuzzi Italia brings light and style to any room. The collection includes ceiling, table, standing and floor lamps designed to fit any decor."
Nemo - since 1993. "The Italian lighting design firm." One of the global leaders in lighting striving to constantly create innovative cutting edge design.
Nicholas Haslam Ltd - established in 1980. Ceiling, table, standing & wall lamps.

A B C D E F G H I J K L M N O P Q R S T U V W X Y Z

- O -

OCHRE - since 1996. Chandeliers, floor lamps, table lamps and wall lights. Created in glass, bronze, brass and the more unusual materials such as chainmail, horn, horse hair and coconut shell.
OLUCE - since 1945. "Lamps and Lighting for Interior Design." The oldest Italian lamps and lighting design company still active today. Our table, ceiling, floor, suspension and outdoor lamps, are at the cutting edge.
ORIGINAL BTC - since 1990. "British Lighting Manufacturers." Established in 1990, Original BTC manufactures relaxed, familiar lighting for traditional and contemporary homes. Pendant, table & wall lights.

A B C D E F G H I J K L M N O P Q R S T U V W X Y Z

- P -

PAPIER À ÊTRES - since 2002. "Poésies Sculptées." Sophie Mouton-Perrat and Frédéric Guibrunet give life to paper.
PARNIAN - since 1977. "Live the life of luxury. Live Parnian." All lamps.
P.E. Guerin Lighting | Lamps - "Architectural Hardware since 1857." Chandeliers, Lamps, Lanterns, Pendants, Sconces & Switch Plates.
Peter Mikic - since 2006. "Beautifully Crafted Luxury." Chandeliers, Pendant Lights & Wall Lights.
PH 3/2 Brass metalized Table Lamp - designed by Poul Henningsen.
PH 4/3 Table Lamp - designed by Poul Henningsen.
PH Artichoke - since 1958. "The fixture provides 100% glare-free light. The 72 precisely positioned leaves form 12 unique rows of six leaves each. They illuminate the fixture as well as emitting diffused light with a unique pattern. The fixture provides decorative and comfortable lighting. For the energy saving LED variant the quality of light and atmosphere surrounding the product is kept at the highest level." Poul Henningsen originally developed the PH Artichoke lamp for the Langelinie Pavillonen restaurant in Copenhagen.
Philippe Starck - since 1976. All categories & models.
Philips Hue Go Portable Lamp - since 2012. "Bring smart light anywhere you want with this portable smart lamp in black. Rated for outdoor use and featuring a dark gray silicone."
Philips Hue Go Portable Table Lamp review: Lighting up your home & garden - "The Philips Hue Go Portable Table Lamp has been transforming my living space for a few months, but should you buy it? Here's my full review."
Philips Hue just reinvented the table lamp & track lighting - here's how - "Philips Hue unveiled the coolest new smart lights in years."
Philips Hue Infuse Ceiling Lamp - "Compatible with Alexa, Apple HomeKit and Google Assistant) White 1-Pack, 16W." Create a personalized experience with 16 million colors; instantly setting the mood for any moment. Choose from preset light recipes; set a festive scene for a party; enhance your home décor; and more. Bluetooth compatible for easy connectivity; set the mood instantly with Bluetooth and the Hue app. Mix sight and sound; enjoy a light and music integration with Hue and your Spotify music.
Philips Hue Review: The Enrave is a sleek smart ceiling light for your home - "The Philips Hue Enrave is a sleek, nondescript, ceiling light that will fit it into most home decor while also giving your room the perks of smart home living."
How to use Philips Hue's new smart security system - "Philips Hue just added new security features to its smart lighting line, and you can turn them on for free."
Phillips Collection - since 1983. "Every piece a conversation." All models.
PINTO PARIS - "Since 2009, Pinto Paris has been creating furniture, tableware, and accesory collections that are predominantly one of a kind or limited edition and made using rare materials."
Porta Romana - since 1988. "Luxury Lighting." Destined for the world's most beautiful interiors. Bathroom lighting, ceiling, floor & table lamps.
POUL HENNINGSEN - "The PH 3½-2½ Glass Table lamp was designed in 1928 and is one of many advanced projects undertaken by Poul Henningsen in the development of his world-famous three-shade system from 1926. Poul Henningsen devoted most of his life to taming electric light. He based his three-shade design on a logarithmic spiral to make optimum use of the light source." All models.

A B C D E F G H I J K L M N O P Q R S T U V W X Y Z

- R -

Rachel Horn Interiors - since 2000. "Rachel Horn Interiors is a boutique Interior Design firm dedicated to creating Luxury Residential and Resort interiors. Rachel created her first full line of furnishings and décor in 2002."
RALPH LAUREN - since 1967. Floor & Table lamps.
Rchard Ginori 1735 - "Made in Italy." Beauty is not meant to remain in the shadows. Choose your splendour. Porcelain meets fabrics and handicrafts meet tailoring in the Lumières collection, which displays all of the skills of the Florentine atelier. Each lampshade is handmade with the same detailed attention as the porcelain base. Table lamps.
Ritz Paris Essentials - since 2016. "This luxury bedside lamp, a faithful reproduction of the light fitting installed when the hotel first opened in 1898, takes us back to XIXth Century Paris."
Rue Monsieur Paris - since 2012. "French luxury furniture company." Table lamp.

A B C D E F G H I J K L M N O P Q R S T U V W X Y Z

- S -

Saint-Louis Cristallerie - founded in 1586. The oldest & one of the most prestigious manufacturer of Glassmaking in Europe. Chandeliers, floor, sconces & table lamps.
Santa & Cole - since 1985. Huge collection of modern and contemporary lighting products to choose from. Floor, pendant, table & wall lamps.
Sawkille Co. - since 2010. "Sawkille Co. design takes its creative drive from relationships to traditional, experimental and personal frameworks. A deep appreciation and study of the historic has allowed us to learn and develop our distinct furniture expression. From this cross pollination of influences our designs reflect our unique stories, symbols and associations."
SHARON MARSTON - since 1997. "Working to an architectural scale Sharon Marston specialises in the design and creation of bespoke sculptural light installations for interiors. The studio has won international acclaim for its range of breathtaking chandeliers, vibrant backdrops and luxurious room dividers and has pioneered the use of fibre optic technology in bespoke lighting."
Sibyl Colefax & John Fowler - "Founded in the 1930s, Sibyl Colefax & John Fowler is the longest established interior decorating firm in Great Britain, synonymous with the English country house aesthetic for nearly a century. Relaxed, inviting, deeply comfortable and entirely personal, Sibyl's pioneering approach - effortlessly mixing old with new, luxurious with humble - is today interpreted by the seven decorators, supported by an architectural interior designer."
SKITSCH - KITSCH debuted at the Salone del Mobile in Milan 2009. "Innovation, great design in its purest form, becomes accessible to everyone through the genius of the biggest worldwide artists."
Something Special - established in 1983 in Copenhagen. "Timeless, international and unique design with a touch of luxury, glamor and exuberance. Specialty: Art Deco & Jugend styles." Floor & table lamps.
STUDIO DREIMANN - since 2010. "The inspiration for AKI was the sun running through the branches of a tree, creating a wonderful atmosphere." Aki pendant lamp.
Svenskt Tenn - since 1924. Swedish interior design company. Ceiling lamps, floor lamps, table lamps & wall lamps.

A B C D E F G H I J K L M N O P Q R S T U V W X Y Z

- T -

Taccia LED Floor or Table Lamps - Made in Italy. Designed by Achille & Pier Giacomo Castiglioni in 1962. Produced by FLOS.
The Future Perfect - since 2003. Special editions, suspension, flush mounted, floor, table & wall lamps.
The White Company London - since 1993. "Everything you need for stylish living - mainly in white." Brighten the dark nights with our bigger-than-ever lighting range, which includes everything from show-stopping chandeliers and pendant ceiling lights to wall lights, table lamps and more.
Themis Z - since 2016. Tall table lamp with white Greek marble base and cotton lampshade.
TIFFANY LAMPS - since 1893. Type of lamp with a glass shade made with glass designed by Louis Comfort Tiffany and his design studio. The most famous was the stained leaded glass lamp. Tiffany lamps are considered part of the Art Nouveau movement.
Tolomeo Table - designed by Michele De Lucchi and Giancarlo Fassina in 1986 for Artemide. Base and cantilevered arms in polished aluminium; diffuser in matt anodised aluminium; joints and supports in polished aluminium. System of spring balancing. The code refers to the luminaire's body only. Tolomeo Table has become an icon almost 30 years after its birth.
TOM DIXON - since 2002. "Contemporary lighting by Tom Dixon." Full Tom Dixon collection of pendants, chandeliers, floor and table lights, including the bestselling Copper Shade, Beat and Melt lights and Mirror Ball.
TRUMP HOME LIGHTING COLLECTION - Amazon.com.

A B C D E F G H I J K L M N O P Q R S T U V W X Y Z

- V -

Venini - since 1921. "A kaleidoscopic array of lamps, lights and luminous sculptures that lends a unique atmosphere to any setting. Timeless pieces that have been created in the Fornace (Kiln) since VENINI was founded. ARTLIGHT is the undisputed star of home interiors and masterpieces of architecture alike." Floor / Table, Wall & Ceiling lighting.
Vipp - since 1939. "Turn off the darkness." Desk, floor & wall lamps.
Vista Alegre - since 1824. "Vista Alegre inspires greatness once again with its new collection of lamps, reinventing porcelain and crystal lighting."

A B C D E F G H I J K L M N O P Q R S T U V W X Y Z

- W -

WATERFORD - originally founded in 1783. Crystal lamps.
WILLIAM YEOWARD - since 1998. "Our beautiful range of table, desk and floor lamps have been designed to suit any space. Amazing crystal lamps are handmade in England and come in beautiful jewel like colours. Ceramic lamps are available in range of glazes and hand painted finishes, all hand crafted in England.. Contemporary metal floor and desk lamps in antiqued bronze and brushed and polished nickel finishes complete the look. Shades are available in linen or silk to suit your choice of lamp." Designer floor & table lamps.
WILLOW LAMP - since 2005. "Our designs fuse organic forms with high tech materials and processes to create a dramatic new genre of lighting."
WOLFARD GLASSBLOWING - since 1972. "Hand Blown Glass Oil Lamp Company."

A B C D E F G H I J K L M N O P Q R S T U V W X Y Z

- Y -

YLIGHTING - since 2001. "The Best in Modern Lighting." We're one of the largest retailers for brands such as Artemide, Flos, Modern Fan, Fontana Arte and Louis Poulsen, and many more!

A B C D E F G H I J K L M N O P Q R S T U V W X Y Z

- Z -

Zoffany - since 1983. "Designed through collaboration between Heathfield & Co and Zoffany, this latest lighting collection provides the ideal accompaniments to Zoffany's own exquisite range of luxury wall coverings, fabrics and furnishings."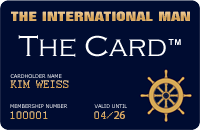 Upcoming VIP Privilege Membership Card
The International Man will in the near future be launching its own PRIVILEGE & BENEFIT VIP MEMBERSHIP CARD - named simply 'The Card'. Members will receive special privileges, benefits and preferential rates with selected partner hotels, restaurants, our LUXURY WEBSHOP, and more. Enter your name and e-mail address to receive FREE INFO about 'The Card' HERE.
RETURN TO TOP OF PAGE