Movies and Trailers of November | 2023

8 of the best films of 2023 so far - "BBC Culture film critics Nicholas Barber and Caryn James pick their highlights of the year so far, including John Wick: Chapter 4, Close, EO and Infinity Pool."
9 greatest best picture winners at the Oscars - "As the awards celebrate their ninth decade, we look back on the times the Academy got it right when it came to the biggest prize."
10 Best Movies of 2018 - TIME Magazine.
10 Best Movies of 2020 - TIME Magazine.
10 Best Movies of the Year 2019 So Far - TIME Magazine.
11 great movies from the 2023 Sundance Film Festival - "It was a busy festival filled with gruesome horror, inventive sci-fi, and plenty more films that will be coming to theaters and streaming services in the coming months."
11 GREAT SHOWS FROM 2021 TO STREAM ON NETFLIX - "A handy guide for finding the best stuff released this year."
12 best films of 2022 so far - BBC Culture.
12 of the best films of 2021 so far - "BBC Culture film critics Nicholas Barber and Caryn James pick their highlights of the year so far, including Minari, Nomadland and The Father."
16 Most Anticipated Horror Movies of the Coming Year 2020, From A Quiet Place 2 to Candyman - "From modern adaptations of literary classics to new installments in fan-favorite franchises, the slate of upcoming horror movies has something for every enthusiast."
16 of the best films of 2023 so far - "BBC Culture film critics Nicholas Barber and Caryn James pick their highlights of the year so far, including Suzume, Polite Society and John Wick: Chapter 4."
17 Great Movies You May Have Missed This Summer 2020 - TIME Magazine.
19 Most Underrated Movies on Netflix - TIME Magazine.
20 of the best films to watch in 2023 - "From Cocaine Bear and Barbie - starring Ryan Gosling and Margot Robbie - to The Little Mermaid and Oppenheimer, and the latest instalments of Dune, Indiana Jones and Mission: Impossible, our critics pick the best releases slated for 2023."
22 films to watch in 2022 - "From a psychological thriller starring Harry Styles and Florence Pugh, to Robert Pattinson as The Batman, and sequels to Avatar and Knives Out, our critics pick the best releases slated for 2022."
25 Best Christmas Movies to Watch Right Now and All Season Long - "Get in the holiday spirit with one of these festive movies - including a ton of classics."
25 films to look out for in 2022 - "Baz Luhrmann takes on the King with Tom Hanks, Jim Broadbent steals a masterpiece and Jessica Chastain plays an eccentric televangelist ... all in 2022's must-see movies."
25 of the Best Revenge Movies of All Time - "Horror, romance, and thrillers all get their due in the cultural canon - but the best revenge movies of all time are a genre unto themselves. Revenge movies capture a deep cut of emotions: the painfully human desire for payback, and the extreme, crazy, and sometimes obsessive lengths a character will go to to get it."
32 Best (and Most Anticipated) Movies of 2022 - VOGUE Culture.
36 Most Anticipated Movies of Fall 2019 - TIME Magazine.
50 best films of 2020 in the US: 20-11 - "Our pick of the finest movies released in a topsy-turvy year continues with aa darkly comic thriller and Chadwick Boseman's final performance."
50 Greatest Films of All Time - Sight & Sound magazine.
50 Most Anticipated Movies Coming Out in Summer 2019 - TIME Magazine.
50 New Summer Movies to See in 2018 - TIME Magazine.
52 perfect romcoms for Valentine's day in lockdown - "For Richard Curtis it's Gregory's Girl, Gurinder Chadha prefers Tootsie and Katy Brand goes for Dirty Dancing. Whatever your relationship status, here are the film and TV romances to curl up with."
70 Best Spooky Movies to Watch for Halloween - "One of the best things about Halloween month (the way all mature adults refer to October) is the fact that it coincides with the official start of Cozy Season. When the leaves start to fall and Rite Aid rolls out the ghost and skeleton costumes, there's nothing better than curling up in a blanket or 12, sipping a seasonal beverage - Pumking ale, anyone? - and freaking the living hell out of yourself with a horror movie. To celebrate all things Halloween-adjacent, we've put together a master list of the very best scary (or scary-ish) movies to watch this month."
100 Funniest Movies - Bravo/IMDb.
100 best films of the 21st century - "Gangsters, superheroes, schoolkids, lovers, slaves, peasants, techies, Tenenbaums and freefalling astronauts – they're all here in our countdown of cinema's best movies since 2000."
100 best TV shows of the 21st century - "Where's Mad Men? How did The Sopranos do? Does The Crown triumph? Can anyone remember Lost? And will Downton Abbey even figure? Find out here – and have your say."
100 greatest films of all time - The Telegraph.
100 Greatest Movie Characters - Empire Magazine.
100 greatest TV series of the 21st Century - "BBC Culture polled 206 TV experts from 43 countries in order to find the greatest TV of the 21st Century - here's the top 100."
301 Greatest Movies of all time - Empire.
AFI's 10 Top 10 - honors the ten greatest US films in ten classic film genres.
'Avengers: Endgame' beats 'Avatar' to become highest-grossing movie ever - "Marvel's superhero saga "Avengers: Endgame" has pushed passed James Cameron's "Avatar" to become the highest-earning movie of all time. If accounting for inflation, however, "Gone with the Wind" still holds the crown."
'Avengers: Endgame' Conquers the World With a $1.2 Billion Opening - The New York Times.
best films of 2019 - "Cinema-goers have enjoyed many riches this year from the silver screen, with offerings including Midsommar, The Irishman and Once Upon a Time... in Hollywood."
best films of 2020 so far - "Adam Sandler is a gem of jewellery dealer, Dev Patel is inspired casting as David Copperfield, while Keira Knightley disrupts the 1970 Miss World contest in these top picks from the UK release schedule this year."
best films of 2023 to look forward to - "New movies from Martin Scorsese, Wes Anderson, Sam Mendes, Greta Gerwig and Florian Zeller, among others, mean there's a feast of cinema in the coming months."
best movie moments of 2019 - "From an awkward scene with a knife to an A-lister's comeback with the sounds of Fiona Apple, Guardian writers pick their favourite big screen bits of the year."
best movies of 2022 ... you may not have seen - "From a sharp comedy reboot to an erotic political thriller, Guardian writers pick the hidden films of the year that people should know more about."
Borgen: This political drama from Denmark stands out - "Borgen has a lot to say about coalitions and the people who form them." GatesNotes. The Blog of Bill Gates.
BOX OFFICE MOJO - box-office stats.
Classic films I've never seen - "The Shawshank Redemption. This enduring, much-loved classic about wrongful incarceration and dreams of liberation is an unlikely but irresistible joy in the lockdown era."
Ed Wood - official trailer. About American screenwriter, director, producer, actor, author and film editor Ed Wood (1924-1978) posthumously awarded a Golden Turkey Award as Worst Director of All Time in 1980.
Framing Britney Spears review - a sobering look at sexism & celebrity - "The hit documentary arrives on Sky and Now TV, and explores the feeding frenzy that has surrounded the pop star since she was 10 years old."
From Die Hard to The Raid: Guardian writers on their favourite action movies - "As Brad Pitt's new thriller Bullet Train arrives in cinemas, Guardian writers have picked their most exciting action films of all time."
Gaga, Gucci & prison ferrets: how true crime conquered the world - "Ridley Scott's House of Gucci stars Lady Gaga in a tale of fashion and murder. But is true crime - once the soul of cinema, from thrillers and horrors to westerns - now outgrowing the big screen?"
Golden Globes 2020: Complete list of winners - "The 77th annual Golden Globes kicked off Sunday night with comedian Ricky Gervais hosting for his fifth time. He warned the audience he would be as mean as he's always been at the award show, but reminded them 'they're just jokes' and to not take it too hard."
'He is a psychopath': has the 2019 Joker gone too far? - "Todd Phillips's take has been mired in controversy, but it's not the first time the character has reflected society."
HUMAN CENTIPEDE 2 - "The Most Vile, Disgusting Film Ever?".
Is Federico Fellini's 8 1/2 the coolest film ever made? - "Now 60 years old, the Italian director's fantastical masterpiece is still the essence of cool. But it's endured because of the heart beneath its stylish exterior, writes Adam Scovell."
Is this the worst film ever made? - "While Plan 9 from Outer Space had little regard for continuity or cinematic convention, the film wasn't some cynical hackjob, but a truly eccentric labour of love, writes Nicholas Barber."
Jai Bhim: The Indian film that overtook The Godfather on IMDb - "Jai Bhim, a Tamil language film, has been rated the top film by users on IMDb, beating classics such as The Shawshank Redemption and The Godfather. It's the latest in a line of hard-hitting Indian movies telling stories of repression against Dalits who are at the bottom of a rigid Hindu caste hierarchy, writes film journalist Aseem Chhabra."
JERRY SEINFELD - Personal Archives. Showing three new film clips each day.
'Joker' shatters box office records despite its controversial depiction of violence - "The gritty Warner Bros. film about the origins of the crazed Batman nemesis brought in an estimated $93.5 million in North America this weekend. That makes 'Joker' the highest-grossing opening in the history of October. The film shattered the record held by Sony Pictures' 'Venom,' which made $80 million last October."
List of films considered the best - Wikipedia.
List of films considered the worst - Wikipedia.
List of films with a 100% rating on Rotten Tomatoes - To date, Leave No Trace holds the site's record, with a rating of 100% and 252 positive reviews.
Metropolis Complete - official trailer.
most overlooked titles of 2022 in movies, TV, music, books & more - "This was a doozy of a year, admittedly made even more overwhelming by the ever-expanding glut of content you know you want to consume. We seem to constantly be barraged by recommendations that have been enthusiastically served up by friends and loved ones - only for most of them to remain on our 'to watch' (or read, or listen to) list for months, never to budge. In this upcoming last weekend of 2022, we encourage you to catch up on a few of these overlooked titles that for whatever reason got lost in the crazy shuffle."
No Time to Die trailer review: Bond baddie channels your granny in 1987 - "The first proper look at Daniel Craig's final adventure as 007 has been released - we sift through the frocks and rubble for clues to the movie."
Royals, rogues & Rudolf Nureyev: the best films of 2019 - "Christian Bale plays Dick Cheney, Nicole Kidman goes undercover, Olivia Colman is Queen Anne and Timothée Chalamet gets addicted to meth."
SHVOONG.COM - "The Global Source for Summaries & Reviews". Shvoong is a global hub for Summaries & Reviews on virtually every topic imaginable. On Shvoong you'll find book reviews, book summaries, movie reviews, website reviews, make money online reviews, business reviews, product reviews, travel reviews, and much more.
Stanley Kubrick once revealed his 10 favourite movies - "Kubrick was a genre alchemist, unafraid to venture across cinematic boundaries, seamlessly transitioning from science fiction to horror, war, and dark comedy. In each realm, he shattered preconceptions and sculpted new paradigms, establishing himself as the vanguard of cinematic excellence, so it should come as little surprise that those he admired most offer an eclectic range. With the likes of Federico Fellini, Ingmar Bergman, Orson Welles and more, see the complete list below."
Streaming: the best films about artificial intelligence & robots - "A century of sci-fi films that chart our changing attitudes to AI - from Fritz Lang to Finch."
The Big Sleep: The most baffling film ever made - "Film noir The Big Sleep was released 75 years ago. While its plot has been criticised as 'cryptic' and 'confusing', that can also be a virtue, writes Nicholas Barber, arguing that we should embrace ambiguity."
THE BIRTH OF A NATION - "This three hour epic silent drama with racist overtones is easily among the most influential films ever, and one of the very first feature length American films ever, and the original blockbuster."
THE Conjuring - full movie 111:57.
The Kingmaker - documentary film written and directed by Lauren Greenfield, featuring the political career of Imelda Marcos with a focus on the Marcos family's efforts to rehabilitate the family's image and to return to political power, including her plans to see her son Bongbong become President of the Philippines.
The most disgusted films ever made - "Triangle of Sadness and the grossest films ever made. Ruben Östlund's Cannes-winning satire contains perhaps the greatest vomiting scene ever seen on screen - and so joins the long list of films that have disgusted audiences, to memorable ends, writes Nicholas Barber."
The most exciting blockbusters of 2018 - The Guardian.
THE ROOM - described as "one of the worst movies ever made" and "the Citizen Kane of bad movies". A 2003 American independent drama film written, directed, produced by & starring Tommy Wiseau.
The top video streaming services that are worth your money - "Out of the dozens available now, these are our favorites."
These 7 Movies Always Make Me Feel (Sort Of) Patriotic - "'The Fourth of July is upon us once again, and while this holiday is traditionally reserved for BBQs and beach days, I'm frankly still wiped from Pride. (As it turns out, going out every night for two weeks straight will take a toll once you pass the age of 19.) With that in mind, I'm planning a massive movie marathon for this weekend, and I know I'm not the only one; below, find a list of seven patriotism-adjacent movies that mostly refrain from veering into gross, jingoistic territory.'"
Top 10 Best Horror Films To Watch On Halloween 2021 - "It's Halloween weekend and time for some scary horror movie viewing. It's been ten years since the last top-10 list of all-time best, scariest horror films to watch on Halloween, and the past decade brought some of the genre's greatest entries. So here is the newest, updated list for 2021."
Top 10 Most Pirated Movies of 2011 - TorrentFreak.
top 100 films & what they say about our changing society - "Offbeat British directors defying realist expectations fare well in poll, but Hitchcock dominates."
TOP MOVIES - IMDb charts. "Browse the most recent weekly U.S. box office summary, and find links to the top box office performers."
What Makes a Movie the Greatest of All Time? - "The much-respected Sight and Sound poll of the best films ever shows that what is valued onscreen has changed over time, sometimes radically."
What's happened to TV's very bad men? - "From Tony Soprano to Don Draper, the charismatic but cruel antihero was once TV's defining character. Have viewers really fallen out of love with them or not, asks Charles Bramesco."
What's on Netflix - since 2013. "Independent Netflix fansite breaking the latest news." The independent Netflix news site letting you know everything what's coming soon, what's new, what's leaving and more.
Will this film save cinema in 2020? - "With the news that Christopher Nolan's latest film will be released outside the US in August, will the blockbuster finally give movie-goers what they want?"
zabriskie point - trailer. The film has been called "one of the most extraordinary disasters in modern cinematic history."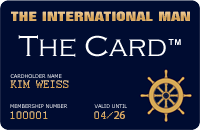 Upcoming VIP Privilege Membership Card
The International Man will in the near future be launching its own PRIVILEGE & BENEFIT VIP MEMBERSHIP CARD - named simply 'The Card'. Members will receive special privileges, benefits and preferential rates with selected partner hotels, restaurants, our LUXURY WEBSHOP, and more. Enter your name and e-mail address to receive FREE INFO about 'The Card' HERE.
RETURN TO TOP OF PAGE