Top 25 Private Label and Promotional Watches Brands

PRIVATE LABEL products or services, also known as "phantom brands", are typically those manufactured or provided by one company for offer under another company's brand. Private-label goods and services are available in a wide range of industries from food to cosmetics to web hosting. They are often positioned as lower-cost alternatives to regional, national or international brands, although recently some private label brands have been positioned as "premium" brands to compete with existing "name" brands.

An original design manufacturer (ODM) is a company that designs and manufactures a product, as specified, that is eventually rebranded by another firm for sale. Such companies allow the firm that owns or licenses the brand to produce products (either as a supplement or solely) without having to engage in the organization or running of a factory.

An Original Equipment Manufacturer (OEM) is a company that makes a part or subsystem that is used in another company's end product. For example, if Acme Manufacturing Co. makes power cords that are used on IBM computers, Acme is an OEM.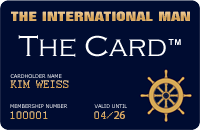 Upcoming VIP Privilege Membership Card
The International Man will in the near future be launching its own PRIVILEGE & BENEFIT VIP MEMBERSHIP CARD - named simply 'The Card'. Members will receive special privileges, benefits and preferential rates with selected partner hotels, restaurants, our LUXURY WEBSHOP, and more. Enter your name and e-mail address to receive FREE INFO about 'The Card' HERE.
RETURN TO TOP OF PAGE