Top 125 Best Fountain Pens and Writing Instruments

"We used pencils when we were small. But now we use pens ... Do you know why? Because mistakes in childhood can be erased, but not now." - Warren Buffett.

A FOUNTAIN PEN is a nib pen that, unlike its predecessor the dip pen, contains an internal reservoir of water-based liquid ink. From the reservoir, the ink is drawn through a feed to the nib and then to the paper via a combination of gravity and capillary action. As a result, the typical fountain pen requires little or no pressure to write.

The earliest historical record of a reservoir pen dates back to the 10th century. In 953, Ma'a-d al-Mu'izz, the caliph of Egypt, demanded a pen which would not stain his hands or clothes, and was provided with a pen which held ink in a reservoir and delivered it to the nib, and could be held upside-down without leaking.

Progress in developing a reliable pen was slow, however, until the mid-19th century. That slow pace of progress was due to a very imperfect understanding of the role that air pressure played in the operation of the pens and because most inks were highly corrosive and full of sedimentary inclusions. The Romanian inventor Petrache Poenaru received a French patent for the invention of the first fountain pen with a replaceable ink cartridge on May 25, 1827. Starting in the 1850s there was a steadily accelerating stream of fountain pen patents and pens in production. It was only after three key inventions were in place, however, that the fountain pen became a widely popular writing instrument. Those inventions were the iridium-tipped gold nib, hard rubber, and free-flowing ink. The first fountain pens making use of all these key ingredients appeared in the 1850s. It was in the 1880s that the era of the mass-produced fountain pen finally began.

At this time fountain pens were almost all filled by unscrewing a portion of the hollow barrel or holder and inserting the ink by means of an eyedropper. This was a slow and messy procedure. Additionally, fountain pens tended to leak inside their caps and at the joint where the barrel opened for filling. Now that the materials problems had been overcome and the flow of ink while writing had been regulated, the next problems to be solved were the creation of a simple, convenient self-filler and the problem of leakage. Self-fillers began to come into their own around the turn of the century; the most successful of these was probably the Conklin crescent-filler, followed by A. A. Waterman's twist-filler. The tipping point, however, was the runaway success of Walter A. Sheaffer's lever-filler, introduced in 1912, paralleled by Parker's roughly contemporary button-filler.

During the 1940s and 1950s, fountain pens retained their dominance: early ballpoint pens were expensive, prone to leaks and had irregular inkflow, while the fountain pen continued to benefit from the combination of mass production and craftsmanship. By the 1960s, refinements in ballpoint pen production gradually ensured its dominance over the fountain pen for casual use.

A BALLPOINT PEN is a writing instrument with an internal ink reservoir and a sphere for a point. The internal chamber is filled with a viscous ink that is dispensed at its tip during use by the rolling action of a small sphere. The sphere, usually 0.7 mm to 1.2 mm in diameter, may be made of brass, steel, tungsten carbide, or any durable, hard (nondeformable) material.

The manufacture of economical, reliable ballpoint pens arose from experimentation, modern chemistry, and the precision manufacturing capabilities of 20th century technology. Many patents worldwide are testaments to failed attempts at making these pens commercially viable and widely available. The ballpoint pen went through several failures in design throughout its early stages. It has even been argued that a design by Galileo Galilei (during the 17th century), was that of a ballpoint pen. The first patent on a ballpoint pen was issued on 30 October 1888, to John Loud.

ROLLERBALL PENS are pens which use ball point writing mechanisms with water-based liquid or gelled ink, as opposed to the oil-based viscous inks found in ballpoint pens. These less viscous inks, which tend to saturate more deeply and more widely into paper than other types of ink, give roller ball pens their distinctive writing qualities. The writing point is a tiny ball, usually 0.5 or 0.7 mm in diameter, that transfers the ink from the reservoir onto the paper as the pen moves.

A PENCIL is a writing implement or art medium constructed of a narrow, solid pigment core inside a protective casing which prevents the core from being broken and/or from leaving marks on the user's hand during use.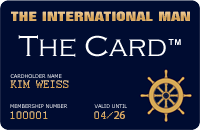 Upcoming VIP Privilege Membership Card
The International Man will in the near future be launching its own PRIVILEGE & BENEFIT VIP MEMBERSHIP CARD - named simply 'The Card'. Members will receive special privileges, benefits and preferential rates with selected partner hotels, restaurants, our LUXURY WEBSHOP, and more. Enter your name and e-mail address to receive FREE INFO about 'The Card' HERE.
RETURN TO TOP OF PAGE