Top 75 High-End Brands & Makers of Luxury Slippers

SLIPPERS are light shoes which are easy to put on and take off and usually worn indoors.

The following is a partial list of different types of slippers:

Slip-on slippers - slippers usually made with a fabric upper layer that encloses the top of the foot and the toes, but leaves the heel open.

Slipper boots - slippers meant to look like boots. often favoured by women, they are typically furry boots with a fleece or soft lining, and a soft rubber sole. Modelled after sheepskin boots, they may be worn outside.

Sandal slippers - cushioned sandals with soft rubber or fabric soles, similar to Birkenstock's cushioned sandals.

Moccasins - are often made of a soft leather or pelt. They are often beaded in the style of tribal or indigenous cultures.

Prince Albert slipper - made of velvet with leather soles and features a grosgrain bow or the wearerís initials embroidered in gold.

Closed slippers - slippers with a heel guard that prevents the foot from sliding out.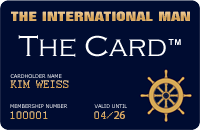 Upcoming VIP Privilege Membership Card
The International Man will in the near future be launching its own PRIVILEGE & BENEFIT VIP MEMBERSHIP CARD - named simply 'The Card'. Members will receive special privileges, benefits and preferential rates with selected partner hotels, restaurants, our LUXURY WEBSHOP, and more. Enter your name and e-mail address to receive FREE INFO about 'The Card' HERE.
RETURN TO TOP OF PAGE