Top Australian & Tasmanian Whisky Brands/Distilleries

Australia produces a number of single malt whiskies. Tasmanian whiskies in particular were the first to receive global attention. Australian whiskies are winning an increasing number of global whisky awards and medals, including for example in the World Whiskies Awards and Jim Murray's Whisky Bible 'Liquid Gold Awards'. Mainland Australian whiskies are also obtaining global recognition, in particular a West Australian whisky.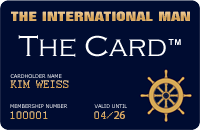 Upcoming VIP Privilege Membership Card
The International Man will in the near future be launching its own PRIVILEGE & BENEFIT VIP MEMBERSHIP CARD - named simply 'The Card'. Members will receive special privileges, benefits and preferential rates with selected partner hotels, restaurants, our LUXURY WEBSHOP, and more. Enter your name and e-mail address to receive FREE INFO about 'The Card' HERE.
RETURN TO TOP OF PAGE