Sports: Equipment, Events, Resources and Venues

"Victory belongs to the most persevering." - Napoleon Bonaparte.

SPORT is an activity that is governed by a set of rules or customs and often engaged in competitively. Sports commonly refer to activities where the physical capabilities of the competitor are the sole or primary determinant of the outcome (winning or losing), but the term is also used to include activities such as mind sports (a common name for some card games and board games with little to no element of chance) and motor sports where mental acuity or equipment quality are major factors. Sport is commonly defined as an organized, competitive and skillful physical activity requiring commitment and fair play.

Sportsmanship is an attitude that strives for fair play, courtesy toward teammates and opponents, ethical behaviour and integrity, and grace in losing. Sportsmanship expresses an aspiration or ethos that the activity will be enjoyed for its own sake. The well-known sentiment by sports journalist Grantland Rice, that it's "not that you won or lost but how you played the game," and the Modern Olympic creed expressed by its founder Pierre de Coubertin: "The most important thing . . . is not winning but taking part" are typical expressions of this sentiment.

The entertainment aspect of sports, together with the spread of mass media and increased leisure time, has led to professionalism in sports. This has resulted in some conflict, where the paycheck can be seen as more important than recreational aspects, or where the sports are changed simply to make them more profitable and popular, thereby losing certain valued traditions. The entertainment aspect also means that sportsmen and women are often elevated to celebrity status.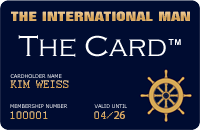 Upcoming VIP Privilege Membership Card
The International Man will in the near future be launching its own PRIVILEGE & BENEFIT VIP MEMBERSHIP CARD - named simply 'The Card'. Members will receive special privileges, benefits and preferential rates with selected partner hotels, restaurants, our LUXURY WEBSHOP, and more. Enter your name and e-mail address to receive FREE INFO about 'The Card' HERE.
RETURN TO TOP OF PAGE