Top 100 Best Online Poker Sites & Top Poker Events

"Poker may be a branch of psychological warfare, an art form or indeed a way of life – but it is also merely a game, in which money is simply the means of keeping score." - Anthony Holden.

"Life is like a game of poker: If you don't put any in the pot, there won't be any to take out." - Anonymous.

"People would be surprised to know how much I learned about prayer from playing poker." - Mary Austin.

"He liked it that everything was one's own fault. There was only oneself to praise or blame. Luck was a servant and not a master. Luck had to be accepted with a shrug or taken advantage of up to the hilt. But it had to be understood and recognized for what it was and not confused with a faulty appreciation of the odds, for, at gambling, the deadly sin is to mistake bad play for bad luck." - James Bond on gambling in Casino Royale (1953), Chapter 7, by Ian Fleming.

POKER is a sport from the family of card games that share betting rules and usually (but not always) hand rankings. Poker games differ in how the cards are dealt, how hands may be formed, whether the high or low hand wins the pot in a showdown (in some games, the pot is split between the high and low hands), limits on bets and how many rounds of betting are allowed. In most modern poker games, the first round of betting begins with some form of forced bet. The action then proceeds to the left. Each player in turn must either match the maximum previous bet or fold, losing all further interest in the hand. A player who matches a bet may also raise, increasing the bet. The betting round ends when all players have either matched the last bet or folded. If all but one player fold on any round, the remaining player collects the pot without showing his hand. If more than one player remains in contention after the final betting round, the hands are shown and the winning hand takes the pot.

Players feel that this betting system distinguishes poker from gambling games. With the minor exception of initial forced bets, money is only placed into the pot voluntarily by a player who, at least in theory, rationally believes the bet has positive expected value. Thus while the outcome of any particular hand is determined mostly by chance, the long-run expectations of the players are determined mostly by their actions chosen based on probability and psychology.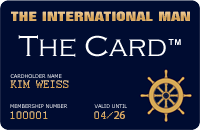 Upcoming VIP Privilege Membership Card
The International Man will in the near future be launching its own PRIVILEGE & BENEFIT VIP MEMBERSHIP CARD - named simply 'The Card'. Members will receive special privileges, benefits and preferential rates with selected partner hotels, restaurants, our LUXURY WEBSHOP, and more. Enter your name and e-mail address to receive FREE INFO about 'The Card' HERE.
RETURN TO TOP OF PAGE