Top 40 Best Int'l Commercial Airlines In The World

"There's no ****ing way I eat on planes." - Gordon Ramsey.

An AIRLINE is a company that provides air transport services for traveling passengers and freight. Airlines lease or own their aircraft with which to supply these services and may form partnerships or alliances with other airlines for mutual benefit. Generally, airline companies are recognized with an air operating certificate or license issued by a governmental aviation body.

Airlines vary from those with a single aircraft carrying mail or cargo, through full-service international airlines operating hundreds of aircraft. Airline services can be categorized as being intercontinental, intra-continental, domestic, regional, or international, and may be operated as scheduled services or charters.

COMMERCIAL AVIATION is the part of civil aviation (both general aviation and scheduled airline service) that involves operating aircraft for hire to transport passengers or cargo.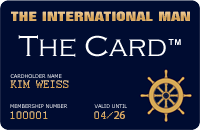 Upcoming VIP Privilege Membership Card
The International Man will in the near future be launching its own PRIVILEGE & BENEFIT VIP MEMBERSHIP CARD - named simply 'The Card'. Members will receive special privileges, benefits and preferential rates with selected partner hotels, restaurants, our LUXURY WEBSHOP, and more. Enter your name and e-mail address to receive FREE INFO about 'The Card' HERE.
RETURN TO TOP OF PAGE