Top 50 High-End Stationery/Business Cards Suppliers

STATIONERY has historically meant a wide gamut of materials: paper and office supplies, writing implements, greeting cards, glue, pencil case etc.

Originally the term "stationery" referred to all products sold by a stationer, whose name indicates that his book shop was on a fixed spot, usually near a university, and permanent, while medieval trading was mainly ambulant, by peddlers (including chapmen, who sold books) and others (such as farmers and craftsmen) at non-permanent markets such as fairs. It was a special term used between the 13th and 15th centuries in the manuscript culture.

In its modern sense of (often personalized) writing materials, stationery has been an important part of good social etiquette, particularly since the Victorian era. Some usages of stationery, such as sending a manufactured reply card to a wedding invitation, has changed from offensive to appropriate.

The usage and marketing of stationery is a niche industry that is increasingly threatened by electronic media. As stationery is intrinsically linked to paper and the process of written, personalized communication, many techniques of stationery manufacture are employed, of varying desirability and expense. The most familiar of these techniques are letterpress printing, embossing, engraving, and thermographic printing (often confused with thermography). Flat printing and offset printing are regularly used, particularly for low cost or informal needs.

Styles of printed stationery techniques: Letterpress printing is a printing method that requires characters being impressed upon the page. The print may be inked or blind but is typically done in a single color. Motifs or designs may be added as many letterpress machines use movable plates that must be hand-set. Embossing is a printing technique used to create raised surfaces in the converted paper stock. The process relies upon mated dies that press the paper into a shape that can be observed on both the front and back surfaces. Engraving is a process that requires a design to be cut into a plate made of a relatively hard material. It is a technology with a long history and requires significant skill and experience. The finished plate is usually covered in ink, and then the ink is removed from all of the un-etched portions of the plate. The plate is then pressed into paper under substantial pressure. The result is a design that is slightly raised on the surface of the paper and covered in ink. Due to the cost of the process and expertise required, many consumers opt for thermographic printing, a process that results in a similarly raised print surface, but through different means at less cost.

BUSINESS CARDS are cards bearing business information about a company or individual. They are shared during formal introductions as a convenience and a memory aid. A business card typically includes the giver's name, company affiliation (usually with a logo) and contact information such as street addresses, telephone number(s), fax number, e-mail addresses and website. It can also include telex, bank account, tax code. Traditionally many cards were simple black text on white stock; today a professional business card will sometimes include one or more aspects of striking visual design.

The CARTE DE VISITE, abbreviated CdV, was a type of small photograph which was patented in Paris by photographer André Adolphe Eugène Disdéri in 1854, although first used by Louis Dodero. It was usually made of an albumen print, which was a thin paper photograph mounted on a thicker paper card. The size of a carte de visite is 54.0 mm (2.125 in) × 89 mm (3.5 in) mounted on a card sized 64 mm (2.5 in) × 100 mm (4 in). In 1854, Disdéri had also patented a method of taking eight separate negatives on a single plate, which reduced production costs. The Carte de Visite was slow to gain widespread use until 1859, when Disdéri published Emperor Napoleon III's photos in this format. This made the format an overnight success. The new invention was so popular it was known as "cardomania" and it spread throughout Europe and then quickly to America and the rest of the world.

A VISITING CARD, also known as a calling card, is a small paper card with one's name printed on it. They first appeared in China in the 15th century, and in Europe in the 17th century. The footmen of aristocrats and of royalty would deliver these first European visiting cards to the servants of their prospective hosts solemnly introducing the arrival of their owners.

Visiting cards became an indispensable tool of etiquette, with sophisticated rules governing their use. The essential convention was that one person would not expect to see another person in her own home (unless invited or introduced) without first leaving his visiting card for the person at her home. Upon leaving the card, he would not expect to be admitted at first, but might receive a card at his own home in response. This would serve as a signal that a personal visit and meeting at home would not be unwelcome. On the other hand, if no card were forthcoming in return, or if a card were sent in an envelope, a personal visit was thereby discouraged. As an adoption from French and English etiquette, visiting cards became common amongst the aristocracy of Europe, and also in the United States. The whole procedure depended upon there being servants to open the door and receive the cards and it was, therefore, confined to the social classes which employed servants.

Some visiting cards included refined engraved ornaments, embossed lettering, and fantastic coats of arms. However, the standard form visiting card in the 19th century in the United Kingdom was a plain card with nothing more than the bearer's name on it. Sometimes the name of a gentlemen's club might be added, but addresses were not otherwise included. Visiting cards were kept in highly decorated card cases.

The visiting card is no longer the universal feature of upper middle class and upper class life that it once was in Europe and North America. Much more common is the business card, in which contact details, including address and telephone number, are essential. This has led to the inclusion of such details even on modern domestic visiting cards, a practice endorsed by modern books of etiquette.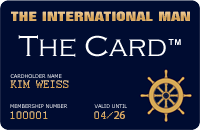 Upcoming VIP Privilege Membership Card
The International Man will in the near future be launching its own PRIVILEGE & BENEFIT VIP MEMBERSHIP CARD - named simply 'The Card'. Members will receive special privileges, benefits and preferential rates with selected partner hotels, restaurants, our LUXURY WEBSHOP, and more. Enter your name and e-mail address to receive FREE INFO about 'The Card' HERE.
RETURN TO TOP OF PAGE