World's Top 35 Best and Most Famous Beaches 2018

A BEACH is a landform along a body of water. It usually consists of loose particles, which are often composed of rock, such as sand, gravel, shingle, pebbles, or cobblestones. The particles comprising a beach are occasionally biological in origin, such as mollusc shells or coralline algae.

Some beaches have man-made infrastructure, such as lifeguard posts, changing rooms, and showers. They may also have hospitality venues (such as resorts, camps, hotels, and restaurants) nearby. Wild beaches, also known as undeveloped or undiscovered beaches, are not developed in this manner. Wild beaches can be valued for their untouched beauty and preserved nature. Beaches typically occur in areas along the coast where wave or current action deposits and reworks sediments.

An URBAN BEACH; or city beach and sometimes beach club, is defined by urban planners as an artificially-created environment in an urban setting which simulates a public beachfront, through the use of sand, beach umbrellas, and seating elements. It does not include swimming or any sort of natural sloping shoreline into the water (i.e., it is not a natural beach that happens to be in an urban area). The very point of the urban beach is to surprise and delight city residents, workers, and visitors by inserting a beach atmosphere into an urban area that would otherwise be typical cityscape.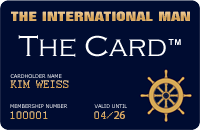 Upcoming VIP Privilege Membership Card
The International Man will in the near future be launching its own PRIVILEGE & BENEFIT VIP MEMBERSHIP CARD - named simply 'The Card'. Members will receive special privileges, benefits and preferential rates with selected partner hotels, restaurants, our LUXURY WEBSHOP, and more. Enter your name and e-mail address to receive FREE INFO about 'The Card' HERE.
RETURN TO TOP OF PAGE