Travel & Holiday Resources | Cruise Lines and Ships

"To travel is to live!" - Hans Christian Andersen.

"Travel is fatal to prejudice, bigotry and narrow-mindedness." - Mark Twain.

"The traveler sees what he sees, the tourist sees what he has come to see." - G.K. Chesterton.

"Never lose the urge to walk, if one just keeps on walking, everything will be all right." - Søren Kierkegaard.

THE AVIATION TRAVEL CLASSES & CLASSIFICATION SYSTEM EXPLAINED:

Super First Class:
The new Super First Class Cabins comprises of your own enclosed cabin complete with 6ft 7ins bed, leather interior, wash unit, 23-inch tv, inbuilt massager, a specially prepared menu and champagne and room service (offered only by: Singapore Airlines, Etihad Airways and Emirates).

First Class:
Generally the most expensive and most comfortable accommodations available. Usually refers to a limited number (rarely more than 16) of seats or cabins located in the front of the aircraft which are notable for their comfort, service and privacy.

Business Class:
High quality, traditionally purchased by business travellers (sometimes called executive class).

Premium Economy Class:
Slightly better Economy Class seating (greater distance between rows of seats; the seats themselves may or may not be wider than regular economy class).

Economy Class:
(Also known as coach class or travel class - or 'monkey class'), basic accommodation, commonly purchased by leisure travellers.

"Some people TRAVEL on business, some in search of health, but it is neither the sickly nor the men of affairs who fill the Grand Hotels. It is those who travel 'for pleasure', as the phrase goes. What Epicurus, who never travelled, except when he was banished, sought in his own garden, tourists seek abroad.

And do they find their happiness? Those who frequent the places where they resort must often find this question, with a tentative answer in the negative, fairly forced upon them. For tourists are, in the main, a very glommy-looking tribe. One usually sees much brighter faces at a funeral than in the Piazza San Marco. One wonders why they go abroad.

The fact is that very few travellers like travelling. If they go to the trouble and expense of travelling, it is not so much from curiosity, for fun, or because they like to see things beautiful and strange, as out of a kind of snobbery. People travel for the same reason as they collect works of art: because the best people do it. To have been to certain spots on the earth's surface is socially correct; and having been there, one is superior to those who have not.

To justify this snobbery, a series of myths has gradually been elaborated. The places which it is socially smart to have visited are aureoled with glamour, till they are made to appear, for those who have not been there, like so many fabled Babylons and Bagdads.

The genuine Traveller, on the other hand, is so much interested in real things that he does not find it necessary to believe in fables. He is insatiably curious, he loves what is unfamiliar for the sake of its unfamiliarity, he takes pleasure in every manifistation of beauty." - Aldous Huxley.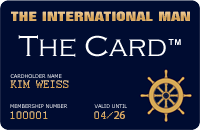 Upcoming VIP Privilege Membership Card
The International Man will in the near future be launching its own PRIVILEGE & BENEFIT VIP MEMBERSHIP CARD - named simply 'The Card'. Members will receive special privileges, benefits and preferential rates with selected partner hotels, restaurants, our LUXURY WEBSHOP, and more. Enter your name and e-mail address to receive FREE INFO about 'The Card' HERE.
RETURN TO TOP OF PAGE