Top 20 Best High-End Dry/Wet Shaving Gear Products

SHAVING is the removal of hair, by using a razor or any other kind of bladed implement, to slice it down - to the level of the skin or otherwise. Shaving is most commonly practiced by men to remove their facial hair and by women to remove their leg and underarm hair. A man is called clean-shaven if he has had his beard entirely removed.

Shaving can be done with a straight razor or safety razor (called 'manual shaving' or 'wet shaving') or an electric razor (called 'dry shaving').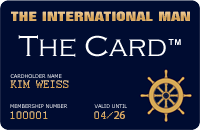 Upcoming VIP Privilege Membership Card
The International Man will in the near future be launching its own PRIVILEGE & BENEFIT VIP MEMBERSHIP CARD - named simply 'The Card'. Members will receive special privileges, benefits and preferential rates with selected partner hotels, restaurants, our LUXURY WEBSHOP, and more. Enter your name and e-mail address to receive FREE INFO about 'The Card' HERE.
RETURN TO TOP OF PAGE