Top 175 Best Aviation News, Reviews and Resources

A B C D E F G H I J K L M N O P Q R S T U V W X Y Z

- A -

1st Chinese-built passenger jet completes maiden flight - The Guardian.
1% of people cause half of global aviation emissions - study - "Researchers say Covid-19 hiatus is moment to tackle elite 'super emitters'. Frequent-flying 'super emitters' who represent just 1% of the world's population caused half of aviation's carbon emissions in 2018, according to a study."
3 Airfare Hacks for the Committed Penny-Pincher - The New York Times.
3 ways to avoid checking your bag at the gate - "If you're flying soon and want to minimize your risk of having to check a bag, here are three things you can do."
4 letters you don't want to find on your boarding pass - The Telegraph.
5 coolest buttons in a 747 cockpit - The Telegraph.
5 Flight Safety Videos Worth Watching - The New York Times.
5 Most Produced Commercial Aircraft In History - "In the last century, thousands of commercial aircraft have been built and delivered to customers all over the world. But which are the most produced aircraft? We take a look at the most produced commercial aircraft in history with our top-five rundown."
5 Tips to Sleep Better on Your Next Trip - The New York Times.
5 unusual airlines that really existed - "In the late 1970s, the US government deregulated the airline industry, removing federal control over fares, routes and the entry of new airlines into the market. As a result, a flurry of new airlines appeared from the 1980s onward, and some of them were particularly unusual. Let's take a look."
5 ways Boeing's 747 jumbo jet changed travel - "Over 50 years after the launch of the 'queen of the skies,' the very last Boeing 747 has been rolled of the assembly line. The aircraft, a 747-8 Freighter, left the Boeing factory in Everett, Washington on Tuesday, and will be delivered to American cargo airline Atlas Air in early 2023."
6 easy ways to beat jet lag - CNN Business.
6 of the Best First & Business Class Amenity Kits - Flight Centre.
6 ways technology is putting travellers at risk - The Telegraph.
7 supersonic passenger-jet concepts that will connect cities in as little as one hour - "Fly up to 9 times faster than the speed of sound. The Concorde was a supersonic commercial airliner, flying passengers at 1,350 miles per hour. High costs, safety concerns, and loud sonic booms forced the plane to retire in 2003. Several companies are trying to reintroduce supersonic air travel with new ultra-high-speed jet concepts."
8 best-selling planes - "Size, energy efficiency, cargo and passenger load, comfort and cost. There are a lot of factors involved in making an airplane design appealing to airlines and, in turn, their customers. But which are the best-selling civil airplanes of all time, and what made them stand out from the rest? Let's take a look at the top eight, based on total deliveries as of December 31, 2021."
8 top-rated travel essentials, from Air Tags to clever carry-on bags - "Let's face it, travelling can be stressful. From delays to overweight baggage, getting to a holiday destination can leave even the calmest of us feeling frazzled. While we can't prepare or predetermine all stressful situations, there are some products that can help minimise some common travel struggles. From Apple AirTags to give our baggage the best chance of being found if it should go missing to a luggage scale so you never have to unpack your overfilled suitcase in front of a queue of people again, we've found eight top-rated buys we think are worthing adding to your holiday packing check list."
8 Ways to Make Your Flight Better - "From scoring the best seat assignment to zipping past security lines: how to make air travel more tolerable."
9 Biggest U.S. Airlines, Ranked From Best to Worst - TIME Management.
9 things that will make flying on an airplane better - "It's a miracle of science that we can jet from town to town to get our business done and get our fun on, but today's flying experience can leave a bit to be desired."
10 best airlines you've never heard of - The Telegraph.
10 most expensive business jets on the market - "In recent years, more and more people have started to see the advantages of flying privately. During the COVID-19 pandemic, where border restrictions and a lack of scheduled commercial flights made it difficult for frequent fliers to travel, some seasoned passengers turned to private jets. This allowed for complete control over their in-flight experience. While some wealthy travelers opted to charter private jets for individual journeys, others chose an outright purchase."
10 Most Expensive Private Jets in The World - "Worth US$900,000,000." Luxury Zone. YouTube 12:15.
10 Most Revolutionary Business Jets of the Past 60 Years - "From a Learjet 23 to a Gulfstream G700."
10 of the world's biggest aviation mysteries - The Telegraph.
10 of the world's largest aircraft - CNN travel.
10 oldest airlines in the world still in operation - "The aviation industry might be known for its volatility and financial instability, particularly in recent years, but a surprising number of airlines from the pioneering early days of commercial flight are still surviving in their original form. Finnish flag carrier Finnair celebrates its 100th anniversary on November 1, having been founded in 1923 as a seaplane service, while the Czech Republic's flag carrier Czech Airlines made its first flight just a few days earlier in October 2023. Here are 10 of the oldest airlines in the world still in operation."
10 reasons why passengers have been thrown off flights - The Telegraph.
10 things you never knew about being an air hostess - The Telegraph.
10 Ways to Be a Greener Traveler, Even if You Love to Fly - The New York Times.
10 ways to boost chances of surviving a plane crash - CNN travel.
12 hidden aircraft features you didn't know about - The Telegraph.
12 wild things that happened in aviation in 2020 - "This was a heinous year for the aviation industry. Absolutely horrendous, in fact. But among the gloom there were some lighter, crazier, even hopeful moments that captured our imaginations during the dark times. Here are the wildest."
13 unbelievable statistics about air travel - The Telegraph.
14 most extravagant celebrity private jets - from Kim K to Elon Musk - "Billionaires are no strangers to the high life - especially in the case of private jets. Although owning at least one is a staple asset for many of the world's wealthiest, not all jets are created equal, and some are inevitably more impressive than others - and of course come with different price tags. So, which billionaires own the most extravagant rides?"
15 airlines that no longer exist - CNN travel.
15 years after Concorde, supersonic jets are booming back into style - "New laws in the US are breathing fresh life into supersonic air travel."
17 biggest secrets of air travel - The Telegraph.
17-minute flight? The super-rich who have 'absolute disregard for the planet' - "Kylie Jenner is far from the only celebrity to make short hops using private jets despite mounting concerns over the climate crisis."
18 Ways to Navigate Stress at the Airport - The New York Times.
20 astonishing facts about the A380 superjumbo - "Beloved by passengers for its spaciousness and comfort, but disliked by airlines because of its running costs, the Airbus A380 has already entered its sunset years, even though it debuted commercially just 14 years ago. Whether you plan to catch a flight on an A380 while you still have the chance or not, here's our pick of the 20 most interesting facts about this unique aircraft."
20 of our favorite personalized travel accessories to take along on your next trip - "Travel is in full swing once again. While your journey might face hiccups galore - think lost luggage, delays and cancellations - your travel gear is the one thing you can and should count on. And if you're like us, your travel must-haves could use some refreshing. When investing in new accessories - from luggage and toiletry bags to travel backpacks and packing cubes - consider upgrading to personalized items with a monogram. Not only will the pieces identify their owner without a doubt, but they'll also keep you super organized and add some swagger to your travel ensemble."
20 Years at 30,000 Feet: A Flight Attendant Answers Readers' questions - "Does the cabin crew ever get scared in the air? Is there a secret flight attendant code? How do I survive a flight with my toddler? An industry insider answers."
21 most terrifying incidents in air travel history - The Telegraph.
23 biggest secrets of air travel - The Telegraph.
23 Plane crashes where everyone survived The Telegraph.
25 things Travel guru Rick Steves always packs in his carry-on - "Steves spends four months out of the year traveling Europe for work, and he only brings a carry-on bag. Steves' must-haves include hemp shorts, Bose headphones, Patagonia pants, and bags he designed."
31 stops, fares from £10,834 and sandwiches courtesy of the co-pilot - "The first flight from Britain to Australia."
33 Airline Posters From Flying's Golden Age - The New York Times.
40th anniversary of Concorde - 40 fascinating facts.
41 super-rich's stunning planes, trains, automobiles & yachts - "Magnificent modes of transport that will make your jaw drop. Billionaires like to go from A to B in supreme comfort and style, and think nothing of splurging on the finest and most exclusive modes of transport imaginable. Read on to see the private jets, opulent trains, prestige cars and magnificent megayachts of the planet's richest people."
737 MAX: Boeing 'inappropriately coached' test pilots, say senators - "Planemaker and US regulator may have tried to cover up important information relating to deadly crashes - official report."
747 might be having her finest time - "Queen of the skies: The Boeing 747 is playing a hero's role during Covid-19 crisis."
2017 World Airline Awards - Skytrax.
2015 was the safest year in aviation history - The Telegraph.
2016 set to be the safest year in aviation history - The Telegraph.
2017 world's most (and least) punctual airlines - The Telegraph.
2018 world's safest (and least safe) airlines - The Telegraph.
2019 WORLD'S SAFEST & lowest ranked AIRLINES NAMED - "Qantas has been nominated the world's safest airline for 2019 by AirlineRatings.com, the world's only safety, and product rating website."
2020 List Of The World's Best Airlines Is Out Now - "The 2020 list of the world's best airlines is out, and regaining the top spot this year from Singapore Airlines is Air New Zealand."
A double-bed in first-class? Airline reveals slick new cabin interiors - "Japan Airlines unveils high-tech interiors of new A350-1000 aircraft."
A double-decker plane seat & other wild aviation moments from 2022 - "Covid and chaos: 22 ways flying had a bumpy ride in 2022."
A flight attendant's secrets to surviving long-haul flights - "Any air travel can be stressful, but facing down a long-haul flight can be especially intimidating. Should you prioritize sleeping or eating, or both? Should you attempt to exercise in the aisle? Is it ever acceptable to take off your shoes? CNN Travel asked British flight attendan Kris Major for his tips and tricks on surviving multiple hours in the sky."
A Flight Attendant's Tips on Surviving Travel Now - "'A One-Hour Layover Is Not Enough Anymore'. In two decades of flying, things have never been as stressful as they are now, a cabin insider says. Here, her tips from 30,000 feet for avoiding airline chaos this summer."
A mind-reading combat jet for the future - "During World War II, Spitfire pilots described their plane as so responsive it felt like an extension of their limbs."
A passenger with no flying experience landed a plane in a Florida airport after the pilot became incapacitated - "As the situation unfolded, the passenger can be heard telling air traffic control that he doesn't know how to fly the plane, according to LiveATC.net audio CNN obtained."
A US flyer tracked his lost luggage back to London & was told by American to go pick it up from the airport - even though he was 4,000 miles away in North Carolina - yahoo!.
A380 superjumbo pulled apart for souvenirs - "Own a piece of the first Airbus A380 to be retired."
A380 superjumbo to test experimental open fan engine - "This Airbus A380, the world's largest passenger jet, has been recruited as a demonstrator to trial new cutting-edge open fan engine architecture which could help cut carbon emissions by up to 20%."
A380's biggest supporter is asking Airbus to build a new super jumbo - "The A380 super jumbo has many supporters around the world, but none quite as vocal and powerful as Tim Clark, the president of Emirates, by far the largest operator of the aircraft. The Dubai-based airline purchased nearly half of all A380s ever produced and now has 118 in its fleet, about 80 of which are currently flying."
A380's seats pulled out for Covid-19 missions - "Portuguese charter operator Hi Fly has removed most of the seats from its sole A380 in order to make way for more cargo, making it the world's first A380 to be converted for freight."
1903, New York Times predicted that airplanes would take 10 million years to develop - "Only nine weeks later, the Wright Brothers achieved manned flight. The pathologically cynical always will find a reason to complain."
A Flight Just Set A Record For Positive Covid-19 Cases - Here's Why That Will Not Happen In The U.S. - "There is a new record for the number of coronavirus infections traced back to a single commercial airline flight. A whopping 47 passengers who flew on Vistara flight 6395 from New Delhi to Hong Kong on April 4 have since tested positive for Covid-19. That number represents 25% of the 188 passengers on board."
aeromobil - "Transforms in seconds from an automobile to an airplane."
Afraid of Airlines? There's Always the Private Jet - "Concerned about virus-related safety on commercial planes, many fliers are turning to private jets for the first time. The catch, of course, is the price."
Air France Reminds Travelers What Their Flight Could Be Like - The New York Times.
Air France's new business class cabin - "Sliding doors and lie-flat beds in Air France's new biz class."
Air Horse One: The wonderful world of equine air travel - "They may not be able to recline in a comfy seat and watch the latest blockbuster release, but the world of equine air travel can be just as plush."
Air New Zealand reveals price of new economy class sleep pods - "Normally, lie-flat airline seats are a luxury only available for first- and business-class passengers. But that will change on some Air New Zealand flights when the airline launches Skynest, a beds-on-board concept for economy-class passengers, in September 2024."
Air New Zealand to weigh passengers before they board the airplane - "Remove your shoes. Take your keys out of your pocket. Step on the scale? That's right: New Zealand's Civil Aviation Authority is asking that its national airline weigh passengers departing on international flights from Auckland International Airport through July 2, 2023."
Air New Zealand unveils economy-class sleeping pods - "On February 25, the airline filed patent and trademark applications for the 'Economy Skynest'".
Air passengers' top ten superstitions when flying - The Telegraph.
Air travel is harming the planet. Here's how to fly greener - "From alternative fuels to rationing trips: A guide to more sustainable flying."
Air travel is toxic for the planet. But some airlines are better than others - "The world's most eco-conscious airlines."
AIR TRAVEL OUTLOOK FOR 2016 - "Mining 2015 data to understand when to buy, expected ticket prices, and fare differentials."
Air travel's maddening double standard - "As it stands, any American can get on a flight into or within the US without being vaccinated. While vaccinated people can still contract and spread Covid-19, the vaccines are effective at preventing many infections and therefore reducing the spread of disease. In contrast, unvaccinated people who have no immunity to the virus are highly susceptible to Covid-19. As a result of this significant difference in risks posed by the unvaccinated compared to the vaccinated, we require non-US citizens who are flying into the US to provide proof of vaccination. A different standard, though, applies to Americans, who can fly to and within the US without ever having to present a vaccine card. That should change, and many health experts agree."
Airbus A380: Where the superjumbo is flying as aviation returns - "If you're still hoping to experience the A380's memorably spacious interior and quiet inflight experience before the plane's a thing of the past, here's our round-up of airline A380 routes to check out."
Airbus Beluga XL spreads its wings at long last - CNN travel.
Airbus to charter its popular Beluga XL 'whale plane' - "Airbus plans to charter out its whale-shaped Beluga transport planes - whose main job until now has been to ferry aircraft parts between its plants in Europe - to help other industries haul urgently-needed outsized machinery by air."
Airbus reveals plans for hydrogen fuel cell aircraft - Airbus has announced it is developing a hydrogen-powered fuel cell engine - and that it plans to test it on the largest commercial airplane ever to take to the skies.
Airbus to test hydrogen-fueled engine on A380 jet - "Airbus just moved one step closer to launching the world's first zero-emission commercial aircraft by 2035."
Airbus unveils new 'bird of prey' concept plane - CNN travel.
aircraft interiors expo - "The global market leader for the world's aircraft interiors industry, Aircraft Interiors Expo is the launch pad for cabin programmes showcasing tomorrow's designs, in-flight entertainment, connectivity and passenger services." April 14-16, 2015. Hamburg Messe, Germany.
Aircraft registration - unique alphanumeric string that identifies a civil aircraft, in similar fashion to a licence plate on an automobile.
AIRFAREWATCHDOG - since 2009. "Cheap Flights, Airline Tickets & Deals." Airfare deals & money-saving tips from our airfare experts. Get Lowest Fares and Top Hotel Picks
Airline alliance - Aviation industry arrangement between two or more airlines agreeing to cooperate on a substantial level. Alliances may provide marketing branding to facilitate travelers making inter-airline codeshare connections within countries. This branding may involve unified aircraft liveries of member aircraft. In 2015, Star Alliance was the largest with 23% of total scheduled traffic in Revenue passenger kilometres (RPKs)/revenue passenger miles (RPMs), followed by SkyTeam with 20.4% and Oneworld with 17.8%, leaving 38.8% for others. In 2019, by number of passengers, Star Alliance was leading 762 million, followed by SkyTeam (630 million) and Oneworld (535 million).
Airline By Airline - What Will It Be Like When We Can Fly Again? - "When we can take to the skies once more, airports and flights will look and feel very different thanks to the safety measures that have been put in place as a result of the Covid-19 pandemic. From masks and social distancing measures, to food and drink onboard, we detail what you need to know ..."
Airline passengers undergo Covid-19 blood tests before boarding - "Perhaps a sign of what the future holds for air travelers, Dubai-based airline Emirates has begun carrying out Covid-19 blood tests on passengers at the airport prior to flights."
Airline Rankings Worldwide + airline ratings 2018 - AirHelp Score.
Airline serves up coffee cups you can eat - "Air New Zealand is testing edible coffee cups on board."
Airline tweets about where passengers are least likely to die in a crash - "Generally, regarding broad sections of the plane, 'the analysis found that the seats in the back third of the aircraft had a 32% fatality rate, compared with 39% in the middle third and 38% in the front third,' the magazine said."
Airlines are flying again, but people aren't giving up private jets - "Private jets turn out to be a difficult habit to kick. Although airlines have re-established routes to popular summer destinations, rich people are still paying to fly privately to places like Miami, Mexico, the Caribbean and even Europe. Vista Global, a Malta-based company that caters to this elite pocket of the aviation market, reported a record month in July, even after rapid growth in the first half."
Airlines call for joint US-European testing scheme - "Major airlines have asked for a joint coronavirus testing programme, so that travel may resume between the US and Europe."
Airlines could soon shrink the size of luggage you're allowed to carry on - The Washington Post.
Airlines flying near-empty 'ghost flights' to retain EU airport slots - "Analysis from Greenpeace finds deserted flights are generating millions of tons of harmful emissions."
Airlines hate 'hidden city ticketing,' but it's still one of the best ways to save a ton on your flights — if you know how to do it - Business Insider.
Airlines need to do more than plant trees to hit net zero, MPs told - "Climate Change Committee head says firms must invest in 'scaleable' offsets such as carbon capture."
Airlines Phasing Out Screens Because You Are All on Your Devices - The New York Times.
AIRLINES PREPARING FOR FUTURE WITH FEWER PASSENGERS & HIGHER FARES - "Tickets could cost 50% more because of 'de-densification'."
airlines that have never had a single plane crash - The Telegraph.
Airlines with the best Wi-Fi and inflight tech - "Plush seats and gourmet meals are all very well, but when it comes to jetting around the world, many of us have just three questions: Is there Wi-Fi? Where can I plug this in? And what movies have you got?"
Airplane etiquette: Dos & don'ts for your next flight - "Don't put your bare feet on another passenger's armrest & more etiquette tips for a smoother flight."
Airplane interiors of the future revealed in 2019 Crystal Cabin Awards - "Would you sleep in windowless cargo hold?"
Airplane Wi-Fi - How It Works, Airline Availability, Fees & More - "How Airplane Wi-Fi Works."
Airport gets world's first five-star anti-Covid award - "Rome's Fiumicino Airport awarded world's first five-star anti-Covid award."
Airport Hotels Go Glam - "Airport hotels don't have to be purely functional and only places to sleep before or after a long flight. Increasingly, they can be fun and in some cases, even glamorous."
Airships for city hops could cut flying's CO2 emissions by 90% - "Bedford-based blimp maker unveils short-haul routes such as Liverpool-Belfast that it hopes to serve by 2025."
Alaska Airlines has created a coffee that it says tastes better in the sky - "Alaska has created a custom blend with Portland-based roaster Stumptown to make a coffee that's immune from the altitude-changing effects that airborne-served coffee typically creates, including tasting bitter and weak."
Alitalia airline offering 'Covid-tested' flights - "The Italian national carrier has announced that it will trial flights between Rome and Milan where every single passenger has to confirm that they have tested negative for the virus. These flights are identified as 'Covid-tested.'"
Almost 1 in 3 pilots in Pakistan have fake licenses, aviation minister says - "More than 30% of civilian pilots in Pakistan have fake licenses and are not qualified to fly, the country's aviation minister revealed Wednesday."
'Always, always pack it': Flight attendant's crucial packing tip - what to carry on plane - "A flight attendant has highlighted an item she tells travellers they should 'always, always, always' pack when they travel by plane."
America's new shortest airline route - "Want to fly across Colorado today on the 29-mile route between the mountain communities of Eagle-Vail and Aspen? A one-way trip will costs you $251 on American Airlines, but we'd hope you'd have a very good reason for booking."
American Airlines is cutting legroom in economy class - The Telegraph.
An Air Force One that flies at five times the speed of sound? - "There could be a supersonic Air Force One prototype airplane as early as 2025, with the US Air Force getting busy awarding development contracts."
Antonov 225 Mriya, the successful Soviet Cargo Plane with five facts - "The Antonov 225 Mriya is mostly known for its size. It is the largest aircraft ever made, with a wingspan size of a football field. By comparison, it dominates the double-decker Airbus A380 and still inspires crowds who watch its takeoff and landing. Antonov 225 Mriya, which means "Dream" in Ukrainian is a cargo aircraft that was designed by the Antonov Design Bureau in the Ukrainian SSR within the Soviet Union during the 1980s under the leadership of Russian engineer, Viktor Tolmachev."
app allows passengers to bid for last-minute upgrades on planes - The Telegraph.
Are Budget Airlines Really Worth It? - "With low-cost carriers collapsing on a seemingly regular basis, here's what you should keep in mind when booking a flight."
Are flights really cheaper on Friday the 13th? - The Telegraph.
Are windowless planes the future of travel? - CNN Travel.
At 19 hours, it's the world's longest flight. But how will the human body cope? - "Australian airline Qantas has announced three test flights, with 40 people traveling directly from London or New York to Sydney, to see how the human body copes with 19 solid hours of air travel."
'Attract less attention' Shopping bag 'hack' to beat hand luggage rules - "Hand luggage rules can be a headache to navigate, however, one expert has a 'cheeky' hack which he says could help you sneak more onboard without attracting too much 'attention'. If you have a few addition items you can't fit into your bag, 'it's a bit cheeky' you can try and carry them through the airport in a shopping bag."
aviation.com - "News and views on general, commercial, and military aviation."
Aviation geeks are going wild over this - "Can Microsoft Flight Simulator's 2020 reboot solve the pilot shortage?"
aviation record: singapore airlines flight enters the history books - after completing 16,700km, nonstop passenger service from Singapore to New York.
AVIATION Safety Network - "An exclusive service of Flight Safety Foundation."
AVIATION WEEK - since 1916. "Aerospace Defense, Business & Commercial News."

A B C D E F G H I J K L M N O P Q R S T U V W X Y Z

- B -

Berlin Brandenburg: The airport with half a million faults - "The sweeping approach along a slick set of motorway junctions is convincing enough - although there is curiously little traffic."
best (and worst) in-flight meals, by the man who's eaten them all - The Telegraph.
Best cabin bags, suitcases & overnight backpacks for travel in 2023 - "Whether for buisness or pleasure, choose one of these and you'll pack like a pro."
best ever A380 airline stunts - "Last August, Emirate's video ad went viral after Nicole Smith-Ludvik ascended 828 meters to the very top of the building's spire, dressed in skirt, heels and the airline's instantly recognizable hat and scarf."
best luggage for travelling light with no airline fees - "The lowdown on bags and cases to fit into overhead lockers or under seats on planes."
Best Shoes to Wear to the Airport - VOGUE.
Best Time to Book Your Flight, According to a New Study - TIME Magazine.
Best TSA-Approved Pocket Knives & EDC - "The most useful tool for travel is the one that doesn't get confiscated at security."
best way to climb over a sleeping plane neighbour - The Telegraph.
BIG AIRLINES ARE HOARDING CASH TO SURVIVE THE PANDEMIC - "'Cash, cash, cash, cash, cash.'."
Bird strike - collision between an airborne animal (usually a bird or bat) and a human-made vehicle, especially aircraft.
Boeing 737: How world's most successful airplane became its most troubled - "Over the course of its long history, the Boeing 737 has acquired more nicknames than any other commercial aircraft. Among them are Baby Boeing, Tin Mouse, Light Twin, Guppy, Bobby, Rudder Rotor, as well as a few less flattering ones, such as Fat Freddy and Dung Beetle."
Boeing 737 Max given approval to fly again by US regulators - "FAA's move comes after plane was grounded in March 2019 following two fatal crashes."
Boeing 747: The plane that shrank the world - "It became an icon of long-haul travel and exotic holidays; Boeing's 747 could fly more people further than any plane before. Stephen Dowling looks back at an aviation classic 50 years after it was first unveiled."
Boeing 747 transformed into a $1,300 per hour 'party plane' - "Suzannah Harvey, chief executive of the privately owned Cotswold Airport near Kemble in England, bought the Negus 747 for £1 (around $1.30) back in October 2020 and has spent 14 months or so converting it into a trendy 'party plane,' with rates starting at about $1,300 an hour."
Boeing 777X: World's largest twin-engine jet completes first flight - "Boeing has successfully completed the first test flight of the world's largest twin-engined plane, the 777X."
Boeing discloses a new problem with the 787 Dreamliner - "Boeing (BA) on Tuesday disclosed a new issue with the 787 Dreamliner widebody jet, which has been dogged with problems since August. The company said some of the planes' fuselage was not joined together to meet precise standards and there are questions about the verification process to make sure they meet the standards."
Boeing is losing the plane race. So it packed up and left for Washington - "The company's Thursday announcement that it will move once again, to Arlington, Virginia, only gives critics more fuel: By moving into the shadow of both the Pentagon and Congress, Boeing seems to be signaling it has lost the commercial race to Airbus and wants to be seen as primarily a defense and space contractor."
Boeing just showed off its 777X flagship, the world's new largest twin-engine passenger jet - "Take a closer look at the $442.2 million plane." The Boeing 777X just made its international debut at the Dubai Airshow, where the public got its first look inside. A total of 351 orders have already been placed for the aircraft from customers like Emirates, Lufthansa, Qatar Airways, and more.
Boeing launches record-breaking plane - "Boeing launches business jet capable of world's longest flight."
Boeing 'probably shouldn't have taken' Trump-negotiated Air Force One deal, CEO says - "Boeing's CEO on Wednesday called the unusual deal his predecessor negotiated with then-President Donald Trump for the next generation of Air Force One a one-off that he hopes not to repeat."
Boeing publicises new name for 737 Max planes after crashes - "Statement unveiling new order from Polish airline calls it a 737-8 aircraft first, before noting it is a Max jet."
Boeing says it will make planes able to fly on 100% biofuel by 2030 - "Aviation giant already staged the world's first commercial flight using 100% biofuel in 2018."
Boeing unveils new 777 'ecoDemonstrator' test jet - "US aircraft maker Boeing has just revealed its new 2022 ecoDemonstrator plane - a converted, 20-year-old 777-200ER that will be tasked with testing new technologies aimed at making air travel more sustainable and safer. The ecoDemonstrator will reportedly go through a six-month series of tests both on the ground and in the sky, starting this summer. Among the 30 or so technologies set for testing during the campaign include projects designed to reduce fuel use, emissions and noise, while incorporating more sustainable materials."
Boeing's new wing will make jets faster - "Boeing's radical 'transonic' wing design could mean higher, faster airplanes."
Bombardier Global 7500 vs Gulfstream G650: Battle of the private jets - "When it comes to unbridled luxury, some private jets are more fabulous than others."
Boom Supersonic aims to fly 'anywhere in the world in four hours for $100' - "The British-French airliner Concorde, one of only two supersonic jets to have operated commercially, flew from 1969 to 2003 and was ludicrously expensive and an environmental disaster. A fresh bunch of start-ups are working on supersonic and hypersonic projects. Last October frontrunner Boom Supersonic was the first to roll out an actual honest-to-goodness IRL demonstrator aircraft, the XB1."
Boom Supersonic unveils new design for Overture supersonic jet - "Nearly two years after rolling out ts prototype supersonic demonstrator, the XB1, Boom has unveiled a major new design for its much anticipated Overture airliner, which will fly at twice the speed of today's subsonic commercial jets and is expected to carry its first passengers in 2029."
Boom wants to bring back the days of Concorde, but for the masses - "The Colorado-based company aims to reintroduce commercial supersonic flight, which has been on hiatus since Concorde was retired in 2003. But unlike Concorde, an elitist engineering marvel that only a handful of airlines ever operated, Boom hopes its supersonic aircraft - called Overture - will democratize this type of travel, making it accessible to the masses."
Bose QuietComfort 20i Acoustic Noise Cancelling in-ear headphones - "In-ear. Noise cancelling. Better sound." Shut out the world and lose yourself in your music—or let the world in. These headphones are designed for iPhone, iPad & iPod models.
Brand new Boeing 747 scrapped after 16 flights - "A Boeing 747 configured as a private VIP jet is being scrapped after having spent just 30 hours in service over 16 flights. The aircraft, originally intended for a Saudi royal, sat on the ground for almost 10 years at EuroAirport Basel Mulhouse Freiburg, located at the border between France, Switzerland and Germany."
British Airways B747: Club World business-class review - The Telegraph.
British Airways breaks the New York to London subsonic flight record - "It had a little help from the wind."
British Airways could serve passengers 'digital pill' to monitor in-flight happiness - The Telegraph.
British Airways loses transatlantic time record to Norwegian thanks to ferocious jet stream - The Telegraph.
British Airways retires Boeing 747 fleet as Covid-19 hits travel - "'Queen of the skies' unlikely to ever operate commercial services for airline again."
British Airways retires iconic Boeing 747 fleet - in pictures - "BA has announced it will immediately retire its Boeing 747 planes after a slump in travel caused by the coronavirus crisis."
'bullet' airplane that could revolutionize business aviation - "Is it an egg, a blimp or a bullet? Whatever you might want to call the shape of the Otto Celera 500L, it's one that catches the eye. It looks like no other plane out there, and for a good reason: unique aerodynamics."
BUSINESS CLASS 'SLAMMERTIME' RITUAL SPARKS OUTRAGE AT 40,000FT - "'Slammers started when I had never flown in business class and felt heavily judged and profiled for how I dressed, acted and behaved.'"

A B C D E F G H I J K L M N O P Q R S T U V W X Y Z

- C -

Call Sign - Wikipedia.
Can 18 Hours in the Air Be Bearable? Airlines Bet on Ultra-Long-Haul Flights - "Singapore Airlines now flies more than 9,500 miles between Newark and Singapore, and more super-long routes are in the offing, with new amenities to ease the pain."
Can the world's largest plane ever fly again? - "Ukraine wants the world's largest plane to fly again. Here's what it will take."
Can this airplane seat keep you safe from Covid-19? - "As conversations continue about if, when and how it's safe to be flying, airplane seat designers continue to sketch out concepts for what the future of aviation might look like."
Carbon calculator: how taking one flight emits as much as many people do in a year - "Even short-haul flights produce huge amounts of CO2, figures show."
Carbon offsets used by major airlines based on flawed system, warn experts - "The forest protection carbon offsetting market used by major airlines for claims of carbon-neutral flying faces a significant credibility problem, with experts warning the system is not fit for purpose, an investigation has found."
Carrier Information Guide - United States Documentary Requirements for Travel.
Celebrity Passengers & Caviar at 55,000 Feet: What It Was Like to Fly Concorde in the '70s - "It wasn't just a jet, it was an exclusive club."
CHARVET - founded in 1838. French high-end men's shirt maker & tailor located at 28, place Vendôme in Paris, France. "Getting a decent amount of shut-eye is key to feeling your best and Charvet's eye mask will make resting easy. It's been crafted in France from houndstooth silk-jacquard and has an elasticated strap for a snug fit. The padded front adds some gentle pressure to help you nod off peacefully."
China's answer to Boeing & Airbus, the C919, takes first commercial flight - "Flying as China Eastern Airlines flight MU9191, the new narrow-body C919 plane left Shanghai at 10:32 a.m. local time. It was welcomed with a water salute after it landed at the Beijing Capital International Airport at 12:31 p.m."
Chinese air passengers to rule skies by 2040, ACI forecasts - "Think those lines at the airport are long? Fast-forward a few years and they're going to be waaaay longer according to new forecasts that say the volume of global air passengers is set to more than double over the next two decades."
Claim compensation for your flight delay or cancellation - "Flight delays happen, but that doesn't mean you have to accept them. You may be entitled to as much as $700 in compensation if your flight has been delayed, canceled or overbooked within the last three years."
climate can't wait for electric planes. Sustainable fuel may be the answer - "More than 50 airlines, oil companies and other companies, including Delta (DAL), BP (BP) and Boeing (BA), pledged on Wednesday to replace 10% of global jet fuel supply with sustainable aviation fuel (SAF) by 2030."
Climate change: Which airline is best for carbon emissions? - "EasyJet has come top of the league for airlines trying to cut carbon emissions to tackle climate change."
COCKPIT RULE: Pilots are by law banned from chatting when plane is below 10,000ft - "Have you ever wondered why pilots always do an announcement 20 to 30 minutes before landing? The Sterile Cockpit Rule says that pilots and cabin crew are not allowed to do anything that isn't part of their duty during certain portions of the flight."
Cold War spy plane is still the world's fastest - "SR-71 Blackbird: The Cold War spy plane that's still the world's fastest airplane."
Cold weather testing: Airplanes endure punishing extremes - " With extremely cold temperatures gripping much of the United States, travelers may be wondering how their planes are made safe for flying. The short answer: Along with regular deicing of planes before take-off, airlines put their aircraft through rigorous testing in some of the coldest places on the planet before they are ever pressed into service."
Colorado startup dreaming up a return to supersonic flight - "Boom Supersonic hopes to test-fly its supersonic plane in 2021."
Comlux - since 2003. "Comlux is one of the leaders in Business Aviation, Transaction and Completion services. For over 15 years, we have been Engineering luxury for VIP customers looking for personal and professional management of their private aviation needs: aircraft sales and acquisitions, aircraft operations and charter management, cabin interiors, maintenance and upgrades. Headquartered in Switzerland with a global presence around the world, Comlux delivers World-class Swiss-made business aviation services at the highest standards of the industry."
Concorde is back with a Boom, if we can bear it - "The speed and convenience of supersonic flight will come at an environmental price."
Concorde: What it was like to pilot the supersonic Concorde jet - "British Airways and Air France were the only two airlines who operated the aircraft. It's said that during the aircraft's 27 years of service, there were more qualified American astronauts than there were British Airways Concorde pilots."
'Concordski': The spectacular failure of the Soviets' Concorde rival - "Concordski: What ever happened to Soviets' spectacular rival to Concorde?"
Confessions of a 1980s flight attendant - "Remember when flying was glamorous and sexy, even fun? When airline food was gourmet, everyone dressed up for a flight, and stewardesses catered to our every need-at least in our imaginations? 'Some of the worst requirements to be hired as a flight attendant - such as age restrictions and losing the job in case of marriage or childbirth - had already been lifted, but others remained. The most shocking one, perhaps, was the fact that women had to maintain the weight they had at the time of hiring.'"
Confessions of a private jet flight attendant - CNN travel.
Confessions of a VIP private jet flight attendant - "For many, the thought of catching a plane is far from luxurious: from spending countless hours lining up at security, to wrestling arm rests with other passengers as you face a crammed long-haul flight in economy."
confessions of an air hostess - The Telegraph.
Coronavirus can spread on airline flights, two studies show - "Both cases involved long flights early in the pandemic, before airlines began requiring face masks."
Could you land a plane in an emergency? - "It's a nightmare scenario: the pilot of your flight is incapacitated and someone has to get in their seat and land the plane. Could you do it?"
Covid-19 reawakens Europe's sleeper trains - "Overnight services in Europe had seemingly hit the buffers but pandemic has revived demand."
Crash course: Aviation expert's guide to surviving a plane crash could end up saving your life - The Sun.
crazy world of celebrity private jets - in pictures - "Sex, drugs, and turbulence."

A B C D E F G H I J K L M N O P Q R S T U V W X Y Z

- D -

D. B. Cooper - media epithet popularly used to refer to an unidentified man who hijacked a Boeing 727 aircraft in the airspace between Portland, Oregon, and Seattle, Washington, on November 24, 1971, extorted $200,000 in ransom, and parachuted to an uncertain fate. Despite an extensive manhunt and an ongoing FBI investigation, the perpetrator has never been located or positively identified. The case remains the only unsolved air piracy in American aviation history.
Dassault unveils Falcon 10X business jet with world's largest cabin - "Dassault Aviation has taken the wraps off its latest business jet, the Falcon 10X. Still in development, the aircraft won't be built for several years, but the company had a virtual rollout to highlight the design and many of the features of what it claims is the business jet with the world's largest cabin."
Dead zeppelins: Brazilian gravesite is airships' stairway to heaven - "The huge gas-filled aircraft were once a symbol of modernity used to burnish the image of the Nazis. Now a vast hangar near Rio de Janeiro is all that's left."
Delta Air Lines faces lawsuit over $1bn carbon neutrality claim - "US airline pledged to go carbon neutral but plaintiffs say it is relying on offsets that do almost nothing to mitigate global heating."
Delta's new Diet Coke napkins branded 'creepy' for encouraging passengers to give their number to attractive flyers - "DELTA'S new napkins have been branded 'creepy' by customers as they invite passengers to give their number to attractive fellow flyers."
Denmark to make domestic flights fossil fuel free by 2030 - "In her New Year's address, Prime Minister Mette Frederiksen said she wanted to 'make flying green'."
Designers hope hydrogen-powered plane will fly halfway around the world without refueling - "The zero-emission aircraft would supposedly match the speed and comfort of current midsize planes."
Did Australia's boomerangs pave the way for flight? - "Likely developed 10,000 years ago by Aboriginal Australians, boomerangs may contain the design invention that makes flight possible."
Dirtiest place in airport revealed - "Airport security trays carry more germs than toilets, study reveals."
Do Airline Climate Offsets Really Work? Here's the Good News & the Bad - "Carbon credits could eventually play an important role in fighting climate change, but right now a few dollars' worth won't change much."
Donald Trump's private jet used to be owned by Danish airline - The Telegraph.
"Don't Blame Me": Taylor Swift Rep Refutes Private Jet Usage Claims - "A representative for the singer says her Dassault Falcon 7X is often on loan. Thus, blaming Swift for its emissions is 'blatantly incorrect.'"
Don't forget flight mode: your mobile can rack up £1,000 of roaming charges - "Even if travellers' phones are in baggage and not used, they can link to a satellite network on premium rates."
Dread at 30,000 ft: Inside the increasingly violent world of US flight attendants - "This summer, unruly passenger behavior seems to have reached new heights. In one incident, a passenger punched a Southwest flight attendant and knocked out two of their teeth. Video also circulated of a passenger getting taped to their seat after they reportedly punched and groped Frontier Airlines flight crew."

A B C D E F G H I J K L M N O P Q R S T U V W X Y Z

- E -

Economy class airplane bunk beds get seal of approval as launch moves closer - "The concept's got the industry seal of approval via a prestigious Crystal Cabin Award, presented at the Aircraft Interiors Expo (AIX) in Hamburg, Germany."
Electric aircraft near take-off - The Telegraph.
Elon Musk offered a Florida teen $5,000 to delete a Twitter account tracking his jet. It wasn't enough - "Jack Sweeney, a 19-year-old from Florida, rejected a $5,000 offer from Elon Musk to delete his Twitter account that tracks the billionaire's private jet."
Elon Musk SUSPENDS Twitter account tracking his private jet movements - but Florida teen owner shares link to back-up pages on Facebook, Instagram and Telegram.
Elvis Presley's Private Lockheed Jetstar Jet for sale - Liveauctioneers.com.
Emirates' Boeing 777 first-class cabin - "Emirates has unveiled completely refreshed interiors for its Boeing 777 aircraft, including its highly anticipated new First Class private suites. With floor to ceiling sliding doors and sleek design features inspired by the Mercedes-Benz S-Class, Emirates' new suites takes luxury and privacy to the next level. Offering up to 40 square feet of personal space each, these spacious, fully-enclosed private suites are laid out in a 1-1-1 configuration."
End of the superjumbo: Airbus is giving up on the A380 - "The largest passenger plane ever built promised to revolutionize air travel but failed to deliver on outsized expectations."
Every traveler should carry a luggage scale - here are 11 of our favorites - "Luggage scales can save you time, money and that annoying - and frustrating - feeling when the check-in agent announces your bag is overweight. And if travel is already stressful for you, your luggage should be one fewer thing you need to worry about. You'll never get stuck at the airport with an overweight bag again if you weigh your bag with a luggage scale at home before traveling. Many scales are small and portable enough to slip into your bag, meaning you won't get caught with a super-heavy bag on the way home either - no matter how many souvenirs you buy."
Exclusive look inside the US supersonic presidential jet - "Exosonic was handed a contract by the Presidential and Executive Airlift Directorate (PE) after impressing the military with its concept for a low-boom supersonic Mach 1.8 twinjet. It's a 31-passenger derivative of Exosonic's 70-passenger commercial airliner concept and is the ultimate in business jets -- luxury leather, oak and quartz fittings, private suites for work and rest, and all at cruise times twice that of existing aircraft."

A B C D E F G H I J K L M N O P Q R S T U V W X Y Z

- F -

F35-C fighter jet: Race is on to reach sunken US plane... before China - "The $100m F35-C plane came down in the South China Sea after what the Navy describes as a 'mishap' during take-off from the USS Carl Vinson."
Fear of flying - fear of being on an aeroplane, or other flying vehicle, such as a helicopter, while in flight. It is also referred to as flying anxiety, flying phobia, flight phobia, aviophobia, or aerophobia (although the last also means a fear of drafts or of fresh air). Acute anxiety caused by flying can be treated with anti-anxiety medication.
Ferry flying - the flying of aircraft for the purpose of returning to base, delivery to customer when new, moving from one base of operations to another or moving to or from a maintenance facility for maintenance, repair, and operations.
Finnish airline is weighing passengers before they board - The Telegraph.
FLIGHT ATTENDANT BLOG - The Flying Pinto. "As a Flight Attendant for a major U.S. Airline with over twenty years experience in the travel industry, I am here to offer advice on making your travels through the friendly skies..... well, more friendly! I will share my experiences with you and offer you a glimpse behind the galley curtain."
Flight attendant explains 'how to ask' for free upgrade - "A FLIGHT ATTENDANT has revealed a few ways passengers can get free food and drinks on board, as well as an upgrade, but warned travellers about being 'dramatic' or 'lying' to the crew as this could have the 'opposite effect'."
Flight attendant issues stark warning to people who fall asleep on planes - "Tourists who fall asleep on aeroplanes should avoid resting their head on the window, a flight attendant has warned today."
Flight Attendant Says You Shouldn't do These 5 Things on Airplanes - "There are many rules of airline travel. Some are unspoken rules of etiquette, others are for safety, but generally speaking, each was created to provide passengers with the safest and most comfortable flight possible. But, as one flight attendant recently shared, some unspoken rules are meant to keep passengers healthy."
Flight attendant shares travel tip to sit together without paying - 'never pay' for a seat - "Many budget airlines will charge passengers to choose a seat. But how can passengers sit together without paying?"
Flight attendants reveal how they stay rested on long-haul flights - "There are some secret areas on widebody aircraft, where the pilots and cabin crew go to rest during long flights. Passengers can't access them under any circumstance and they're well hidden from view."
Flight attendants share their air travel secrets - "Navigating the world of airports and airplanes at this time can be stressful, but if anyone's an expert in holiday travel, it's flight attendants."
Flightradar24: This website tracks every plane in the sky - "Inside Flightradar24, the website that tracks every plane in the sky."
Flights are taking huge 'detours' around Russian air space. Here's what that means for the climate crisis - "Since Russia closed its airspace to airlines from dozens of countries at the end of February - in response to sanctions levied for its invasion of Ukraine - about 400 flights per month that had previously been routed over the country are being forced to take a wider berth, according to Flightradar24."
Flights of passion: how the mile-high club became big business - "For those looking for inflight fun, without having to squash into a tiny toilet, a new Las Vegas venture has the answer. But will the idea take off?"
FLIGHTRADAR24.COM - "Watch Air Traffic - LIVE!"
flyer beware: why the customer isn't always right at 40,000ft - The Guardian.
Flyer by Kitty Hawk - "Personal Flying Experience."
Flygskam - shame of flying (due to the environmental impact of aviation).
Flying Car Takes Off In Japan With First Manned Test Flight - "Last Friday in Tokyo, SkyDrive Inc. announced at a press conference that it had successfully completed its first manned test flight, and showed video to prove it."
Flying Iron Man suits go on sale - "Meet Britain's real-life Iron Man."
Flying Is Bad for the Planet. You Can Help Make It Better - The New York Times.
Forget Supersonic. This Hypersonic Jet Can Fly From NYC to London in Under an Hour - "The Hermeus jet has a projected top speed of Mach 5.5 - or 4,219 mph - making it the fastest reusable jet on the planet."
Frankfurt to Dubai in 90 minutes? Europe enters the hypersonic plane race - "It's now been two decades since the era of supersonic commercial flight ended with Concorde's final touchdown in an airfield in southwest England. In recent years, numerous pretenders to the throne - supersonic, hypersonic, hydrogen-powered, with anti-boom technology - have been whizzing round, conceptually at least, but many of these projects promising seamless super-fast travel have instead stalled, sputtered out or hit delays. Now a European hypersonic startup is having a go, promising enticing journey times such as Frankfurt to Sydney in 4 hours 15, or Memphis to Dubai in 3 hours 30."
funniest travel complaint letters of all time - The Telegraph.
Future Air Travel: Four-Hour Process, Self Check-In, Disinfection, Immunity Passes - "Once airports and borders open again and people are able to fly freely - a process already in play as airports of all sizes around the world ready strategies to ensure healthy air travel - how much are you ready to change your flying habits?"
Futuristic airplane promises greener travel - "Futuristic Her0 Zero airplane concept promises greener travel."
Futuristic 'Flying-V' airplane makes successful maiden flight - "Researchers have conducted a successful maiden flight of the Flying-V, a futuristic and fuel efficient airplane that could one day carry passengers in its wings."

A B C D E F G H I J K L M N O P Q R S T U V W X Y Z

- G -

German airline unveils candy-striped aircraft - "German airline Condor is the latest carrier to step up its livery game with a simple yet stylish paint job. Condor's fleet will soon be tricked out in candy-colored bold stripes, inspired by 'parasols, bath towels and beach chairs,' according to the airline."
Get Ready For Another Hellish 2023 Summer Of Air Travel - "Remember the thousands of flight cancellations, endless lines and lost baggage nightmares from last year? Experts warn it could be even worse in 2023. Here's how to book smarter and fly right in the midst of another Air-mageddon."
Global air travel won't recover from the Covid-19 crisis until 2024, the International Air Transport Association (IATA) announced Tuesday. - "That's a year later than the airline body's previous projection. The body, which represents 290 airlines, blamed the sluggish recovery on a number of factors, including a lack of consumer confidence, the decline in business travel, and fresh coronavirus spikes in the United States and elsewhere."
global lost luggage crisis mounts - "Some are calling it the summer of lost luggage as suitcases get caught in a conveyor belt-shaped vortex that only seems to grow."
globalair.com - "Aviation & Aircraft Resource." Aircraft for sale. Aviation directory. Airport resource.
Glory days of Trump's gold-plated 757 seem far away as plane sits idle at a sleepy airport - "Trump's personal Boeing 757 was always the crown jewel of his wealth - the ultimate sign that he had made it. He's used it as a backdrop for sleek photo shoots, campaign rallies, VIP tours, for shots of him eating his Big Macs and KFC, plated, with a knife and fork. Trump loved to show it off - the customized cream-colored leather seats, gilded bathrooms, the seat buckles layered in 24-karat gold."
Goodbye, pencil skirts: Why one airline is rethinking its flight attendant uniforms - "Flight attendants trade heels for sneakers on Ukraine's SkyUp Airlines."
Goodbye to the original celebrity private jet - "Learjet, once synonymous with private jet travel for the super-rich and famous, will stop production this year."
Google 'airbrushes' out emissions from flying, BBC reveals - "Flights now appear to have much less impact on the environment than before. The company said it made the change following consultations with its 'industry partners'. It affects the carbon calculator embedded in the company's 'Google Flights' search tool."
Google Flights unveils new feature to help travelers save money - "Regular users of Google Flights might notice a new feature the next time they go to the site to check out airline schedules and compare flight prices."
Google trick making economy more comfy - "Why this clever new extension is north short of leg-endary. Now there is a free new Chrome Extension, available through the Chrome Web store, which allows to automatically compare - wait for it - leg room on various airlines."
Got a Flight? Don't Even Think About Checking a Bag - "The ultralight packing trend says a lot about the state of travel these days." The New York Times.
Gulfstream G700 - "Take a Full Tour Throughout Gulfstream's new G700 Aircraft." YouTube 8:31.
Gulfstream's new $75 million private jet is the world's largest - see inside - "Gulfstream has unveiled the world's largest private jet, the G700. The nearly 57-foot-long, six-foot-tall, and eight-foot-wide cabin is the tallest, widest, and longest in the industry."

A B C D E F G H I J K L M N O P Q R S T U V W X Y Z

- H -

Hand luggage rules: 5 everyday essentials banned from hand luggage - "Hand luggage rules can be a headache, especially for passengers looking to save money by travelling without checked baggage. Under mandatory security rules, there is a selection of everyday essentials you may have to leave behind."
Harrison Ford: The ups & downs of his long flying career - "The film industry loves a franchise. And with that thought, we bring you the latest instalment in the long-running series, Harrison Ford's Aerial Mishaps."
Harrys of London Travel Pillow - "The inner pillow is surrounded by a layer of Technogel which brings a superior level of comfort to all your journeys. The cover is then hand made using orylag rabbit fur in a rich dark brown colour."
Have plane seats really shrunk - and which is the worst airline on Earth for legroom? - The Telegraph.
He kept hitting her reclined seat. But that was only the start of her nightmare - "A passenger said she's hurt after her reclined seat was repeatedly 'punched.' She asked for help, but said a flight attendant threatened her."
'Headphones make food taste better!': 10 readers' tips for a better holiday - "From wearing an 'airport shirt' to travelling solo, our tipsters share their secrets for easier, stress-free breaks."
Here Are The New Rules For Air Travel After The Pandemic - "Some changes, like new airline refund policies and mandatory face coverings, are widely known. Others aren't. And it's these unpublicized shifts - happening quietly behind the scenes - that suggest passengers have an advantage that they haven't had in years."
Here's why it costs $100,000 to paint an airplane - "Painting an airplane: Why every layer counts."
Hidden-city ticketing or skiplagging - "Hidden-city ticketing or skiplagging is a variant of throwaway ticketing. The passenger books a ticket to a flight with a connection at the intended destination, sets forth at the connection node, and discards the remaining segment. Flight fares are subject to market forces and so do not necessarily correlate to the distance flown. As a result, a flight between point A and point C, with a connection node at point B, might be cheaper than a flight between point A and point B. It is then possible to purchase an airline ticket from point A to point C, disembark at the connection node (B), and discard the remaining segment (B to C)."
How a cosmetics bag left thousands of passengers in the lurch at Munich Airport - "It was a striking example of how no risks are taken when it comes to airport security in the 21st century. a mishap involving a cosmetics bag led to 30,000 passengers being stranded in Munich - many of whom have been left out of pocket."
How airlines will stop you losing your bags in the future - "Despite the improvements, there is work still to do. A 2020 report from SITA found that in 2019, 25.4 million pieces of luggage were mishandled around the globe, costing the air transport industry approximately $2.5bn."
How an airplane engine gets made - "Behind closed doors at the UK headquarters of Rolls-Royce Aerospace, machinery whirs, fans hum and blades screech as some 1,000 people go about the complex task of getting an airplane engine off the ground."
How Asia's airports are changing the way we travel - CNN travel.
How Covid-19 could change plane boarding - "In virus terms, boarding is one of the riskiest parts of flying. How can airlines keep passengers apart - and still take off on time?"
How Coronavirus Will Change Air Travel - "When the coronavirus pandemic eases, it won't be a quick return to normal. New health screening and safety measures promise to further complicate travel, and airlines will be shrunken versions of their former selves, with reduced route networks and a transformed in-flight experience."
How Covid-19 will change air travel as we know it - "In 2001, air travel was dealt a massive blow by the 11 September attacks, and the effects lasted years. But this was a ripple compared to what Covid-19 will do."
How dangerous is a bird strike? - The Telegraph.
How does in-flight Wi-Fi work - and why is it so slow? - The Telegraph.
How early do you get to the airport? - "The great timing debate."
How facial recognition is taking over airports - "Why your face is being scanned at airports."
How far can a plane fly if both its engines fail? - The Telegraph.
How high-speed trains helped kill an airline - "How Italy's high-speed trains helped kill Alitalia."
How low-cost airlines make their money - "Is it worth it to fly an ultra-low-cost airline?"
How Many Seats Can You Squeeze On A Plane? 460 Is What This Airline Plans - "Flying long-haul in economy class is rarely an enjoyable experience for most of us. Thinner seats, less legroom, and more middle seats as airlines attempt to generate revenue from every nook and cranny possible on an aircraft."
How Much Are You Willing to Pay for a Few Extra Inches of Legroom? - "Premium economy - offering more space than coach but at a lower fare than business class - is turning out to be popular among fliers and a huge moneymaker for the airlines."
How Much Fuel Does A Jet Aircraft Use During A Typical Flight? - "A jet aircraft uses a phenomenal, almost incomprehensible, amount of fuel. For example, a Boeing 747 burns up to one gallon of fuel every second. Yes, every second! That means that during a five-hour flight, a Boeing 747 will burn 18,000 gallons of fuel."
How pilots land when they can't see runway - "Autoland: When pilots can't see the runway."
how plane food compares on 10 major airlines - The Telegraph.
How pod planes could change travel forever - "Hypersonics, electric propulsion, triple deckers - think you've seen everything when it comes to new aircraft concepts?"
How the Airbus A300 changed the world - "Airbus A300: Plane that launched an empire."
How the A380 superjumbo dream fell apart - "Airbus A380: The wondrous giant that never quite took off."
how the mile-high club became big business - "For those looking for inflight fun, without having to squash into a tiny toilet, a new Las Vegas venture has the answer. But will the idea take off?"
How the next supersonic jets can succeed where Concorde failed - "Supersonic planes halve the time it takes to fly from New York to London, from seven hours down to 3.5 hours, but such airliners were abandoned following Concorde's final flight in 2003. Concorde had become financially unworkable after a high-profile crash in 2000, combined with excessive ticket prices, high fuel consumption, and increasingly high maintenance costs."
How this plane changed the way we travel - "Five ways Boeing's 747 jumbo jet changed travel."
How to avoid crying babies - "If you need a seat map to avoid crying babies, you're the problem."
How to bag the best seat on a plane - The Telegraph.
How to build a runway out of solid ice - "See how planes land in Antarctica."
How to Check the Safety of a Charter Airline - The New York Times.
How to explore the world without harming it: Guardian climate pledge 2019 - "Guardian travel editor Andy Pietrasik explains how a flexitarian approach can enable us to enjoy exploring the planet without increasing our carbon footprint."
How to Fight Jet Lag (Naps Are Good) - The New York Times.
How to find cheap flight deals: 5 expert tips - The Guardian.
How to get planes off fossil fuels - "The fastest ways aviation could cut emissions. From switching the fuel they use to changing flight plans so they produce fewer contrails, airlines are searching for ways to cut their impact on the climate."
How to make aeroplane food taste better - The Telegraph.
How to Pack a Carry-On Bag to Avoid Checking a Bag - The New York Times.
How to Protect Yourself From Sexual Assault on Plane - The New York Times.
How to recycle the world's largest passenger plane - "After its debut in 2005, Airbus ended up building only 251 A380s - far fewer than it originally intended - and production ended in late 2021. Although most of them are still flying, amid a post-Covid resurgence of the aircraft, several have already been scrapped or recycled - way ahead of the usual schedule for a passenger aircraft."
How to Survive Airport Security - The New York Times.
How to tell if your flight is going to be delayed - the secret word your pilot will use - "With flights regularly being delayed and cancelled at the moment, it's helpful to know if you'll be spending an hour or two on the runway."
How to Travel With Children - The New York Times.
How to travel without destroying the planet - CNN travel.
How volcanic ash can bring down an airplane - The Verge.
How your aeroplane food is cooked - The Telegraph.
'Huge environmental waste' as US airlines fly near-empty planes - "A 96% drop in passenger numbers because of coronavirus restrictions has not been matched by cuts in flights."
Huge spelling mistake on Cathay Pacific plane - "Sometimes, a massive typo is right in front of your eyes and you can't see it."
Hyperloops, supersonic jets & electric aircraft - Here's what transport could look like by 2050.
Hypersonic jet aims to fly London-New York in 90 mins - "Hermeus hypersonic jet aims to fly New York to London in 90 minutes."

A B C D E F G H I J K L M N O P Q R S T U V W X Y Z

- I -

'I flew 40+ hours on the world's best business class, and it definitely lived up to its title' - "'I spent 40+ hours flying business class to Qatar, Kenya, and Tanzania on Qatar Airways. The culinary options, luxury amenities, and service from the staff were top-notch.'"
I was the sole survivor of a plane crash. This is what I learned in eight days alone in the jungle - "Annette Herfkens was on holiday with her fiance when their plane went down, killing everyone but her. Three decades later, she reflects on how the trauma changed her."
Images show destruction of world's largest airplane in Ukraine - "The full extent of the damage to the aircraft, named 'Mriya,' or 'dream' in Ukrainian, was seen by CNN journalists after Russian troops withdrew last week from Hostomel airfield outside Kyiv, which was among the first strategic targets of the invasion of Ukraine."
In the 1960s, travelers could fly with their cars - "Car ferries in the skies: The rise and fall of the Aviation Traders Carvair."
infrared body scanner told me some hard truths - engadget.
Inside China's mega-airport - "What does the world's largest single-building airport terminal look like?"
Inside bill gates' private jet colection - "Bill Gates has caused quite a bit of debate with his private jet travel. The Microsoft founder turned climate activist owns no less than four business jets, which he calls his 'guilty pleasure'. His collection is worth close to $200 million and features not one but two Gulfstream G650s. What's more, he has just invested billions of dollars in the world's largest business jet service provider."
Inside Cristiano Ronaldo's $25m Private Jet - "The first one to arrive at training and the last one to leave, Cristiano Ronaldo always goes the extra mile to keep on top of his game. This mentality translates across the superstar's life. As the footballer continues to break records during the Euro 2020 tournament, we thought we'd take a look at the private jet he flies."
Inside Elvis's long-abandoned private jet - The Telegraph.
Inside Tiger Woods' £48m Gulfstream G550 private jet with luxurious seats for 18 passengers - "Tiger Woods owns one of the world's finest private jets - which is kitted out in the height of luxury."
Is it OK to recline your seat on an airplane? - "Is it OK to recline your seat? The great reclining debate."
Is seaweed the future of flying? - "Aircraft currently leave a major footprint on the world's climate, so can the aviation industry hope to reach net zero by the middle of the century?"
Is the Covid-19 crisis the catalyst for greening the world's airlines? - "Aviation is struggling and seeking support, but there are demands for it to give something in return."
Is the great Covid-19 airplane seat overhaul happening? - "Plexiglass dividers between passengers, new staggered row layouts, zig-zag seating, space-age transparent bubbles around travelers' heads -- just as new divider screens popped up in shops and restaurants around the world in response to the Covid-19 pandemic, so came a wide variety of new concepts for airline seating."
Is this double-decker seat the future of airplane travel? - "A design that reconfigures airplane cabins with double-decker lie-flat seats in premium economy is being touted as a possible solution for fliers looking for more protection from the spread of Covid-19."
Is this the best way to disembark an airplane? - CNN travel.
is toxic air on planes making frequent flyers ill? - The Guardian.
Italy reveals its new national airline - "They've long dominated the food and fashion worlds, this year they've dominated sports, and now they're aiming for the skies."

A B C D E F G H I J K L M N O P Q R S T U V W X Y Z

- J -

Japan Airlines wants to help you leave your suitcase at home - "Unsure what to pack from your wardrobe for a vacation to Japan? If you're flying with Japan Airlines, the answer could be nothing at all. Japan's flag carrier has started a year-long trial of a service that allows travelers to book a set of clothes - covering different sartorial styles and seasons - and receive it at their hotel upon arrival. At the end of the stay the clothes are returned, to be washed and cycled back into the system. Called Any Wear, Anywhere, the service runs through the end of August 2024 and Japan Airlines says it could cut carbon emissions by reducing the weight carried by its airplanes."
Japanese Air Force One is up for sale for $28 million - "It's not every day you go shopping for a VIP jumbo jet, but one unique offering is attracting attention online. A Boeing 747-400 which has flown 14 Japanese prime ministers and the country's emperor around the world is up for sale, according to a listing on aviation trade publication Controller."
Japanese airline testing hands-free bathroom doors - "Even before the coronavirus pandemic ignited global conversations about hygiene, there was one part of an airplane that nobody wanted to touch - the bathroom door."
Jet Lag: Get Back in the Rhythm - "Insomnia, drowsiness and bain fog can all take some of the fun out of your first days in a faraway place. You can't avoid jet lag, but you can follow some tips to bounce back faster." The New York Times.
Jet lag hits differently depending on your travel direction. Here are 6 tips to get over it - "The term 'jet lag' describes the physical and cognitive symptoms people experience when traveling quickly across several timezones. Before you leave for a trip, you're synchronized to your local time. Once you enter a new timezone, your body's rhythms are no longer lined up with the clock on the wall. That's when jet lag symptoms hit. You're sleepy when you want to be awake, and wide awake when you want to be asleep. You're hungry in the middle of the night, and might feel bloated or nauseous if you eat during the day. Until your body clock and all the rhythms it controls line up with the new local time, you are physiologically and mentally discombobulated. Not a happy vacation vibe!"
Jet lag: Is it possible to cure jet lag? 'Sleep in the week before travel is our most important' - "A sleep scientist, an elite athlete and a former flight attendant share their best tips for resetting your internal clock before, during and after travel."
JETMAN - Yves Rossy.
Jetpacks: why aren't we all flying to work? - The Guardian.
Jet-powered flyboard soars over Paris for Bastille Day parade - "President Macron uses France's national day to celebrate European defence cooperation."
'Just passed a guy in a jetpack': sightings at Los Angeles airport fuel concern - "Federal Aviation Administration and FBI investigate reports from airline crews."

A B C D E F G H I J K L M N O P Q R S T U V W X Y Z

- K -

Kangaroo Route - traditionally refers to air routes flown by Qantas between Australia and the United Kingdom via the Eastern Hemisphere. The term is trademarked by Qantas, although it is used in the media and by airline competitors.
Kim Kardashian shows off private 747 - "Kim Kardashian West and husband Kanye West were criticized on social media after posting Instagram videos of their private 747 flight."
Kitty Hawk Flyer - "Personal Flying Experience."

A B C D E F G H I J K L M N O P Q R S T U V W X Y Z

- L -

largest electric plane ever to fly - "As electric planes pass another milestone, Future Planet asks how long will it be before they are ready for everyday aviation? And just how far can they go?"
Larry Page is quietly amassing a 'flying car' empire - "Google co-founder revealed to be owner of Opener, a Canadian startup that just came out of stealth."
Last ever Airbus A380 superjumbo assembled in France - "A magnificent beast made of four million parts from 30 different countries, the Airbus A380 is the world's largest passenger airliner, and its era is almost at an end."
Le Noeud Papillon - since 2007. Silk eye shades.
Leaked footage shows moment British F35 jet crashes into Mediterranean during HMS Queen Elizabeth carrier take-off - "The stealth jet is loaded with top-secret radars, sensors and other technology so recovering the wreckage will be a priority. A British F-35 stealth jet dropped off a launch ramp on the UK's flagship aircraft carrier and into the sea without ever getting airborne, leaked footage of its final moments has revealed."
Learjet: Why the legendary plane is no match for today's jets - "Learjet. For generations, the name has been synonymous with business jets, with more than 3,000 of the small private jet planes delivered since the first Learjet 23 flew in 1963. In February this year, Learjet's parent company, Bombardier, announced it's ending mainstream production of the iconic plane, instead refocusing its efforts on its more roomy Global and Challenger business jets."
Lego's new $200 Concorde is a fantastic homage to the supersonic passenger jet - "Lower the nose and deploy the landing gear with clever Lego tricks."
Lie-flat economy cabin concept could revolutionize air travel - "Innovative aviation ideas shortlisted for 2023's Crystal Cabin Awards."
Life span of an airplane: From birth to death - CNN travel.
List of fatalities from aviation accidents - Wikipedia.
Live and Let's Fly - since 2010. "Matthew Klint is frequently cited as a travel expert and has appeared in print and on TV, radio, and podcasts." His blog shares the latest news in the airline industry, commentary on frequent flyer programs and promotions, and detailed reports of his worldwide travel.
London to New York in 3 hours, 15 minutes? - "How soon will supersonic jets return to our skies?"
London to New York in 90 minutes? It could be possible - "Why a Mach 5 passenger plane is a crazy idea that might just work."
London to NYC in three hours? - The Telegraph.
LORO PIANA - since 1924. "Travel pillow in warm baby cashmere jersey, exquisitely soft against the skin. The inflatable lining ensures enhanced comfort and neck support during plane journeys. Exclusive yet practical, the ideal present for a frequent flier. Can be gifted alone or together with the coordinating slippers, blanket and sleep mask."
Lufthansa Airbus A340-600 chopped up and recycled into coffee tables - "The afterlife of a decommissioned airplane can take many forms nowadays. Some are dismantled and used as parts, others simply end up in aircraft graveyards, while a select few are reinvented as modern restaurants or hotels."
Lufthansa trials lie-flat economy seat concept - "With social distancing at forefront of everyone's minds, having your own space on an airplane has never been so important."
Luxury travel: 50 wealthy tourists, eight countries ... and one giant carbon footprint - "Despite the climate crisis, 'no emission spared' round-the-world holidays in private jets are selling out."
Luxury VIP jets: How the super-rich fly - "Luxury jets whisk VIPs to their destinations in flying palaces."

A B C D E F G H I J K L M N O P Q R S T U V W X Y Z

- M -

Maldives: The new 'private jet'-style airline set to fly to Maldives - "Traveling to Maldives - the 1,000-island archipelago off the western coast of India that's one of the world's most glamorous beach destinations - is always a special occasion. Now, a new airline aims to make it even more so. Beond - pronounced 'beyond' - aims to create a 'private jet' experience by using narrow-body aircraft (rather than the wide-body often used on routes to the Maldives), and offering an all-premium cabin with lie-flat seats which share components with Ferrari cars."
Man accidentally ejects himself from fighter jet during surprise flight - "Sixty-four-year-old lands in field after grabbing ejection handle to steady himself, French air investigators find."
Meet The Aircraft Of The Future: Socially Distanced Double-Decker Cabins - "Imagine traveling in a plane which uses the cabin more efficiently, gives passengers more legroom and spaces them physically further apart. Think double-decker cabins where people sleep in bunks above seated passengers. Or two-tier rows of seating, some high and some low."
Meet the new Concorde: The supersonic jet that could fly London to New York in under two hours - "Transatlantic flights have never been the same since Concorde flights came to a halt in 2003. Spike Aerospace's Spike S-512 Supersonic Jet might just be our next greatest opportunity to travel from London to the US in record time."
Melbourne to Dallas in 17 hours: Qantas announces latest ultra long-haul flight to US - "As global travel continues to reopen in 2022, there will soon be another addition to the 'world's longest flights' list - a direct route between Melbourne, Australia and Dallas-Fort Worth International Airport (DFW) operated by Qantas."
Mexico's new government prepares sale of former president's $218m plane - "The big, luxurious airplane used to ferry Mexico's former president around the globe is about to fly away permanently in one of the first moves by the new president to rid the country of what he has derided as a towering symbol of excess."
MH370 theory: Data analysis points to new probable crash site - "The MH370 search doesn't add up. An engineer has found a new possible crash site - and inferred a sinister end for passengers."
"Mickey Mouse One": Meet Disney's Grumman Gulfstream I - "It's often said that there's no business like show business, and this is certainly the case when it comes to aviation. Private aircraft offer celebrities an exclusive means of getting from place to place, away from the hustle and bustle of commercial flying. Over in the US, Walt Disney acquired a Grumman Gulfstream I for this purpose, and it remains intact today."
Mid-air turbulence set to triple due to climate change - The Telegraph.
Middle seats & packed planes are coming back as airlines prepare to ease restrictions - "The dreaded middle seat is coming back. US airlines had stopped selling them for months, both to ensure social distancing and because of a lack of passengers. But with a modest rebound in flying, that is changing."
MILE HIGH CLUB - since May 1993. "The term 'Mile High Club' refers to two people engaging in sexual activity (sexual intercourse) at an altitude of no less than 5,280 ft (a mile high above the earth) in an airplane."
Modular aircraft - or pod plane is a type of aircraft design where the payload carrying part can be detached from the rest of the aircraft. In this way, the aircraft can have a much-reduced loading and unloading time or change between different configurations of cargo or passenger capability.
Most challenging jet landing? - CNN travel.
most popular plane ever built - Cessna 172 Skyhawk.
Mriya: Restoring a Giant Plane: Ukrainian Resilience or Folly? - "Ukraine, with far more pressing needs, plans to rebuild the colossal Mriya cargo plane, a symbol of pride that was destroyed last year in a battle for its airfield." The New York Times.
Mulberry Silk Eye Masks - "Our Silk Eye Masks are made from pure Mulberry 22 Momme Silk, they are kind to your delicate eye area and can aid a peaceful sleep by eliminating harsh light."

A B C D E F G H I J K L M N O P Q R S T U V W X Y Z

- N -

Naomi Campbell's amazing airplane ritual - CNN travel.
NASA begins work to build new supersonic jet - "NASA's mission to revolutionize air travel has taken a significant step forward as the space agency starts building its X-59 QueSST supersonic jet."
NASA supersonic passenger jet could fly from NYC to London in 90 minutes - "Oh for the glory days of travel, when the seats were bigger, the food was better, and you could jet across the Atlantic in less than three hours. Since the 2003 end of Concorde, of course, flitting quickly across the Atlantic has been a thing of the past. Flights between London and New York take around eight hours, or closer to seven in the other direction. The record currently stands at just under five hours from New York to London, pushed on by a favorable jetstream."
NASA to test 'quiet' supersonic flights - CNN travel.
NAUTICAL MILE - conversion calculator (nm to km).
Nest Ultimate Memory Foam Travel Pillow - "Carefully designed to offer you the best comfort in travel." Exclusive non-slip backing holds pillow in place! The high quality, thermo-sensitive memory foam molds perfectly to the contours your neck and shoulders to help maintain natural alignment while sleeping.
Never Drink Bad Airplane Coffee Again, and Other Travel Tips - "Broadway's Schele Williams is a traveling pro from a life spent on tour. This is how she keeps her priorities straight, from always packing a swimsuit to embracing the bus (or a cruise) in a new city."
new Air Force One - "From Presidents Roosevelt to Biden, Boeing airplanes have transported U.S. presidents around the world. The U.S. Air Force announced that it will continue the Boeing tradition with the 747-8, which will replace the two 747-200s that serve as the presidential Air Force One fleet."
New airplane concept could transform inflight service - "What if we got rid of the airplane galley?"
New airplane doesn't need an airport - "First ever civilian helicopter-plane hybrid is coming next year."
'New Concorde' could be in skies as early as next year - The Telegraph.
New legislation to clamp down on unruly airplane passengers from 2020 - "Whether they're pretending to be an airplane captain or becoming aggressive and forcing an airplane to divert, badly behaved airplane travelers continue to hit headlines."
New Luxury Aircraft With Award-Winning Safety Tech Is the Ultimate Personal Jet - "When a private jet that already started out as a premium, innovative aircraft keeps getting better and better, you know that you're in for a totally luxurious experience - from its looks, to how comfortable and safe you feel."
new rules of air travel - "Masks on airplanes: Where things stand on personal protection and social distancing."
New Rules to Know for Your Carry-On Luggage - The New York Times.
New York to London in three hours? Supersonic jet set for 2021 take off - "Boom supersonic jet set for 2021 take off."
New York to Tahiti (or Laos or Nairobi) Without Spending a Fortune - "Some flights are trickier to book than others. For these, budget travelers need to go beyond the major search engines."
'Nightmare airport' unveils $3.9B terminal - "New York's LaGuardia unveils new $3.9 billion Delta terminal."
No passengers, no cargo: This airline has never been busier - "The team at Jet Test and Transport runs a global airline -- but the planes fly on a one-way trip without passengers or cargo. They are experts in ferry flights, moving empty aircraft around the world."

A B C D E F G H I J K L M N O P Q R S T U V W X Y Z

- O -

Official Aviation Guide of the Airways - since 1929. "Definitive flight information, aviation intelligence and analytics." OAG is a global flight information and data solutions company for passenger aviation, air cargo logistics and business travel.
On Air Dining - since 2010. "A quiet revolution in business aviation catering has begun... On Air offers a level of cuisine never experienced before in business aviation & travel."
One of the world's most dangerous places to fly: Nepal grapples with deadly air crashes - "The expansion of air travel has brought huge benefits to the mountainous country - but a poor safety record puts jobs and tourism at risk."
One-percenters take to the air - "Flying accounts for about two percent of the worlds greenhouse gas emissions, but some passengers' impact is far greater than others. In a week when the great and good are flying into the World Economic Forum at Davos we have decided to take stock."
Oneworld - since 1999. Airline alliance founded on 1 February 1999. The alliance's stated objective is to be the first choice airline alliance for the world's frequent international travellers. Its central alliance office is in New York City and includes 13 member airlines. As of March 2020, its member airlines collectively operate a fleet of 3,296 aircraft, serve about 1,000 airports in 170 countries, carrying over 490 million passengers per year on 13,000 plus daily departures. It is the third-largest global airline alliance in terms of passengers carried, behind SkyTeam (676M in 2019) and Star Alliance (762M in 2019).
Open-jaw ticket - "An open-jaw ticket is an airline return ticket where the destination and/or the origin are not the same in both directions. The name is derived from how it looks when drawn on a map."
Ostrichpillow Light - the sleep turban that has transformed my long-haul journeys - "Far more presentable than the frankly ridiculous original Ostrichpillow, and offering the total darkness an eye mask can never match, this is the only way to fly."
Overhead aircraft bins could be an inflight game-changer - "More travelers than ever are opting to cram their belongings into a carry-on bag - many of them bulky, with wheels. Enter French aircraft maker Airbus and its new 'Airspace L Bins'. First revealed in May, these specially shaped overhead compartments promise to create 60% more cabin luggage space than traditional systems. How? Simply by allowing travelers to load their carry-on roller bags vertically instead of having to lay them flat. The bins, which hold bags that are 61 centimeters (height) × 38 centimeters (width) × 25 centimeters (depth), were designed to be retrofitted in three to five days."
Overweight cat body-double flight scam leaves owner without thousands of air miles - "'I violated the rules, and the carrier has every right to take action,' Galin told NBC News."
Overweight fliers fight back against discrimination - "Are fat fliers being discriminated against by airlines?"

A B C D E F G H I J K L M N O P Q R S T U V W X Y Z

- P -

Pan Am flight attendants had the most glamorous jobs in the sky - "Here's what happened when the airline vanished."
Pan Am Boeing 377: The luxury airplane with beds in overhead compartments - "The airplane speeds through the sky on its way to London as you dine on tender beef and caviar. Afterward, you make your way to the lower lounge to socialize with other passengers aboard the plane while sipping on a refreshing drink. As the evening winds down, you head up to the main cabin, climb into your overhead compartment bed, and travel across the Atlantic Ocean safely tucked away under soft sheets."
Pandemic has pilots making more mistakes - "Commercial pilots blame pandemic downtime for in-flight mistakes. The steepest downturn in modern aviation history means plenty of airline pilots are spending weeks or months of the coronavirus pandemic idling at home."
Parking in a pandemic: Grounded planes scramble for storage space - "At any given time -- pre-coronavirus era -- there were usually as many as 20,000 planes swirling around the planet at altitude. The system isn't designed for that amount of planes to be anywhere else apart from in the air -- the only place they generate revenue. Parking at airports is also pricey. Major European hubs can charge in the region of $285 an hour."
Passenger airplanes might soon have just one pilot. Here's why - "Why airplanes might soon have just one pilot. If you boarded a passenger plane in 1950 and peeked into the cockpit, you would have seen five people in there (almost certainly men): two pilots, a radio operator, a navigator and a flight engineer."
PASSENGER SHAMING - "Are these assholes serious? Photos taken by anonymous flight attendants & passengers from all over the world. Don't end up here."
Passengers should 'avoid' 2 items of clothing for free upgrade 'Will enhance your chances' - "Travel experts at Forbes Advisor shared their advice on how to increase the chances of being upgraded on a flight including what passengers should wear to impress the crew."
Passengers spooked by airplane seat cameras - "Can airplane seat cameras spy on passengers?"
'People don't want to fly': Covid-19 reawakens Europe's sleeper trains - "Overnight services in Europe had seemingly hit the buffers but pandemic has revived demand."
People in China are paying over $3,000 to travel - "How airline ticket scalpers took over the Chinese travel market."
Physical distancing will end era of cheap air travel, industry warns - "Iata says airlines will have to raise prices 50% or go bust if Covid-19 rules are enforced."
PILOT FLEW UNCONSCIOUS FOR 40 MINUTES AFTER BAD NIGHT'S SLEEP & SKIPPING BREAKFAST - The Independent.
Pilot makes first-ever plane landing on Burj Al Arab helipad - "Polish pilot Lukasz Czepiela made aviation history on Tuesday, becoming the first person to land a plane on the helipad of the iconic Burj Al Arab Jumeirah hotel in Dubai. Czepiela was able to bring his specially adapted light aircraft to a stop in just 21 meters (68 feet), landing on a platform only 27 meters (89 feet) wide, 212 meters (696 feet) above the ground on top of the 56-story building."
Pilots are by law banned from chatting when plane is below 10,000ft - "Have you ever wondered why pilots always do an announcement 20 to 30 minutes before landing? The Sterile Cockpit Rule says that pilots and cabin crew are not allowed to do anything that isn't part of their duty during certain portions of the flight."
Plane battling winds at Heathrow nearly topples over - "As storms buffet the UK, footage has emerged of a pilot pulling off a particularly challenging landing - but not before the plane appeared to nearly topple over and scrape its tail on the runway. British Airways flight 1307 traveled from Aberdeen to London on Monday - but the 80-minute flight had a bumpy ride at the end."
Planes grounded by coronavirus pandemic sit idle at airports around the world - in pictures - "As travel restrictions in response to the pandemic savagely cut the number of flights, airlines are scrambling to find places to park their redundant planes."
Plastic trays at security are the worst virus carriers in the airport - even worse than the TOILET - "THERE'S one place to avoid at the airport if you want to stop yourself getting sick - the plastic trays at security that stuff is piled into before it is scanned. They are the worst culprits for carrying viruses such as the common cold and flu."
Plus-size travelers hit out at 'discriminatory' airline seat policies - "'We're paying twice for the same experience.' While the average width of an airplane seat has been shrinking for decades, bodies are getting larger around the world, with experts predicting that over half of the global population will be overweight or obese by 2035."
pod plane - or modular aircraft is a type of aircraft design where the payload carrying part can be detached from the rest of the aircraft. In this way, the aircraft can have a much-reduced loading and unloading time or change between different configurations of cargo or passenger capability.
Post-Covid economy class may look like this - "What economy class could look like after virus. It's clear flying will be different after coronavirus, and while some airlines are discussing the removal of middle seats to maintain social distancing, one airplane interiors company has come up with concepts for adapting economy class cabins."
Power Bank: Is it Allowed to Carry Power Banks in Flights? - "It is allowed to carry power banks in your cabin luggage, but not in your checked-in luggage."
Private jets: 40% of these flights are empty. Further reason to ground them - "Labour is exploring plans to curb the use of the planes, which are increasingly popular among wealthy jetsetters. Can this luxury form of travel ever be sustainable?"
Private jets are taking off because of coronavirus - "While much of the travel industry has been suffering as the infection spreads globally, the private jet industry has apparently been on a roll."

A B C D E F G H I J K L M N O P Q R S T U V W X Y Z

- Q -

Qantas announces plans for non-stop flights from Sydney to New York & London - "Airline plans flights from south-east Australia by end of 2025 to run up to 20 hours and be among world's longest. Qantas has unveiled details of the ultra-long-haul aircraft it plans to run on non-stop flights from Sydney and Melbourne to London and New York by the end of 2025, as questions are raised about the emissions benefits and spending priorities of the airline. The airline says the planes will be 'capable of flying direct from Australia to any other city' in the world, while being 25% more fuel-efficient than previous aircraft."
Qantas Dreamliner completes longest ever commercial flight - "Airline hails achievement after 19-hour New York-to-Sydney flight carrying 50 passengers and crew."
Qantas introduces gender-neutral language - The Sun.
Qantas offers a seven-hour flight to nowhere - "But as travel bans, closed borders and shelter-in-place orders confined many to our homes, some travelers have been daydreaming not only about the far-flung destinations currently off limits, but the flying experience itself -- from the thrill of the take-off to the unmatched views of the earth from above from the cabin window. That's where 'flights to nowhere' come in - air travel that takes place purely for the purpose of the journey, not the destination."
Qantas reveals economy seats for 19-hour NYC-Sydney ultra long-haul flights - "As Qantas counts down to the 2025 launch of its record-breaking passenger flights connecting Sydney to New York and London direct, the airline has revealed what economy class will look like on the ultra long-haul flights. At a press conference in New York on Thursday, the airline revealed it will offer passengers more leg room and more space to move around the cabin on the 12 specially designed Airbus A350 planes that will operate the routes."
Qantas seven-hour flight to nowhere sells out in 10 minutes - "Amid global restrictions, travelers have been daydreaming not only about far-flung destinations, but the flying experience itself - from the thrill of the take-off to the unmatched views of the Earth from the cabin window."
Qantas supermoon flight to nowhere sells out in 'record time' - "Qantas is offering a new 'flight to nowhere' that will give travel-starved Australian residents the chance to admire the late May supermoon and full lunar eclipse from over 40,000 feet in the sky. Tickets for the supermoon flight started at AUS $499 for an economy ticket (US $386), while business class was on sale for $1,499 a pop (US $1,160)."
Qatar Airways cabin crew to wear hazmat suits - "Flight attendant uniforms have evolved considerably over the years, with styles adapting to reflect fashion trends, along with the changing world. However, it's unlikely any designer could have predicted its latest incarnation. Qatar Airways is one of several airlines to introduce Personal Protective Equipment (PPE) suits for its cabin crew in light of the coronavirus pandemic."
Qatar Airways shows off world's first $102 million Gulfstream G700 luxury jet - "Qatar Executive, the corporate jet arm of Qatar Airways, has shown off its upcoming aircraft, the Gulfstream G700, at an event in Doha. The G700 is a fast, ultra-long range jet that can reach speeds of Mach 0.9 or 1111 km/h. Qatar Executive will be the launch customer for the jet, taking delivery of the first of 10 on order in 2022."
Quiet supersonic jet maker Aerion abruptly shuts down - "It had partners like Boeing and GE."

A B C D E F G H I J K L M N O P Q R S T U V W X Y Z

- R -

Revealed: The surprising secrets to making plane food taste better - The Telegraph.
RED BULL AIR RACE WORLD CHAMPIONSHIP - aka "Formula 1 of the Sky." Established in 2003 and created by Red Bull, is an international series of air races in which competitors have to navigate a challenging obstacle course in the fastest time.
Red-eye flight - is any flight departing late at night and arriving early the next morning. The term red-eye, common in North America, derives from the fatigue symptom of having red eyes, which can be caused or aggravated by late-night travel. The red-eye flight usually flies eastbound. The flight is usually four to six hours, less than seven-hour full sleep, but due to time differences, a red-eye flight that departs around midnight arrives around 6am or 7am. Westbound flights that depart around midnight and arrive in the early morning are also colloquically called red-eye flights, despite the fact that those flights are significantly longer than seven or eight hours.
Reinventing the airship for the 2020s - "Airships could offer a much cleaner and quieter alternative for some aspects of the aviation market. In a former airship factory, a new generation are taking shape."
Revisiting the luxury & glamour of Concorde - CNN style.
Richard Branson: 'Aviation can be carbon neutral sooner than we realise' - "The relentlessly upbeat entrepreneur believes efficiency and electricity could stop airlines worsening the climate crisis."
Richard Branson facing backlash over plea for UK bailout of Virgin - "Campaigners and politicians point to tycoon's wealth, while aviation industry backs him."
Richard Branson's bailout plea proves there's no one more shameless - "Eyeing up the public purse from distant shores, 'Britain's Best-Loved Businessman' is truly one of the global super-elite."
rival to Boeing & Airbus you've probably never heard of - "Beijing hopes it can challenge the bulging order books of the aerospace giants of Seattle and Toulouse."
Roman Abramovich's Private 767 P4-MES Is Up For Sale. Here's What It Looks Like Inside - "Russian-Israeli billionaire Roman Abramovich, recently best known as the owner of the English Premier League football club, Chelsea F.C., is upgrading one of his personal rides to a Boeing 787. As a result, his private Boeing 767-300ER (registered P4-MES) is up for sale, and we can finally see what it looks like on the inside."
Romanian dictator's airplane listed for auction at $30,000 - "The Rombac 1-11, which was used for the dictator's official flights between 1986 and 1989, is to be put up for auction on May 27 with a starting price of €25,000 (around $30,000)."
Running out of fuel at 30,000 feet - "Aerial ballet: How airplanes fill up with fuel mid-air."
Ryanair Becomes First Eu Airline to Report Monthly Co2 Emissions - Ryanair's Corporate Website.
Ryanair, British Airways & easyJet ban specific kind of carry-on bag - "Some kinds of 'smart bags', or luggage with built-in electronics equipping them to do things like charge devices, be a Wi-Fi hotspot, and connect to Bluetooth, have been banned from these companies' planes. If you can't take the battery out, you can't take the bag with you."
Ryanair's new hand luggage rules - "And the bags to beat them."

A B C D E F G H I J K L M N O P Q R S T U V W X Y Z

- S -

Safest seat on a plane? - "Expert reveals the safest seat on an airplane. We asked an aviation expert. We rarely book a flight with hopes of getting one of the middle seats in the last row. Well, guess what? These seats are statistically the safest ones on an airplane."
Saudi Arabia plans one of the world's biggest airports - "The King Salman International Airport, due to be built in capital Riyadh, will have no fewer than six parallel runways, allowing 185 million passengers to pass through annually by 2050. Built over the current King Khalid International Airport, it will sprawl over a whopping 22 square miles and is due to be designed by starchitects Foster + Partners, who have dubbed it an 'aerotropolis.'"
Scandinavian Airlines Just Got Overtaken by the Local Bus - "Troubled Scandinavian Airlines operator SAS AB is now smaller than a bus company."
Schedule padding: Is this why air travel is getting slower? - "British Airways, Easyjet, Ryanair and Virgin Atlantic claim it's taking longer to get from A to B."
science behind making your holiday last longer - The Telegraph.
Scientists say they've figured the odds of catching Covid on a plane - "The odds of catching Covid-19 on an airplane are slimmer than you think, scientists say."
Scientists turn CO2 into jet fuel - "It could lead to net zero emissions for air travel."
Security Lines: How to Speed Through - "To speed your way, it can help to sign up for one of the programs offered by the government or Clear, a private company. But time is running out." The New York Times.
See the incredible sky-high luxury of the super-rich's private jets - "Billionaire-worthy jets you won't believe. Hopping on a private jet might sound like the epitome of luxury, but for the super-wealthy no ordinary plane will do. In fact, some are willing to spend hundreds of millions of dollars on the perfect plane. Read on to take a guided tour of some of the largest and most expensive private jets that money can buy."
Shanghai to New York in two hours? China joins the hypersonic flight race - "Beijing-based Space Transportation (aka Lingkong Tianxing in China) aims to make this prospect a reality with the development of a passenger-carrying vehicle that can hurtle across the skies at one mile per second - over twice the speed of Concorde."
Should we get rid of air miles for climate change? - "A return flight from Lisbon to New York generates nearly the same level of CO2 as the average person in the EU does by heating their home all year round."
Should you fly yet? Here's what experts say - "Should you fly yet? Here's what an epidemiologist and an exposure scientist say."
simple trick to ensuring your bag is first at the carousel - The Telegraph.
SINGLE-PILOT PASSENGER PLANES COULD SOON TAKE TO THE SKIES, SAYS BOEING - "The change could also address a chronic shortage of pilots. Aircraft manufacturer also working on hypersonic jet to fly passengers from New York to Tokyo 'for lunch'."
Skincare must-haves for long-haul flights - The Telegraph.
skiplagged - "The smart way to find cheap flights."
skiplagging - "Hidden-city ticketing or skiplagging is a variant of throwaway ticketing. The passenger books a ticket to a flight with a connection at the intended destination, sets forth at the connection node, and discards the remaining segment. Flight fares are subject to market forces and so do not necessarily correlate to the distance flown. As a result, a flight between point A and point C, with a connection node at point B, might be cheaper than a flight between point A and point B. It is then possible to purchase an airline ticket from point A to point C, disembark at the connection node (B), and discard the remaining segment (B to C)."
SkyTeam - since 2000. One of the world's three major airline alliances. Founded in June 2000, SkyTeam was the last of the three alliances to be formed, the first two being Star Alliance and Oneworld, respectively. Its annual passenger count is 630 million (2019), the second largest of the three major alliances. As of January 2019, SkyTeam consists of 19 carriers from five continents and operates with the slogan "Caring more about you".
Sleeping on long-haul flights: Here are the top tips for snoozing in the sky - "The first tip for sleep in this setting is to relax your expectations a little. Humans are just not well designed to sleep in an almost upright position. Unless you're lucky to fly in a class with a lie-flat seat, you're very unlikely to step off a long-haul flight having had a solid eight hours of sleep."
'Sneaky' hack to connect your wireless headphones to your airplane TV - "It's still in 'beta' mode, but you can now sneakily connect your wireless headphones to some airlines' inflight entertainment systems."
Sneaky trick for making sure your bag comes off the plane first - "Often the fragile tagged luggage goes into the plane last and as a result, it comes onto the belt first."
'Snoring is perfectly natural': testing Air New Zealand's world first sleep pods - "The skynest will set you back over NZ$400 for a four hour visit - so is it worth it?"
Soarigami armrest divider - end to armrest wars? The Soarigami divider aims to end all in-flight armrest battles on planes by creating space for two elbows.
Social distancing in the skies becomes a perk in post-Covid travel - "Air passengers looking for that one-metre buffer between seats must be ready to pay for the luxury."
Solari boards: The disappearing sound of airports - "As day turns to night in Singapore's Changi Airport, a queue of people wait patiently for a picture with an old star."
Southwest Airlines doesn't assign seats and honestly, this sounds like a nightmare - "Rather than assign passengers seats on the plane, this major airline makes them scramble for the best seats in the cabin. Sounds like carnage, but there's a brilliant reason for it."
'Space plane' to fly UK to Australia in 4 hours - "Hypersonic 'space plane' promises four-hour London to Sydney flights by 2030s."
Split-flap display - or sometimes simply a flap display, is an electromechanical display device that presents changeable alphanumeric text, and occasionally fixed graphics. Often used as a public transport timetable in airports or railway stations, as such they are often called Solari boards after display manufacturer Solari di Udine, of Udine, Italy, or in Central European countries they are called Pragotron after the Czech manufacturer.
SR-71 Blackbird: The Cold War spy plane that's still the world's fastest aircraft - "During the Cold War, this plane could fly higher and faster than any other - and 55 years after its first flight, it still does."
Star Alliance - since 1997. World's largest global airline alliance. Founded on 14 May 1997, its headquarters are located in Frankfurt am Main, Germany, led by Theo Panagiotoulias as CEO. As of April 2018, Star Alliance is the largest of the three global alliances by passenger count with 762.27 million, ahead of both SkyTeam (630 million) and Oneworld (528 million). Its slogan is "The Way the Earth Connects".
STRATOLAUNCH, THE WORLD'S BIGGEST AIRPLANE, TAKES FLIGHT - "Airplane with world's longest wingspan take flight, beating Spruce Goose record. Stratolaunch jet, brainchild of late Microsoft co-founder Paul Allen, may be used to launch small satellites into space."
Stressful, tiring & bad for the planet - why we should ditch our addiction to city breaks - The Telegraph.
Super-rich fuelling growing demand for private jets, report finds - "Growth centred in US and China, with slowdown in Sweden attributed to Greta Thunberg."
Supersonic, nuclear, with lasers: the future of flight - CNN travel.
surprising new dirtiest surface on a plane - but almost half of tested areas are so germy they put passengers at serious risk - "During 20 flights, five spots were swabbed - the seatbelt, tray table, headrest, seat pocket and washroom handle."

A B C D E F G H I J K L M N O P Q R S T U V W X Y Z

- T -

TBA - short for: To Be Announced (used to say that flight departure times have not yet been decided.
Terrifying photoshoot of Concorde's last trip - "Concorde's last flight: Is this the greatest aviation photograph of all time?"
The aircraft interiors of the future - The Telegraph.
THE ANCIENT COMPUTERS IN THE BOEING 737 MAX ARE HOLDING UP A FIX - "The perils of fixing a hardware problem with software."
The birth & death of the A380 superjumbo - "Airbus A380: The wondrous giant that never quite took off."
The challenges of designing airplane evacuation slides - "Gone in 90 seconds: The evolution of the airplane evacuation slide."
The Colorado startup dreaming up a return to supersonic flight - "Boom Supersonic hopes to test-fly its supersonic plane in 2021."
The Democratization of Airport Lounges - "No longer just for the flying elite, these havens from chaos are easier to get into now, with the crowds to prove it."
The epic attempts to power planes with hydrogen - "During the Cold War, both the US and USSR researched liquid hydrogen as a way to fuel aircraft. Could this cleaner fuel finally be around the corner?"
The era of big passenger jets is over - CNN Business.
The Future Of First Class? The Seats Could Be Next To Economy - "Up to now, cabin classes have always stayed very separate. Economy fliers rarely get to see the benefits of first or business class, and while that gives premium passengers plenty of privacy, it can be challenging for airlines in terms of making maximum use of the available space. A concept by South Korean student Sahngseok Lee in partnership with Adient Aerospace suggests that mixing classes together could be a more efficient solution."
The hottest aviation news of 2019 - "The most talked-about aviation moments in 2019."
The hydrogen revolution in the skies - "A record-breaking commercial-scale hydrogen plane has taken off in the UK, with more set to join it soon. How far can such planes go in cutting the aviation industry's emissions?"
The last ever A380 superjumbo is delivered to Emirates - "The huge double-deck aircraft, call sign A6-EVS, arrived in London on Thursday and will soon be entering into commercial service. The last A380 is also the 123rd A380 to join Emirates, while other carriers, including British Airways and Singapore Airlines, also still operate superjumbos in their fleet."
The luxury meals once served on airplanes - "Cognac and cigars: The golden age of inflight meals."
The most dangerous part of every Flight - Travel + Leisure.
The most heroic airline pilots of all time - The Telegraph.
the most popular private jet destinations - CNN Travel.
The Most Stressful Job In The World? What it's Really Like To Be An Air Traffic Controller - "Controllers train for many years to qualify for the job, and only around 1% of applicants make it through to qualify."
'The plane is too heavy' - and readers' other budget airline disasters - "After a passenger boarded an easyJet plane that had a row of backless seats, readers reveal tales of low-cost flying nightmares."
The plane that's become a Covid-19 hero - "Queen of the skies: The Boeing 747 is playing a hero's role during Covid-19 crisis."
The plane too ahead of its time - "The record-breaking jet which still haunts a country. A decade after the end of World War Two, Canada built a jet which pushed technology to its limits. But its demise showed why smaller nations found it difficult to compete in the Jet Age."
The plane wing design that changed flying - "Why modern airplanes have winglets."
The Real Cost Of Owning A Gulfstream G800 - "This is the Gulfstream G800, one of the world's longest-range business aircraft that redefines luxury and performance. Powered by state-of-the-art Rolls-Royce Pearl 700 engines, the G800 can accommodate up to 19 passengers. The base Gulfstream G800 price is $72 million before options, and the Honda Jet charter price or Honda Jet charter price is estimated at $13,000 to $20,000 per hour. Naturally, prices will vary depending on availability, fuel prices, ground fees, and more. There are two expense categories to consider: fixed costs and variable costs." YouTube 8:25.
The real reason you're told you put your mobile in flight mode - The Telegraph.
The rich are getting richer & they're fueling a private jet boom - "Business jet take-offs and landings in the U.S. are up 40% year-on-year. Data from Jefferies Equity Research shows that as IPO activity climbed, the volume of business jet deliveries rose in correlation with it in 2021. Inventory of used jets is at record lows, around or below 3% for most major jet manufacturers."
The rise of the unruly airplane passenger - "Outrage in the skies: Are airline passengers getting more unruly?"
The secret to picking the perfect plane seat - The Telegraph.
The slow death of the jumbo jet - The Telegraph.
The 'Sorry' State of Air Travel: A Timeline - The New York Times.
The super-rich want sundecks on their private aircraft - "Private jet concept with a sundeck and dancefloor showcased at Dubai Airshow. A helicopter with vegan seats, a private jet with a sundeck and garage, and a hotelier's plan to hold discos at 35,000 feet - all three concepts were unveiled at the Dubai Airshow last week among a host of others designed to lure VIP travelers back to the sky."
The surprising definition of a near-miss in the skies - The Telegraph.
The truth about oxygen masks on planes - The Telegraph.
The windowless cabin design that could be the future of air travel - "Looking out the cabin window and seeing cities and oceans from above is, for many of us, one of the joys of flying."
The world's longest flights - The Telegraph.
The world's most spacious airplane seats revealed - "How to find the world's roomiest airplane seats. One of the greatest luxuries when we fly is space: the space to stretch out, relax, work and sleep while flying seven miles above the Earth at nearly the speed of sound. These days, that's international business class, with fully-flat beds longer than most people are tall. But some are roomier than others. So which airline will give you the biggest bang for your buck?"
There's a huge row over reclining your airline seat. Is capitalism to blame? - "Recline or don't recline – it's your call. But remember: the greed of airlines in shrinking space to reap profits makes them the true villains."
there's a new world's busiest airport - "Seven of the world's top 10 busiest airports in 2020 were in China while the former world's busiest airport - Hartsfield-Jackson Atlanta International Airport in the United States - fell to No. 2 in the rankings after 22 consecutive years in the top spot. Guangzhou Baiyun International Airport in China was the world's busiest airport in 2020, rising to the No. 1 spot from its No. 11 ranking in 2019, according to preliminary figures released Thursday by airport trade organization Airports Council International (ACI)."
'There's no ****ing way I eat on planes' - Gordon Ramsey.
This could be the future of first class airplane travel - " First class is on its way out at many airlines, as business class seats and mini-suites become larger, more private and more luxurious - and fewer budgets stretch to adding on what might be an extra zero on the price tag for first class. But it's not going away completely."
This is a great time to be an airline. It's the worst time to be a passenger - "US airlines just had one of the most lucrative quarters in history. Passengers are suffering for it. The record revenue many airlines reported in April, May and June came via very high airfares and packed airplanes. A series of service disruptions caused by staffing shortages has made flying even worse."
This may be the safest, and most fun, way to fly in 2020 - "Microsoft Flight Simulator's 2020 reboot may be the safest way to fly this year."
This solar-powered plane could stay in the air for months - "Skydweller Aero aims to produce the world's first commercially viable 'pseudo-satellite' - a solar-powered airplane capable of staying in the sky for months at a time."
This was once the most glamorous way to fly - "Revisiting the luxury and glamour of Concorde."
Those white trails behind planes are a problem - but there might be a solution - "Contrails are a problem for aviation - but there could be an easy solution. On a clear day, with the right weather conditions, a portion of the sky busy with commercial flights can become riddled with contrails, the wispy ice clouds that form as jet aircraft fly by."
TIGHAR | The International Group for Historical Aircraft Recovery - non-profit foundation dedicated to promoting responsible aviation archaeology and historic preservation.
Timeshifter - since 2018. "The Jet Lag App. Travel is part of your life. Jet lag doesn't need to be." Optimize your sleep, health, and quality of life. Timeshifter Apps for Jet Lag & Shift Work. Discover circadian science with Timeshifter, and learn more about our popular jet lag app and our upcoming app for shift workers.
Tips For Traveling With Only Carry-On Luggage - "If you've been following the news, you likely have heard that airports worldwide have been having issues regarding limited staff, which has led to delays, cancelations, and even a backlog of checked luggage. Knowing that, you may decide to fly only with a carry-on to avoid checked baggage fees and risk losing your bag. These tips can help you efficiently get everything you need into your carry-on for a stressless flight."
Tired of Jet Lag? This App Will Help Reset Your Clock - "Timeshifter cribs NASA-backed science to help you recalibrate your biorhythms after switching time zones."
Train versus plane - "With many domestic flights banned in France, we test its rail network. Visionary policy or pipe dream? An 18-day, 3,000km loop from Paris to the Atlantic and Mediterranean and back should tell us."
Transforming an Airbus A330 into a yacht-like luxury experience - "The fact that the mega rich go to great lengths to customize their private planes to fit their lifestyles is not new."
Travel gear - "From packing cubes to toiletry bags, compression socks, backpacks and more, our team is always testing the newest travel essentials to help you find the best products needed to get to your destination comfortably, well-organized, and with room in your bag to spare." CNN Underscored.
Travel guru Rick Steves never checks a bag. Here are the 25 things he always packs in his carry-on - "Steves spends four months out of the year traveling Europe for work, and he only brings a carry-on bag. Steves' must-haves include hemp shorts, Bose headphones, Patagonia pants, and bags he designed."
Travel Sentry - "The Global Standard for Travel Security." Company that develops and licenses standards used in travel security, including a standard for luggage locks that can be opened by aviation security agencies such as the Transportation Security Administration.
Travel to the North Pole on board a luxury airship - "The 16 passengers will be lodged in eight spacious hotel-like double cabins. The airship will carry a crew of seven, including a chef."
Treasure or Trash? Huge Unclaimed Baggage Event Makes NYC Debut Sunday - "For the first time ever, the nation's only retailer for lost luggage will host a one-of-a-kind silent auction in New York City this weekend - and it is all for a good cause."
Trick for cheap tickets is widely practised by travellers - "Lufthansa sues passenger for not taking booked flight."
TSA accepted locks - in the United States the Transportation Security Administration (TSA) requires access to luggage without the passenger being present; to allow travelers to lock their luggage they have accepted certain locks which they can open and relock. The TSA recommend that TSA accepted locks be used, as luggage locked using other methods must be opened by force in order to be inspected.
Two-Thirds of the World's Passengers Jets Are Grounded Amid COVID-19 Pandemic. Here's What That Means - "More than 16,000 passenger jets are grounded worldwide, according to industry researcher Cirium, as the coronavirus obliterates travel and puts unprecedented strain on airline finances. Finding the right space and conditions for 62% of the world's planes and keeping them airworthy have suddenly become priorities for 2020."

A B C D E F G H I J K L M N O P Q R S T U V W X Y Z

- U -

ugliest planes that have ever flown - The Telegraph.
UN body reaches long-term aviation climate goal of net zero by 2050 - "Decision described as a compromise by several European countries who wanted a more ambitious target."
United Airlines aims to revive Concorde spirit with supersonic planes - "Company places order for 15 Boom Overture jets capable of travelling twice as fast as modern airliners."
United said it had this woman's missing bag. She tracked it to a residential address - "The story she has to tell of how her bag was lost and found, and how United Airlines dealt with her case, is enough to make you never check a bag again."
United States Documentary Requirements for Travel - Carrier Information Guide.
'Unspoken rules' of each plane seat explained by an expert - "What are your 'unspoken' rights on a flight? Hidden advantage of the middle seat explained."
US airline passengers aren't happy. Here's why - "The airports are crowded, the flights are packed and air travel in the US is back in full swing. But the return to the skies in the wake of the pandemic hasn't been entirely smooth: passengers seem more badly behaved than ever, flight cancellations feel increasingly commonplace and airlines are hiking fares as fuel prices soar."
US airlines may ban passengers if they don't wear face masks - "United and American Airlines announce new consequences for passengers who buck the industry's policy."

A B C D E F G H I J K L M N O P Q R S T U V W X Y Z

- V -

Virgin Galactic has its eye on supersonic flights - and there's a difficult road ahead - "Taking a meeting in London at noon and returning to New York in time for dinner? Even before coronavirus, that was just a dream - but a dream business travelers and companies that serve them have clung to for decades."
Virgin Galactic reveals new supersonic jet design that would fly three times speed of sound - "Virgin Galactic has premiered a new jet design for high speed air travel: a streamlined, Concorde-esque delta-wing aircraft with capacity for nine to 19 people cruising at an altitude of over 60,000 feet."
Virgin Galactic Says Space Holidays Possible By Early 2021 - Tickets Are $250,000 - "Virgin Atlantic has announced that its boss, Sir Richard Branson, will be heading up into space in early 2021."
Virgin to fly 'net-zero' transatlantic Boeing 787 - "The aircraft will hit the skies in 2023 fueled entirely by what's known as sustainable aviation fuel."
Virus could be final call for A380 superjumbo - "Popular with air travelers but expensive to operate at the best of times, the gigantic Airbus A380 passenger plane could be one of the first major airplane casualties of the coronavirus."
Virus creates world's longest passenger flight - "On March 14, French airline Air Tahiti Nui flew the longest ever scheduled passenger flight by distance -- transiting 9,765 miles across the world from Papeete, in Tahiti, French Polynesia, to Paris' Charles de Gaulle airport. This one off milestone was a direct consequence of the coronavirus-induced US travel restrictions."

A B C D E F G H I J K L M N O P Q R S T U V W X Y Z

- W -

Watch a plane fly through a tunnel & set a Guinness World Record at the same time - "Some pilots focus on flying high, but Dario Costa's success at flying low has landed him in the Guinness Book of World Records."
Watch laser destroy aircraft mid-flight - "Navy tests laser that can destroy aircraft mid-flight."
We took an exclusive ride in a flying car - CNN tech.
Weird & wonderful aircraft you'll never get to fly on - The Telegraph.
Wet lease - a leasing arrangement whereby one airline (the lessor) provides an aircraft, complete crew, maintenance, and insurance (ACMI) to another airline or other type of business acting as a broker of air travel (the lessee), which pays by hours operated. The lessee provides fuel and covers airport fees, and any other duties, taxes, etc. The flight uses the flight number of the lessee. A wet lease generally lasts 1–24 months. A wet lease is typically utilized during peak traffic seasons or annual heavy maintenance checks, or to initiate new routes. A wet-leased aircraft may be used to fly services into countries where the lessee is banned from operating. It can also be used to replace unavailable capacity or to circumvent regulatory or political restrictions.
What a stand-up airplane seat feels like - "Here's what it might be like to travel on a stand-up airplane seat."
What airlines are doing to sanitize planes - "As you board the aircraft and sit in your seat, you might find yourself reconsidering inflight hygiene -- and wondering just how thoroughly the aircraft's actually been cleaned before you boarded."
What airports will look like when we can travel again - "Here's how Covid-19 could change the way we fly."
What couples should never do on an airplane - "10 rules for flying together as a couple."
What Covid-19 precautions should people take for international travel? - "Last week, the US Centers for Disease Control and Prevention announced it would no longer be maintaining a country-by-country travel advisory of Covid-19 risk. Instead of assessing the level of Covid-19 infection in each country, the CDC will post notices only when there are new variants or other situations that would change its travel recommendations."
What Do Rich People Eat On Private Jets? - "It's not easy to eat well on airplanes. Despite the obvious disadvantages - like not possessing kitchens - most airlines settle for terribly boring, terribly 'cooked' plates of food that never quite feel, well, edible. And then, of course, there are private jets. In spite of their size, these seem to be the singular route to eat well in the sky. Over the last few years we've seen Cardi B chowing down on crab legs in hers, Kanye West bingeing on Chick-fil-A in his, and Dwayne 'The Rock' Johnson sharing an enormous hand-crafted birthday cake—a gift from his flight crew—on Instagram."
what films should you never watch on an airplane? - The Guardian.
What Happened To Saudi Arabia's Planned A380 Private Jet? - "Private jets come in all sizes. While most business and personal jets are small and mid-size aircraft, there are plenty of examples of larger narrowbodies and widebodies being used privately. The A380 would be the largest possible private jet - and could offer some amazing interior options. Only one has ever been ordered by a Saudi Arabian Prince. It promised a lot, but for unknown reasons was never delivered."
What happens with a military jet interception? - "'If a military aircraft intercepts you and gives you command, you obey'. That was the view of one pilot who spoke to the BBC, who said the decision of Belarus to force down a passenger aircraft was 'absolutely reckless'."
What is a chicken cannon & how does it keep planes safe? - "The cannons keeping airplanes safe, one chicken at a time. Birds may be the undisputed masters of the air, but they've been at the losing end of airborne collisions since the dawn of aviation in 1905, when pioneer pilot Orville Wright reported the first bird strike."
What is it like to fly on a small plane compared to a big plane? - "Many misconceptions and preconceptions abound. Some people swear they only get airsickness on small planes, while others insist the on-board experience is more personalized. A small plane is one with a maximum certificated takeoff weight of 12,500 pounds or less, according to the Federal Aviation Administration (FAA)."
What it was really like to fly on Concorde - CNN travel.
What it was really like to go Mach 2 on Concorde - The Verge.
What it's like on the world's shortest flight - "The journey, made two to three times daily, connects Westray, an island on the edge of Scotland's northerly Orkney archipelago, to the smaller, even more remote island of Papa Westray. This, according to Guinness World Records, is the world's shortest scheduled airline service, a trip that covers just 1.7 miles (2.7 kilometers) in less time than it takes most passenger airplanes to reach cruising altitude. On a good day, with favorable winds and light luggage, it takes 53 seconds."
What it's like to fly on Europe's biggest airline right now - "European travelers have begun returning to the air as border restrictions ease, but the experience of a flight on the continent's biggest airline reveals just what's in store for those willing to fly in the wake of the pandemic."
What should I do if my luggage is delayed, lost or damaged? - "A recent report from the US Department of Transportation shows an increase in the number of "mishandled" bags. (Any baggage that is lost, damaged, delayed or pilfered is considered mishandled.) In May 2021, 0.38 out of 100 bags enplaned were mishandled. That figure went up to 0.56 per 100 bags enplaned in May 2022."
What the 'golden age' of flying was really like - "Cocktail lounges, five course meals, caviar served from ice sculptures and an endless flow of champagne: life on board airplanes was quite different during the "golden age of travel," the period from the 1950s to the 1970s that is fondly remembered for its glamor and luxury."
What we learned from the world's longest flight - "London to Sydney nonstop: 10 things we learned from the world's longest flight."
What would a flying-free world look like? - "Aeroplanes are incredibly polluting, but could we ever live completely without them?"
What You Need to Know About Boeing's 737 Max - "This popular passenger jet was recently involved in the Lion Air fatal crash. If you're worried about flying one on your next trip, here is a quick guide to the plane and the airlines that fly it."
Where abandoned airplanes sit on Death Row - "Lleida-Alguaire, and other industrial airports like it, is where airplanes that have been taken out of service wait on remand. For some, like that 747, there will come a reprieve. For others, it's Death Row."
Where planes go to die: extraordinary aircraft graveyards - The Telegraph.
Which airline is best for carbon emissions? - "EasyJet has come top of the league for airlines trying to cut carbon emissions to tackle climate change."
which is the worst airline on Earth for legroom? - The Telegraph.
Who's Who Behind the Most Expensive Private Jets in the World - "Celebrities are used to living lives full of luxurious items that the average Joe can't afford. From sprawling mansions to top-of-the-line cars, being rich has never looked so good. While driving a fancy car is one thing, every A-lister knows they've truly made it when they buy a private jet. These multi-million-dollar aircraft aren't just a means to an end, but an investment that allows the world's elite to get from A to B. From Berkshire Hathaway's Warren Buffett to talented artist power-couple Beyonce and Jay-Z, these famous faces know all about traveling in style."
Why air turbulence could be about to get a whole lot worse - "Most of us have experienced turbulence while traveling: when your plane flies through clashing bodies of air moving at widely different speeds. Severe turbulence can put even the most seasoned flier on edge and make five minutes seem like an eternity. Usually it results in nothing more than a bumpy ride, but in the worst cases it can cause damages and injuries."
Why airlines make flights longer on purpose - "Ever wondered why flight times seem to be getting longer? It's called 'padding', a phenomenon that helps airlines arrive on time - but at a cost."
Why airlines want you to go by train - "We might not all be Greta Thunberg, shunning air travel for weeks-long odysseys aboard Atlantic yachts, but turning our backs on short-haul flights in favor of train travel is, for many of us, a more practical enterprise."
Why are aircraft painted white? - "What are the benefits of painting an aircraft white? How much paint does it take to cover a large aircraft? Which airlines break the mould? White is a color that reflects sunlight, which has the result of keeping the aircraft cool. This benefit comes into its own at high speed, where friction from the air can heat the skin of an aircraft to extreme temperatures."
Why are planes nearly always painted white? - The Telegraph.
Why Business Class Poses a Unique Fire Hazard - The New York Times.
Why Cockpit Doors Are Open During Boarding - "Overall, cockpit doors need to be kept open due to the number of people that need to enter and exit the flight deck prior to departure. For instance, the First Officer is required to leave to conduct an external walk-around preflight before returning. Along with this, keeping the door open allows the Captain to monitor the boarding procedure. Additionally, many ground staff members are also meant to keep in continuous contact with the pilot. These include technicians, fueling staff, and those responsible for cleaning and catering the aircraft."
Why do I have to take my laptop out of the bag at airport security? - "The main reason you have to remove your laptop from your bag is because its battery and other mechanical components are too dense for X-rays to penetrate effectively - especially if the scanning system is old. The same goes for power cords and other devices such as tablets and cameras."
Why do planes have to fly so high? - The Telegraph.
Why do we cry on airplanes? - CNN travel.
Why flying will never be the same after 2021 - "How air travel changed in 2021. As we end 2021, the thousands of holiday flights canceled due to the rampaging Omicron variant is delivering another hammering to an industry that's struggling with lost revenue, disruptive passengers, and being at the front line of both interpreting and enforcing governments' Covid regulations."
Why food doesn't taste as good on planes - "Why does food taste different on planes?"
Why I Keep Watching In-Flight Meltdowns - "How the airplane became a viral sensation, the star of videos about questionable behavior - and the new backdrop for social disillusionment."
Why Jet Lag Can Feel Worse When You Travel West to East - The New York Times.
Why more travelers are flying their pets by private jet - "It doesn't seem like that long ago that private jets were considered completely out of reach for anyone who wasn't obscenely rich or famous - both in some cases. But private aviation has become far more accessible over the years, and there's been a particularly large shift since 2019."
Why noise pollution is bad for your heart - "The roar of traffic, aircraft and even ringing telephones are linked to negative health effects. Now scientists are starting to unravel what all this noise is doing to our bodies."
Why passenger jets could soon be flying in formation - "Birds are the undisputed masters of aerodynamics. No matter how many supercomputers and wind tunnels scientists throw at solving flight's thorny calculations, they'll never match the perfection of airborne avians."
Why skipping inflight meals could be good for the planet - "Window or aisle? Near the lavatory or closer to the cockpit? Meal or no meal? 'I skip meals no matter how I fly,' says Ott, who wrote about his experience on his blog, God Save the Points. 'The idea of eating at midnight throws off your whole next day, and I think there's credible science that it hurts your ability to recover from jet lag.'"
Why superbusiness minisuites are the future of luxury flying - "After a long, golden sunset of being installed on fewer and fewer aircraft, the retirement of older aircraft caused by the Covid-19 pandemic means that when air travel resumes, international first class will be very nearly a thing of the past. Its replacement is a new generation of superbusiness minisuites, more spacious than regular business class, and with a privacy door to create your own space, but without the over-the-top luxury of first class."
Why the age of electric flight is finally upon us - "Aerospace firms are joining forces to tackle their industry's growing contribution to greenhouse gas emissions, with electric engines seen as one solution. But will this be enough to offset the growing demand for air travel?"
Why the airport 100ml rule could end soon - "We have the technology to end the airport liquid ban, so why is it still in place?"
why the customer isn't always right at 40,000ft - The Guardian.
Why the mask mandate on planes is good for business - "Southwest Airlines CEO Gary Kelly stirred up some controversy Wednesday when he suggested that wearing masks on planes did little to prevent the spread of Covid. Two days later Southwest disclosed that Kelly, who was not wearing a mask at the hearing, had tested positive for Covid."
Why the sky is still full of empty 'ghost' flights - "In fact, more than 100,000 'ghost flights' will sail over European skies this winter, according to recent analysis from Greenpeace. The climate damage, claims the environmental group, is 'equivalent to the yearly emissions of more than 1.4 million cars.'"
Why this will be the hottest airplane seat in 2021 - "Premium economy. The two words might seem a weird combination in airline terms, since it's a rare airline where economy seats feel premium these days. But these seats between coach and business class on international flights were heating up even before Covid-19, and as we all start to travel again in 2021, they're set to be a must-fly for many passengers. Why? It's a combination of factors."
Why tomorrow's aircraft will be hybrid - Forbes.
Why we'll soon be flying on sofas - "Is this sofa-style seat the future of business class air travel?"
Why we're actually in love with airplane food - "Theories on its inferiority abound. Meals are churned out in industrial kitchens near the airport. They're half-drowned in liquid (giving them a vague shot of retaining moisture) and half-frozen, before being zapped to imperfection 35,000 feet up. Spices and seasonings are used parsimoniously to appeal to easily offended palates. Cabin pressure depletes passengers' sense of smell, and therefore enjoyment - so too does the roar of the jet engines. All these theories hold water, too. But nearly two years into the Covid-19 pandemic - during which air travel has become a rare commodity - are we starting to appreciate what we had?"
Why you shouldn't feel too guilty about flying - "The finding that just 100 companies -- including vast oil and gas concerns -- are responsible for 71% of all greenhouse gas emissions since 1988 has provided a framework for a different way of thinking about this problem."
Will business travel ever be the same? - "Covid-19 has grounded business travellers. When the world opens back up, will employees close down Zoom and get back on planes?"
Will flying ever be sustainable? - "As passenger numbers continue to grow, making air travel sustainable presents huge challenges." BBC Ideas.
Will shrinking aeroplane toilets stop fat people flying? - "The new 61cm-wide lavatories found on some US flights can free up space for six additional passengers. But some may not be able to close the toilet door."
Will Your Face Be Enough to Get You on a Plane? - "According to a new proposal from the T.S.A., facial recognition might eventually replace passports and other forms of ID at airport security checkpoints."
window vs. aisle seat? - "The science behind why people who prefer the window seat are more selfish."
World's 10 most scenic airport landings for 2020 - "The winner, for the third year in a row, is Ireland's Donegal Airport. On the island's northwest coast, there are sweeping views of rugged coastline, pristine beaches and the steep slopes of Mount Errigal on the approach to this regional airport in Carrickfinn."
world's 10 shortest flights - The Telegraph.
World's Best Airline - What Makes Flying Better? - "The 'Best' airline status is most importantly conferred by London-based research group Skytrax, long the gold standard of ratings for all things aviation. Its annual World Airlines Awards is the most important ranking of its kind. But when it comes to recognizing the quality of Qatar Airways, other travel and aviation industry heavyweight tend to pile on."
world's best airline for 2022 named - "Skytrax, a UK-based airline and airport review and ranking site, conducted more than 14 million customer surveys in more than 100 countries between September 2021 to August 2022 to find out the world's current favorite airline. This year's winner was no stranger to the podium. The newly crowned Qatar Airways has won the top prize a total of seven times since the awards were introduced in 1999."
World's best airline for 2023 named by AirlineRatings.com - "No. 1 this year is Air New Zealand."
World's best airlines for 2018 - CNN travel.
World's best airlines for 2019 revealed by Skytrax - CNN travel.
World's best airlines for 2021, ranked by AirlineRatings.com - "The Australia-based aviation safety and product rating agency compiles its Airline Excellence Awards based on criteria including age of fleet, passenger reviews and product offerings. This year, the team of global editors threw airlines' Covid-19 responses into the mix too."
World's best airlines for 2022, ranked by AirlineRatings.com - "Qatar Airways' decision to remain operating through the pandemic meant that it became the world's largest international airline and posted a huge profit - the only major airline to do so. Hot on the heels of Qatar Airways is Air New Zealand, an airline that's topped AirlineRatings' list six times in recent years, and last year also came in at number two."
World's Best Airlines of 2023 - "Singapore Airline is named the World's Best Airline at the 2023 World Airline Awards, with Qatar Airways ranked 2nd and ANA All Nippon Airways in 3rd place." SKYTRAX.
World's best airport opens $1.25B 'Jewel' - "Inside Changi Airport Singapore's new 'Jewel,' home to world's tallest indoor waterfall."
World's best airports for 2020 announced - "The world's best airports for 2020, according to Skytrax."
world's best-connected airports for 2018 - CNN travel.
World's busiest air route hit by Covid ban - "New travel bans imposed by the United Kingdom limiting arrivals from the United Arab Emirates and other destinations in an attempt to curb the spread of Covid are likely to impact what has become the world's busiest airline route."
World's busiest airport revealed - CNN travel.
world's cheapest airline - 2018 Global Flight Price Ranking.
World's coolest new airport hotel? - "First look inside the TWA Hotel at New York's JFK."
World's fastest passenger jet goes supersonic in tests - "The in-development Global 8000 will be 'the world's fastest and longest-range purpose-built business jet.'"
World's largest airplane destroyed in Ukraine - "The world's largest aircraft, the Antonov AN-225, has been destroyed during the Russian invasion of Ukraine, according to Ukrainian officials, generating alarm and sadness among the aviation world in which it occupies almost cult status."
World's largest inflatable airplane hangar pops up in the desert - "How the world's largest inflatable aircraft hangar was built. Airport infrastructure can take a very long time to build. Just ask the planners of Berlin's new Brandenburg Airport, which has only just entered service after a decades-long building process plagued by engineering mishaps."
World's Largest Passenger Airliner Is in Danger of Being Canceled - TIME Magazine.
World's longest flight ready for takeoff - "World's longest nonstop flight: Singapore to New York."
world's longest flight is back - and now it's even longer - "At a mammoth 18 hours, it was the world's longest scheduled passenger flight, seen as a feat of endurance for those who dared book it. But Singapore Airlines' Singapore-Newark flight, which covered a staggering 9,534 miles, was an early victim of the Covid-19 pandemic, being put on hold on March 23. Now, however, it's ready to take off again, with flights scheduled to re-start on November 9 between Singapore and New York. There's just one difference -- the US airport will switch from Newark, NJ, to JFK. Which pushes the distance up to 9,536.5 miles."
world's longest-running airlines - CNN Business Traveller.
world's most eco-conscious airlines 2023 - "Air travel is toxic for the planet. But some airlines are better than others."
World's 'most excellent' airline revealed - These are the world's 'most excellent' airlines for 2020, according to AirlineRatings.com.
World's 'most excellent' airlines for 2019 revealed by AirlineRatings.com - "One airline has literally gone to great lengths to prove it's the best in the past 12 months, and it appears to have paid off."
world's most expensive aircraft - "B-2 Spirit: The $2 billion flying wing."
World's most famous helipad turns 20 - "Set above the 59th floor of the Burj al Arab hotel, this helipad watches over the Dubai coastline. Since 1999, it has hosted an impressive line-up of international sporting stars."
world's most punctual airports & airlines for 2020 revealed - "On Thursday, travel data analyst Cirium released its annual On-Time Performance Review, naming Russian flag carrier Aeroflot the world's most on-time global mainline airline and Moscow's Sheremetyevo International Airport the world's most punctual airport."
world's safest airline for 2022 revealed - "This year, Air New Zealand has come out on top on the annual safety table, which monitors 385 carriers from across the globe, measuring factors such as the airlines' crash and serious incident records, the age of their aircraft, as well as Covid-19 protocols and operational innovation."
world's safest airlines for 2021 revealed - "There may have been far fewer airplanes in the skies this past year, but if you're looking ahead to future travel, you might take heed of the latest rankings of the world's safest airlines from AirlineRatings.com."
world's shortest international commercial flight - "There's no in-flight service. No business class cabin. No sipping Champagne, choosing beef or chicken, or watching a movie. At just eight minutes from takeoff to landing, there's no time for any of that. There are shorter flights - the hop from Westray to Papa Westray in Scotland's Orkney Islands clocks in at just 90 seconds - but the flight between the Caribbean islands of Anguilla and Sint Maarten is currently the world's shortest international commercial flight."
world's shortest scheduled airline service - "The journey, made two to three times daily, connects Westray, an island on the edge of Scotland's northerly Orkney archipelago, to the smaller, even more remote island of Papa Westray. This, according to Guinness World Records, is the world's shortest scheduled airline service, a trip that covers just 1.7 miles (2.7 kilometers) in less time than it takes most passenger airplanes to reach cruising altitude. On a good day, with favorable winds and light luggage, it takes 53 seconds."
WORLD'S UGLIEST AIRCRAFT LIVERIES - The Telegraph.
'Worst' airlines revealed in survey - "The 'worst' airlines for long and short-haul flights named by Which?"
Would you sit directly below another airplane passenger? - "The double-decker airplane seat is back. Here's what it looks like now."

A B C D E F G H I J K L M N O P Q R S T U V W X Y Z

- Y -

You can now fly the largest aircraft ever built in 'Microsoft Flight Simulator' - "Proceeds will go toward rebuilding the An-225 Mriya that was destroyed during Russia's invasion of Ukraine."
you should never shower before early morning flights - "Research produced by customer feedback company Happy or Not has revealed that passengers flying around 4am tend to be the happiest. Flying early in the morning can also increase your chances of avoiding a delay or a cancellation."

A B C D E F G H I J K L M N O P Q R S T U V W X Y Z

- Z -

Zero-impact flying is the dream. This is the reality - "How close are we to guilt-free flying?"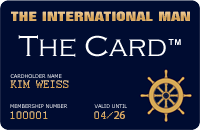 Upcoming VIP Privilege Membership Card
The International Man will in the near future be launching its own PRIVILEGE & BENEFIT VIP MEMBERSHIP CARD - named simply 'The Card'. Members will receive special privileges, benefits and preferential rates with selected partner hotels, restaurants, our LUXURY WEBSHOP, and more. Enter your name and e-mail address to receive FREE INFO about 'The Card' HERE.
RETURN TO TOP OF PAGE