Best Top-Rated High-End High Definition Camcorders

A CAMCORDER is an electronic device combining a video camera and a video recorder. Although marketing materials may use the colloquial term "camcorder", the name on the package and manual is often "video camera recorder". Most devices capable of recording video are camera phones and digital cameras primarily intended for still pictures; the term "camcorder" is used to describe a portable, self-contained device, with video capture and recording its primary function.

The earliest camcorders are tape-based, recording analog signals onto videotape cassettes. In the early 21st century digital recording became the norm, with tape replaced by storage media such as internal flash memory and SD cards.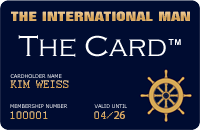 Upcoming VIP Privilege Membership Card
The International Man will in the near future be launching its own PRIVILEGE & BENEFIT VIP MEMBERSHIP CARD - named simply 'The Card'. Members will receive special privileges, benefits and preferential rates with selected partner hotels, restaurants, our LUXURY WEBSHOP, and more. Enter your name and e-mail address to receive FREE INFO about 'The Card' HERE.
RETURN TO TOP OF PAGE