North America's Top Museums & World Heritage Sites

Canada

LIST OF MUSEUMS IN CANADA - Wikipedia.

Canadian Museum of Civilization - Gatineau, Quebec. Canada's national museum of human history.
Canadian War Museum - Ottawa, Ontario. "An entirely new and must-see attraction, this national museum presents Canada's military past and how it shaped the country. Its outstanding exhibitions explain Canada s rich military history from earliest times to the present, featuring the experiences of people on the battlefields and at home."
Royal Ontario Museum - Toronto, Ontario. Canada's largest museum of world culture and natural history.

Mexico

LIST OF MUSEUMS IN MEXICO - Wikipedia.

CHICHEN ITZA - Yucatán Peninsula, Municipality of Tinúm, Yucatán.
National Museum of Anthropology - Mexico City. The most visited museum in Mexico. The museum contains significant archaeological and anthropological artifacts from the pre-Columbian heritage of Mexico, such as the Piedra del Sol (the "Stone of the Sun" or Aztec calendar stone) and the 16th-century Aztec statue of Xochipilli.
Teotihuacan - the Temple of the Feathered Serpent is the modern-day name for the third largest pyramid at Teotihuacan, a pre-Columbian site in central Mexico.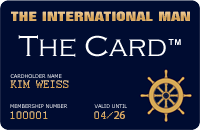 Upcoming VIP Privilege Membership Card
The International Man will in the near future be launching its own PRIVILEGE & BENEFIT VIP MEMBERSHIP CARD - named simply 'The Card'. Members will receive special privileges, benefits and preferential rates with selected partner hotels, restaurants, our LUXURY WEBSHOP, and more. Enter your name and e-mail address to receive FREE INFO about 'The Card' HERE.
RETURN TO TOP OF PAGE