Top 400 High-End Department Stores & Luxury Shops

"If you love it, buy two." - Duchess of Cambridge.

"Right or wrong, the customer is always right." - Marshall Field.

"Only so many shopping days until Christmas." - Harry Gordon Selfridge.

"All my friends know that I'd rather shop than eat." - Wallis Simpson, Duchess of Windsor.

"If you're tired of shopping, you're going to the wrong shops." - Wallis Simpson, Duchess of Windsor.

"The salesman knows nothing of what he is selling save that he is charging a great deal too much for it." - Oscar Wilde.

SHOPPING is the examining of goods or services from retailers with the intent to purchase at that time. Shopping is an activity of selection and/or purchase. In some contexts it is considered a leisure activity as well as an economic one.

To many, shopping is considered a recreational and diversional activity in which one visits a variety of stores in search of a suitable product to purchase. "Window shopping" is an activity that shoppers engage in by browsing shops with no intent to purchase, possibly just to pass the time between other activities, or to plan a later purchase.

More recently compulsive shopping is recognised as an addiction. Also referred as shopping addiction, "shopaholism" or formally oniomania, these shoppers have an impulsive uncontrollable urge to shop. The term "retail therapy" is used in a less serious context.

Shopping News, Resources, Reviews & Services




Africa

Kenya

Nairobi

The Sarit Centre - shopping mall located in the Westlands neighbourhood of Nairobi, Kenya. Opened in 1983, it is Kenya's first ever shopping mall, whose "City within a City" concept of providing everything under one roof has since irrevocably changed retailing patterns and spurred shopping mall development throughout East Africa.

Morocco

Casablanca

MOROCCO MALL - "All for You." The first destination mall in Africa.

South Africa

Durban

Gateway Theatre of Shopping - shopping centre located on Umhlanga Ridge in Umhlanga, north of Durban, KwaZulu-Natal. It also has almost all of South Africa's and many major international retail stores. Gateway sees more than two million visitors coming through its doors per month. The centre was modeled on the Mall of America and West Edmonton Mall centres.

Johannesburg

Sandton City - upmarket shopping centre located in Sandton, Johannesburg. The centre covers a gross leasable area of 128,000 sq m (1,380,000 sq ft). of retail space. Office space and the Sandton Sun Hotel increase total space to 215,000 sq m (2,310,000 sq ft). Sandton City and the adjacent Nelson Mandela Square together form the largest retail complex in Africa. A pyramid-shaped roof provides the distinguishing feature of Sandton City.

Singapore

Singapore City

LIANG COURT - shopping mall located in the vicinity of Clarke Quay, on the Singapore River.

South Korea

Seoul

Galleria Department Store - two of the branches, namely Luxury Hall West and Luxury Hall East, both in Apgujeong-dong, Gangnam-gu, Seoul, are famous for their deluxe goods.

Europe

CHIC OUTLET SHOPPING VILLAGES - collection of nine luxury outlet shopping Villages, home to some 900 boutiques of world-leading fashion and lifstyle brands offering their previous seasons' collections with reductions of up to 60% on the recommended retail price, all year round. Located close to some of Europe's favourite cities, these charming destinations are perfect additions to any European itinerary.

Austria

Vienna

Graben - is a pedestrianized street in the center of Vienna and one of the most famous streets in Vienna's first district and the heart of Vienna's most famous shopping streets. It begins at Stock-im-Eisen-Platz next to the Palais Equitable and ends at the junction of Kohlmarkt and Tuchlauben. Another street in the first district is called Tiefer Graben (deep ditch). It is crossed by Wipplinger Straße by means of the Hohe Brücke, a bridge about ten metres above street level.
In Vienna, a Bespoke Tradition Thrives - International New York Times.

Belgium

Antwerp

RA - Kloosterstraat 13. Since opening in 2009, RA Antwerp has stood as a platform of support for directional fashion and emerging artistic talent in Antwerp, Belgium. The space in the heart of the city comprises of four key components - a fashion retail concept, a bustling café restaurant, an art gallery space and curated bookstore.

Brussels

Germany

Cologne

4711 Flagshipstore - since 1792. 4711 House of Fragrances, Glockengasse 4, 50667 Cologne.

Hungary

Budapest

AndrÁssy Avenue - Budapest's answer to Paris' Champs-Élysées. Hungarian: Andrássy út is a 2,310-metre iconic boulevard in Budapest, dating back to 1872. It links Erzsébet Square with the Városliget. Lined with spectacular Neo-renaissance mansions and townhouses featuring fine facades and interiors, it was recognised as a World Heritage Site in 2002. It is also one of Budapest's main shopping streets, with fine cafes, restaurants, theatres, and luxury boutiques.

Netherlands

Amsterdam

Kalverstraat - busy shopping street of Amsterdam, also the most expensive shopping street in the Netherlands.
P.C. Hooftstraat - "Fifth Avenue of Amsterdam." Posh and expensive shopping street in Amsterdam. Home to some of the most expensive apartments in the country, and the international luxury brands target those well-heeled locals.

Schiphol

Schiphol Amsterdam Airport - indoor shopping in more than 100 stores. Schiphol has large shopping areas as a source of revenue and as an additional attraction for passengers. Schiphol Plaza is the shopping centre before customs, hence it is used by air travelers and non-traveling visitors.

Russia

Saint Petersburg

The Passage - elite department store on Nevsky Avenue, which celebrated its 150th anniversary in 1998.

Spain

Madrid

Calle Serrano - in Madrid's wealthiest neighborhood the Salamanca district. Most of the great international brands and designers are found here.

Sweden

Stockholm

Drottninggatan - major pedestrian street and Stockholms most visited street for shopping.
Why Ikea sells Swedish meatballs - "Ikea's restaurants were failing. Then it turned to Swedish meatballs."

NORDISKA KOMPANIET - famous department store. Hamngatan 18-20.
W.A. BOLIN - founded in 1791. Located at Sturegatan 6, Stockholm, Sweden. The world's oldest jeweller family still in business today. Court Jeweller to five Russian tsars (1790-1916 in St. Petersburg) and three Swedish kings.

Switzerland

GLOBUS DEPARTMENT STORES - founded in 1907. "Savoir Vivre." Has stores in all major Swiss cities. The chain sells mostly upscale goods, including clothing, cosmetics, jewelry and household supplies.

United Kingdom

Gateshead

METROCENTRE - largest shopping center in Europe.

London

"Over one thousand shops in London sell their fine British wares By Appointment to Her Majesty the Queen, but not by appointment only. Those unadorned with the Royal Coat of Arms of the British Court emblazoned on their façade try to serve other courts; the Danish one, for exemple, or the Dutch. Royalty from all over the world are among the regular buyers between St. James Street and Savile Row, but crown jewellery isn't necessarily always at the top of the shopping list. The courtly objects range from pipes by Dunhill to dogfood by Clark. Style, even in the nonaffiliated stores, is definitely royal, and London remains the most elegant, exclusive and elitist shopping mecca in the world."

"England is a nation of shopkeepers." - Napoleon Bonaparte.

Qatar

Landmark - since 2000. Shopping mall located in Al Gharaffa in Doha. It is designed like a circus and a fair.
Villaggio Mall - since 2006. Shopping mall located in the Aspire Zone in the west end of Doha, the capital city of Qatar. It is located on Al Waab street between the Hyatt Plaza and Sports City and has over 200 stores, including many famous brands in the U.S., U.K., Italian and German markets.

North America

Canada

Edmonton, Alberta

WEST EDMONTON MALL - the largest shopping mall in North America and the tenth largest in the world. West Edmonton Mall covers a gross area of about 490,000 sq m (5,300,000 sq ft). There are over 800 stores and services and parking for more than 20,000 vehicles. More than 24,000 people are employed at the property. The mall receives 32.2 million visitors per year; it also attracts between 90,000 and 200,000 shoppers daily, depending on the day and season.

Mexico

Mexico City

Centro Comercial Santa Fe - large enclosed shopping mall in the Santa Fe area of Mexico City, approximately 400,000 square metres (4,305,564 sq ft) in size. Centro Santa Fe is the largest shopping center in Latin America, 108,000 square metres (1,162,502 sq ft). It offers a unique upscale shopping experience featuring around 285 stores selling top brands and the top boutiques of Mexico.
Perisur - located in the southwest part of the city, Perisur is one of the largest and classiest shopping centres of Mexico City. It houses over 230 stores with high-end designer labels and a large selection of clothing, shoes, accessories, items for the home and many more. The centre also provides beauty salons, banks, travel agencies and other service providers as well as 25 eateries and a 20-screen cinema for entertainment.

U. S. A.

| | | |
| --- | --- | --- |
| Atlanta, GA | Beverly Hills, CA | Bloomington, MN |
| Boston, MA | Chicago, IL | Costa Mesa, CA |
| Dallas, TX | Davenport, IA | Hollywood, CA |
| Honolulu, HI | Los Angeles, CA | New York City, NY |
| Oakland, CA | Palm Beach, FL | Philadelphia, PA |
| San Francisco, CA | Seattle, WA | Sunrise, FL |
| West Hollywood, CA | | |

South America

Argentina

Buenos Aires

GalerÍas PacÍfico - located at the intersection of Florida Street and Córdoba Avenue. The Beaux Arts building was designed by the architects Emilio Agrelo and Roland Le Vacher in 1889 to accommodate a shop called the Argentine Bon Marché, modelled on the Le Bon Marché in Paris. In 1989 it was declared a national historic monument. Currently the mall houses many high-end stores, such as Polo Ralph Lauren, Christian Lacroix, Christian Dior, Lacoste, Tommy Hilfiger, Hugo Boss, and La Martina, among others.
HARRODS BUENOS AIRES - founded in 1914. Formerly a branch of Harrods of London.

Brazil

São Paulo

DASLU - Avenida Juscelino Kubitschek, 2041, Vila Olimpia & Avenida Magalhães de Castro, 1200, Cidade Jardim. Posh multi-brand boutique-department store known as the "fashion designers mecca" of Brazil as it houses more than 60 labels plus 30 store-in-stores and is the place where Brazilian socialites shop for the latest accessories and clothing.
IGUATEMI - Avenida Brigadeiro Faria Lima, 2232, Jardim Paulistano. Opened in 1966. The Iguatemi São Paulo shopping centre is the oldest Brazilian mall in operation.

Chile

Santiago

FALABELLA - the oldest department store in Chile. Falabella department stores can be found in Argentina, Chile, Colombia and Peru. Falabella Department stores sell a wide variety of merchandise including apparel, home furnishings, electronics and sporting goods. Falabella is a multi-channel retailer selling by web, phone, catalog, and television. There are as of 2010 39 locations in Chile, 15 in Peru, 10 in Argentina, and 9 in Colombia.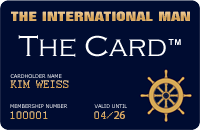 Upcoming VIP Privilege Membership Card
The International Man will in the near future be launching its own PRIVILEGE & BENEFIT VIP MEMBERSHIP CARD - named simply 'The Card'. Members will receive special privileges, benefits and preferential rates with selected partner hotels, restaurants, our LUXURY WEBSHOP, and more. Enter your name and e-mail address to receive FREE INFO about 'The Card' HERE.
RETURN TO TOP OF PAGE