Top 150 High-End Luxury Designer Sneaker Brands

SNEAKERS (also known as athletic shoes, tennis shoes, gym shoes, sport shoes, runners, or trainers) are shoes primarily designed for sports or other forms of physical exercise, but which are now also widely used for everyday wear. The term generally describes a type of footwear with a flexible sole made of rubber or synthetic material and an upper part made of leather, synthetic substitutes, and/or cloth.

During the 1950s, leisure opportunities greatly expanded, and children and adolescents began to wear sneakers as school dress codes relaxed. Sneaker sales rose so high, they began to adversely impact on the sales of conventional leather shoes, leading to a fierce advertising war for market share in the late '50s. In the 1970s, jogging for exercise became increasingly popular, and trainers designed specifically for comfort while jogging sold well. Companies also started to target some of their products at the casual fashion market. Soon, shoes were available for football, jogging, basketball, running, etc. Many sports had their relevant shoe, made possible by podiatrist development of athletic shoe technology.

During the 1990s, shoe companies perfected their fashion and marketing skills. Sports endorsements with famous athletes grew larger, and marketing budgets went through the roof. Sneakers became a fashion statement and were marketed as a definition of identity and personality rather than simply athletic aids.

Types of sneakers: High-tops cover the ankle. Low-tops do not cover the ankle. Mid-cut are in-between high-tops and low-tops. Sneaker boots extend to the calf.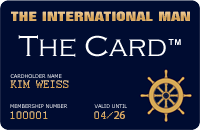 Upcoming VIP Privilege Membership Card
The International Man will in the near future be launching its own PRIVILEGE & BENEFIT VIP MEMBERSHIP CARD - named simply 'The Card'. Members will receive special privileges, benefits and preferential rates with selected partner hotels, restaurants, our LUXURY WEBSHOP, and more. Enter your name and e-mail address to receive FREE INFO about 'The Card' HERE.
RETURN TO TOP OF PAGE