Top 150 High-End Luxury Designer Sneaker Brands

SNEAKERS are footwear of flexible material, typically featuring a sole made of rubber. The upper part is made of leather or canvas. Sneakers were originally sporting apparel, but are today worn much more widely as casual footwear. They are now widely popular.

Types of sneakers: High-tops cover the ankle. Low-tops do not cover the ankle. Mid-cut are in-between high-tops and low-tops. Sneaker boots extend to the calf.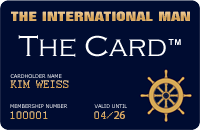 Upcoming VIP Privilege Membership Card
The International Man will in the near future be launching its own PRIVILEGE & BENEFIT VIP MEMBERSHIP CARD - named simply 'The Card'. Members will receive special privileges, benefits and preferential rates with selected partner hotels, restaurants, our LUXURY WEBSHOP, and more. Enter your name and e-mail address to receive FREE INFO about 'The Card' HERE.
RETURN TO TOP OF PAGE