Hotels, Resorts & Spas of June | 2023

6 British Castles Where You Can Stay Like Royalty on a Commoner's Budget - "As the coronation of King Charles III unfolds in London, you can get your own taste of nearly 1,000 years of pomp and lore for as little as $230 a night."
12 Eco-Friendly Luxury Hotels - "Hotels understand the increased importance of allowing guests to travel responsibly; however, it can often be difficult for travelers to discern if the property they select genuinely adheres to sustainable principles. As the hospitality industry worldwide gradually implements sustainability standards, we've gathered a list of eco-friendly options that have already demonstrated impressive efforts to preserve landscapes for future generations of travelers to behold." Forbes.
15 hotels that go all-out for Christmas - CNN Travel.
20 Exciting New Hotels Opening In 2020 Around The World - "Beautiful hotels debuted across the globe last year, including fabulous finds in Europe, Asia and beyond. This coming year looks to be no less exciting, as gorgeous venues throw open their doors in the U.S. and abroad. Here are 20 of the most exciting new international hotels to check out in 2020 as you plan your travels and start making your reservations."
20 Most Anticipated Hotel Openings Of 2020 - "We all make New Year's resolutions. The luxury hotel industry is no different. But rather than center its goals around diet changes or finding love, the sector has seemingly joined forces to accomplish one thing in 2020 - to show you, the well-traveled guest, that when it comes to having memorable overnight experiences, the best is yet to come."
20 Most Beautiful Five-Star Hotels In The World, According To Instagram 2022 - "A recent study by money.co.uk, a financial site based in the U.K., recently revealed its list of the 20 most Instagrammable five-star hotels around the world. Each one is worthy of a visit, whether you want to splurge for an unforgettable stay or - for the few that are connected to larger hotel brands like Marriott, Hyatt and MGM Resorts International - cash in some hotel or credit card points for a few nights spent in unbelievable luxury."
23 Five-Star Wellness Getaways - Forbes.
35 Most Anticipated Hotel Openings Of 2021 - "After a year filled with quarantines, lockdowns and sheltering in place, we can't wait to check into a luxury hotel. Here is Forbes Travel Guide's definitive list of the hot new places to visit when you travel next."
A Salute To 13 Historic American Hotels - "If you want a history lesson that comes with room service, check into some of America's most venerable hotels. While not one of these patriotic properties boasts that George Washington slept here, they are still packed with plenty of all-American lore."
Travel Green: Discover Some Of The World's Best Eco-Friendly Hotels - "Low-impact travel and luxury can coexist thanks to an ever-expanding list of properties striving to respect their guest's desire for environmentally friendly accommodation. Here's a look at some of the world's top sustainable hotels."
Hotels included on Condé Nast Traveller's Gold List of the world's best hotels have been marked with CNT.
5-star International Star Diamond Award Recipients selected by The American Academy of Hospitality Sciences have been marked with SDA.
Palace of Versailles opens its first ever hotel - "The first ever hotel based in the grounds of the Chateau de Versailles has just opened its doors, giving travelers the opportunity to stay in the heart of one of the world's most opulent addresses."
Established in France in 1954, Relais & Châteaux's mission is "to spread its unique art de vivre across the globe by selecting outstanding properties with a truly unique character." Prospective and current members are evaluated by the group's traditional "five C" motto: Character, Courtesy, Calm, Charm and Cuisine. The members of Relais & Châteaux exclusive collection of 580 of the finest hotels and gourmet restaurants in 60 countries on 5 continents have been marked with R&C.
The members the Small Luxury Hotels of the World organization (a collection of over 580 luxury boutique hotels and resorts in more than 80 countries) have been marked with SLH.
The Best Hotels in the World: 2021 Gold List - Condé Nasty.
Comprised of more than 400 hotels in over 80 countries, The Leading Hotels of the World is one of the largest luxury hotel collections in the world. The members have been indicated with LHW.
The New Nobu Marrakech Marks The Brand's First Venture In Africa - "In case you need another reason to visit the bustling beauty of Marrakech, Nobu Hotel Marrakech is set to open its doors in town later this month. The global lifestyle brand's first property to open in Africa will be situated in the heart of the city's Golden Triangle in the Hivernage district."
World's best hotels for 2019 - Mr & Mrs Smith Hotel Awards.

Hotels, Resorts & Spas of the Month

La RÉSERVE HOTEL SPA RAMATUELLE Built: 1978; Remodeled: 2009. ***** LHW "A Private Dream Haven | Face to face with the Mediterranean." A few minutes from the fabled village of Saint-Tropez, but far from crowds and noise, is a place preserved from the hustle and bustle. A vast private domain nestled in the Provencal garrigue, lulled by the song of cicadas, and with a spectacular view of the endless sea, La Réserve Ramatuelle overlooks one of the most beautiful bays on the French Riviera. Chemin de la Quessine, 83350 Ramatuelle, France.

La RÉSERVE RAMATUELLE VILLAS - "Luxury Villas to Rent." A place offering wonderful privacy disturbed only by the song of the cicadas, for the exclusive use of you and your loved ones... The 14 rental villas at La Réserve Ramatuelle give rise to dreams of voluntary exile, be it a weekend getaway or a vacation.

SAN DOMENICO PALACE HOTEL ***** LHW Perched on a rocky promontory high above the Ionian Sea, the iconic San Domenico Palace welcomes you to a 14th-century convent reimagined. Swim in our clifftop infinity pool, stroll in magnificent Italian gardens, soak in the history, savour Michelin-starred dining and escape into a Four Seasons world of timeless beauty. Piazza S. Domenico de Guzman, 5, 98039 Taormina (ME), Italy.
The 'sexy' reality behind Sicily's 'White Lotus' hotel - "The award-winning show charts the tangled, erotic and sometimes dangerous adventures of super-rich vacationers staying at the beautiful clifftop San Domenico Palace, a five-star resort operated by Four Seasons in the town of Taormina."
Cheval Blanc St-Tropez ***** "The mythical glow of the Riviera." An old school charmer transformed into a modern wonder on the world's sexiest stretch of sand. Plage de la Bouillabaisse, 83990 Saint-Tropez, France.
Kudadoo Maldives Private Island - "Kudadoo Maldives Private Island offers a fully-inclusive experience that makes everything under the moon available to you at any time and anywhere. Bound to impress even the most discerning traveller, this private island has been designed for escapes from the confines of everyday life. Moments of magnificence take the form of delightful culinary creations, unlimited leisure activities and wellness. Seize your days on this petite tropical island with the assistance of your personal butler who can help you curate the perfect holiday itinerary. Together with the architectural mastermind, Yuji Yamazaki, Kudadoo sets a new standard in sustainable luxury hospitality; we take great pride in the following accolades: the world's best new luxury hotel for 2018 by Luxury Travel Intelligence; Robb Report's best island resort 2019 and winner of the prestigious 2019 Hospitality Design Award in the 'sustainable resort' category. Revel in luxury that treads lightly, on the Maldives' only fully solar-powered private island." Kudadoo Island, Lhaviyani Atoll 07080, Maldives.
The Ritz-Carlton - "Immerse yourself in luxury inspired by The Cayman Islands' diversity and cultural richness at this sun-filled Caribbean haven. After a thoughtful, grand beautification project in 2021, the iconic resort has transformed, inspired by the islands' history, culture and environmental elements through warm and colorful spaces that enliven the senses. Profound experiences and cherished memories await at this longstanding luxury resort in Grand Cayman." Seven Mile Beach, Grand Cayman, Cayman Islands.
EDEN ROCK - since 1947. "Home away from Home." With its spectacular location in St Jean Bay, Eden Rock - St Barths has been the byword for one-of-a-kind hospitality ever since mercurial French Caribbean aviator adventurer and occasional treasure-seeker Rémy de Haenen first welcomed guests to his Eden Rock home on the ocean, during the 1950s. The place quickly established itself as the preferred private and discreet bolt-hole of many glamourous Hollywood characters who quickly became friends of St Barths. Howard Hughes, Greta Garbo, Robert Mitchum, Gore Vidal, Baron Rothschild David & Peggy Rockfeller, Princess Lee Radziwill ... amongst numbers of other fine beautiful and talented men and women ... A sense of safety and freedom was established ... and of style ... and of casual elegance ... and of spirit ... and of ambition ... and all of which continues to this day and is strengthened now with the regular welcoming of very many current and similarly interesting and brilliant celebrity guests and friends of modern times. Baie de Saint Jean, Saint Barthélemy 97133, Saint Barthélemy.
Villa Copenhagen - opened on 1st of July 2020. "Conscious luxury - Guaranteed best price." Villa Copenhagen is a new social scene in Copenhagen allowing the past, present and future to come together in an inspiring and playful ambience. We are a hotel unlike any other. We live by our values of contrast, conscious luxury and happiness, determined to redefine the industry by offering experiences of beauty, knowledge and humanity at the deepest and most inspiring level. We want to be the best hotel for the world and take full responsibility for our environmental footprint. Welcome. Tietgensgade 35-39, 1704 Copenhagen V, Denmark.
The Imperial - "Conceptualised in 1934 by Blomfield and inaugurated by Lord Willingdon in 1936, The Imperial is a fine confluence of a rich historical past and a slick international appeal. The 24 king palms that lead up to the porch are an integral part of and witness to the very creation of New Delhi. The Hotel was designed to be one of the finest monuments of Lutyens' grand vision of the Capital City's original master plan presenting a unique blend of Victorian, Old colonial and Art Deco styles. It was New Delhi's first grand hotel. The hotel has the largest collection of colonial and post-colonial art and artifacts anywhere in Delhi, and has a museum and an art gallery. The Imperial was awarded Travel + Leisure India's Best Award for Heritage Hotel in 2017 and listed in the Condé Nast Gold List of best hotels in 2018. The hotel contains nine restaurants and eateries ranging from fine dining to bars, three function rooms, a spa, salon and nine styles of accommodation. A 5 star hotel with spa that is known for its holistic magnificence, it promises to transport you back in time." Janpath Lane, Connaught Place, New Delhi, 110001, India.
LE GRAND CONTRÔLE - since 2021. "Luxury hotel Airelles Palace of Versailles." We are delighted to welcome you to the Château de Versailles. Set within the gates of Versailles, Le Grand Contrôle was built in 1681 by Jules Hardouin-Mansart, Louis XIV's favourite architect and an icon of French classicism. The grandiose building once played host to Europe's political and cultural elite, from ambassadors and artists, to musicians, writers and scientists of the Enlightenment. Now, more than two centuries later, Le Grand Contrôle has been entirely restored, offering guests an exclusive peek into the world of Versailles. Unlock access to the 2,000 acre-strong gardens, retrace famous footsteps and explore the palace halls and apartments like never before. With 14 sumptuous Rooms and Suites replete with period furnishings and fittings for a royal stay, guests are invited to step back in history, but one coupled with contemporary comforts. 'One of the most anticipated hotel openings in the world.' - Financial Times. 12 Rue de l'Indépendance Américaine, 78000 Versailles, France.
THE COLONY ****. 155 Hammon Avenue, Palm Beach, FL 33480-4709, U.S.A. "Palm Beach's pinkest hotel has, since 1947, been a smart second home for statesmen and stars, as well as for the town's chicest residents (who come for CPB's famous cocktails)."
Villa Machiavelli - San Casciano in Val di Pesa, Metropolitan City of Florence, Tuscany, Italy. Villa Machiavelli's restoration has ensured that this wonderful 15th century, historic home reportedly designed by Michelangelo, once belonging to the Machiavelli and Mazzei families, has been brought sumptously into modernity, ready to face the next century with many of its fabulous frescoes re-discovered under layers of paint and plaster. Many features have been modernised and the property re-furnished, but such was the quality of some of the property's original features that these have endured to the present day. Think bathrooms of rare marble, perfectly cut and joined, from quarries now no longer mined, stone and parquet flooring, antiques and many superb pieces of artwork. Stays cost approximately US$80,000 per week, depending on the season.
HÔtel de PourtalÈs ***** Historic hôtel particulier at 7 rue Tronchet 75008 Paris. Has 9 opulent apartments designed by Philippe Starck, rent for up to €12,000 a night. "Each suite in the Hotel de Pourtalès has its own bedrooms, dining room, private kitchen, spacious lounge, planted terrace or patio, and even one of the most envied rooftops in the capital." Book your suite here.
Palais Coburg - Coburgbastei 4, 1010 Vienna, Austria. LHW "Palais Coburg ***** in the heart of Vienna offers culinary and luxury comfort to its guests in elegant ambiance." Located in the heart of Vienna, just behind the Parkring, Palais Coburg Residenz offers views over the park, St. Stephen's Cathedral and the old city. A stately palace dating back to 1844, it was turned into a hotel in 2003. Behind the recently restored neoclassical façade, it combines historical ambiance and skillfully incorporated medieval features with contemporary design elements, and state-of-the-art technology. Spacious guest accommodations - all in suites - are light-filled and appointed with a handsome blend of classic and modern furnishings, museum-quality period pieces, fine artwork and crystal chandeliers. The hidden treasure of the hotel is its secluded garden, a green oasis of towering trees and fragrant flowers, offering a serene escape within the city.
Treetops Lodge - Aberdare National Park, Nyeri, Kenya. "Like the first time everytime." First opened in 1932 by Eric Sherbrooke Walker, it was built into the tops of the trees of Aberdare National Park as a treehouse, offering the guests a close view of the local wildlife. From the original modest two-room tree house, it has grown into a 35 room hotel. The hotel is the location where Princess Elizabeth was staying in 1952 when she acceded to the thrones of the United Kingdom, and the other Commonwealth realms, upon the death of her father, King George VI.
CORINTHIA - Whitehall Place, London SW1A 2BD, United Kingdom. "Perfectly positioned just moments from Trafalgar Square, Westminster and Covent Garden, yet close to Mayfair and The City's Square Mile, our new flagship provides state-of-the-art facilities in an eminent building dating back to 1885 and the Empire days of Queen Victoria."
Casa Kimberly - Calle Zaragoza 445. Puerto Vallarta 48300, Mexico. "Overlooking the sparkling waters of Banderas Bay and the red clay-rooftops that dot the Sierra Madre Mountains, the setting is irresistible. Its little wonder that screen legends Elizabeth Taylor and Richard Burton, as famous for their passionate romance as for their award-lavished movies, chose the casitas that now comprise Casa Kimberly as their beloved home-away-from-home."
Le Grand HÔtel Cabourg ***** Jardin du Casino, 14390 Cabourg, France. "Le Grand Hôtel Cabourg is one of the only upscale hotels on the Normandy coast to boast direct beach access and a gourmet restaurant facing the sea: Le Balbec." Built in 1907 and immortalized by Marcel Proust, Le Grand Hôtel offers an intimate, romantic atmosphere. Discover our spacious and comfortable rooms with views of the sea or the casino gardens. The Grand-Hôtel remains virtually unchanged from Proust's era and continues to operate as a luxury hotel. Proust's room no. 414, has been recreated with period furnishing and décor.
Rosewood Castiglion del Bosco - Località Castiglion del Bosco, 53024 Montalcino (SI), Italy. "One of the oldest and best-preserved estates in Tuscany, Rosewood Castiglion del Bosco is located in Montalcino, Tuscany, in the heart of the UNESCO World Heritage Site of Val d'Orcia. The property offers 23 suites and 11 luxury villas, as well as a spa, winery and vineyards. The Club, a private golf course and clubhouse set within the estate, is reserved for members only."
Villa Pliniana - Via Cesare Poggi, 29, 22020 Torno (CO), Italy. "The most luxurious Villa in Lake Como." Villa Pliniana is one of the oldest and most beautiful of lake Como's villas. Taking its name from Pliny the younger (61-114 AD), a Roman senator who came from Como, it stands alone, looking out across the waters of the lake, while behind it a majestic waterfall divides the mountainside in two. The grounds of the villa contain an example of a rhythmic water spring - a rare natural phenomenon - which was described by Pliny the younger and studied by Leonardo da Vinci.
Rosewood Luang Prabang - Nauea Village, Laos. "Asia's hottest new resort." Luang Prabang's newest luxury resort is a design fan's dream stay. Connect with nature. New amongst Laos resorts, Rosewood Luang Prabang is an exotic luxury encampment nestled in the verdant jungles of Southeast Asia.
Marriott Mena House - since 1890. 6 Pyramids Road, Giza, Cairo, 12556 Egypt. "Leave the ordinary to live the 'unique' by the Pyramids." The tranquility and fresh, sweet breezes have attracted royalty, the rich and famous to this magical location for 150 years, offering an irresistible escape from the bustling city of Cairo just 45 minutes away. The Marriott Mena House, Cairo merges the exceptional heritage of the Pyramids standing gloriously as a witness of over 7000 years of civilization and Marriott International's 21st Century tradition of innovation. The Marriott Mena House, Cairo comprises 331 luxury rooms and suites, many boasting views of the Pyramids, the lavish gardens or the swimming pool, four restaurants and lounges, expansive indoor and outdoor meetings and banquet facilities, a heated swimming pool and a health club.
Hotel CafÉ Royal - 68 Regent Street, London W1B 4DY, U.K. Founded 1868. "A London Luxury Address Like No Other." This luxury hotel in London enjoys an unrivalled setting on Regent Street steps from Piccadilly, where the elegance of Mayfair, energy of Soho and sophistication of St. James combine. It's where history, culture, business and the stage are just steps away. That's one reason why, for 150 years, people who make a difference have made their way through these doors. For Oscar Wilde and Muhammad Ali, Winston Churchill and David Bowie, David Chipperfield and Albert Adrià, Hotel Café Royal has always been the vibrant living room of London, the place to convene, converse and celebrate.
Bürgenstock Resort - CH-6363 Obbürgen, Switzerland. Since 1873. "Against the breathtaking backdrop of the glistening, deep-blue waters of Lake Lucerne and the Alpine foothills, the Bürgenstock Resort welcomes you with a warm 'Grüezi'." Hotel and tourism complex situated above Lake Lucerne in Canton Nidwalden. The resort is located on the Bürgenberg and comprises a total of 30 buildings, including four hotels and a number of sports facilities. It is the largest integrated hotel resort in Switzerland. The complex is built above ridge offering north-facing views of the lake 450 metres below. Linking resort and lake is the Bürgenstock railway.
LA POSTA VECCHIA - Palo Laziale, 00055 Palo Laziale (Roma), Italy. LHW CNT "A Roman villa, 17th century castle outbuilding and the home of billionaire J. Paul Getty, La Posta Vecchia has a unique history that couldn't be more Italian if it tried. If you're in love with everything Roman La Posta Vecchia is the place for you. We are comfortably situated for exploring the monuments of the Eternal City, the wealth of ancient towns in the surrounding area and accessing Fiumicino airport."
Taprobane Island - "Sri Lanka's only privately owned island. The No.1 address in the Indian Ocean." Taprobane Island was originally built in the 1920's by the romantically-named but self-styled Count de Mauny-Talvande. The island, with its neo palladian mansion, has played host to kings, queens, presidents, prime ministers, aristocracy, writers and eccentrics, giving it a very colorful history, which guests can now share. The Island comprises two and a half acres of sheer tropical fantasy with nothing between it and the South Pole. Accommodation includes five en-suite bedrooms, with spacious living areas, balconies, verandahs, tropical gardens and a stunning infinity pool.
Villa La Vigie - Avenue Princesse Grace, 06190 Roquebrune-Cap-Martin, France. One of the most prestigious villas on the Côte d'Azur thanks to its history, architecture and unique location. The Villa was home to the famous designer Karl Lagerfeld for over ten years. Set on a promontory on the same cape as Monte-Carlo Beach, the Villa La Vigie has a magnificent panoramic view of the Mediterranean, the Principality of Monaco and Roquebrune-Cap-Martin Bay. With a surface area of approximately 600 square metres on three floors, 6 bedrooms, 4 bathrooms, 2 dressing rooms, high-end appliances and a discreet, elegant décor, this lofty residence overlooks a superb 237 square metre terrace. The villa has its own private road, is surrounded by a tree-covered park and has a Jacuzzi overlooking the sea. The Villa La Vigie CAN BE RENTED on a weekly or monthly basis. It includes 6 bedrooms, 4 bathrooms, a large terrace with a panoramic view and a Jacuzzi. The villa is very practical and has a sober, modern décor with elegant, classic furniture. Marble, columns, fireplaces and high ceilings give the villa a chic and trendy atmosphere.
Hotel Cap Rocat - Carretera d'Enderrocat, 07609 Cala Blava-Llucmajor, Mallorca, Balearic Islands, Spain. An old military fortress located in the most private area of ??the bay of Palma.
GRAND HOTEL QUISISANA ***** LHW Via Camerelle, 2, 80073 Capri (NA), Italy. "Within steps of the Piazzetta, you couldn't possibly not notice the imposing entrance of the Quisisana; an iconic five star property which, every since it opened, back in 1845, has been the chosen hotel of politicians and poets, royalty and rockstars..."
TAHITI BEACH Hotel *** 1153, route de Tahiti, Plage de Pampelonne, Quartier du Pinet, 83350 Ramatuelle, France. Open: From Esater until the end of October.
Casa La Loma - Cuixmala, Carretera Melaque-Puerto Vallarta Km 46.2, 48983 La Huerta, Jalisco, Mexico. "Once the private home of Franco-British billionaire Sir James Goldsmith. Goldsmith conceived the 25,000-acre property as a home for his family and friends. The centerpiece is Casa La Loma, a sprawling villa modeled on the Hagia Sophia, with a blue-and-yellow dome crowning its adobe walls. Inside, the four bedrooms and ample living areas of the main house are outfitted with Oriental rugs, mother-of-pearl chairs, ornately carved window shutters and room dividers, and sumptuous silks on the big sleeping beds and smaller daybeds. Fountain courtyards carry on the Middle Eastern theme, but the views from the three palapa-covered terraces and the saltwater pool are pure Pacific. Six separate bungalows bring the bedroom total to ten. A full staff, of course, is included. (The chefs are especially talented, and the food - much of it grown on Cuixmala's sister hotel, Hacienda de San Antonio - is outstanding.)."
Villa Astor - Via Marina Grande, 5, 80067 Sorrento (NA), Italy. Perched on a cliff on the Amalfi coastline, Villa Astor is a 19th-century showplace built by Ambassador William Waldorf Astor while he was the U.S. Ambassador to Italy. The most prestigious property in Sorrento, is a magnificent edifice towering above the Gulf of Naples. The Villa and the distinctive garden, one of the 20 most beautiful gardens in Europe on two hectares (4+ acres) of land, face outwards Naples and the Vesuvio with a sheer drop to the sea. For rent. Sleeps 12 in six en-suite bedrooms. The property is suitable for events of up to 70 persons. Priced from US$130,000 weekly.
Villa Cimbrone ***** Via S. Chiara, 26, 84010 Ravello (SA), Italy. "Villa Cimbrone is one of the most prestigious Hotels de Charme in the entire Mediterranean. The splendour and ambience of yesteryear permeate this 12th century residence."
Gran Hotel La Perla ***** The most famous hotel in Pamplona, Spain. It is located in the Plaza del Castillo (Castle Square), with one side facing Estafeta Street, one of the main routes in the Running of the Bulls. The balconies of the hotel are among the most coveted sites from which to view the event.
The Brando - "Unique luxury resort on French Polynesia's breathtakingly beautiful atoll of Teti'aroa." Once the vacation spot for Tahitian royalty, the atoll is widely known for having been purchased by Marlon Brando.
Jumeirah Al Naseem - Jumeirah Street, Dubai, UAE. "Reassuringly Familiar, Refreshingly Different." 387 rooms & 43 suites: Jumeirah Al Naseem offers more than ten restaurants and bars, its own beach club and the eclectic offerings from Madinat Jumeirah and sister Jumeirah hotels are only a stroll away.
EDEN ROCK R&C Baie de Saint Jean, Saint Barthélemy 97133, Saint Barthélemy, French West Indies, the Caribbean.
The Upper House - Pacific Place, 88, Queensway, Admiralty, Hong Kong, SAR, China. "The hotel's 117 studios and suites are surprisingly spacious, featuring natural materials and gorgeous bathrooms. Enjoy thrilling views from Level 49 at Café Gray Deluxe."
La Colombe d'Or - 1 Place du Général de Gaulle, 06570 Saint-Paul-de-Vence, France. Hotel & restaurant. The Hotel is located at the threshold of the village of Saint-Paul de Vence. It is composed of thirteen rooms and twelve suites, the prices vary between 250 to 430 euros (depending on the season).
Firefly - Mustique Island, Saint Vincent and the Grenadines. Unique boutique hotel on the exclusive, privately owned island of Mustique.
One&Only The Palm LHW. West Crescent | Palm Jumeirah. Presents spaces of modern arabesque design. This beachfront resort welcomes you with stunning garden and ocean views.
THE RALEIGH CNT - 1775 Collins Avenue, Miami Beach, FL 33139, U.S.A. "Hailed as a "grand dame" of South Beach Art Deco by Conde Nast Traveler, The Raleigh Miami Beach is a perfect blend of style and comfort. It's chic yet unpretentious, and historic while tastefully modern. The Raleigh offers guests world-class luxury hotel service at a prime oceanfront location on Collins Avenue with exclusive access to the award-winning sbe Miami Collection."
THE NED - 27 Poultry, London EC2R 8AJ, England, U.K. 252-room 5-star hotel & members' club in The City. Nine restaurants, rooftop & indoor pools, a gym, spa & hamam. Rooms at The Ned reference the Twenties, Thirties & the golden age of travel.
Le Grand HÔtel Cabourg - MGallery By Sofitel - Jardin du Casino, 14390 Cabourg, France. "Le Grand Hôtel Cabourg is one of the only upscale hotels on the Normandy coast to boast direct beach access and a gourmet restaurant facing the sea: Le Balbec." Built in 1907 and immortalized by Marcel Proust, Le Grand Hôtel offers an intimate, romantic atmosphere. Discover our spacious and comfortable rooms with views of the sea or the casino gardens.
THE GORING SLH. 15 Beeston Place, Grosvenor Gardens, London SW1W 0JW, England, U.K. "My Great Grandpa built The Goring in 1910. It was no coincidence that it was situated next to Buckingham Palace, and right on the doorstep of all the best London has to offer." - Jeremy Goring. The Only Hotel with Queen Elizabeth II's Royal Warrant. 'One might say the Queen considers the Goring her personal annex for entertaining.'
The Private Reserve - Gili Lankanfushi, Lankanfushi Island, North Malé Atoll, Republic of Maldives. "You have never seen anything quite like the rustic über luxury of our Private Reserve, reputed to be the largest over-water villa in the world (1,700 sq m)! A decadent private palace sitting atop a sapphire lagoon, the most vivid dreams unable to conjure its grandeur. A flawless jewel of the Maldives, presented to you. Experience the exquisite."
HÔtel de PourtalÈs ***** Historic hôtel particulier at 7 rue Tronchet, 75008 Paris, France. Has 9 opulent apartments designed by Philippe Starck, rent for up to €15,000 a night. Book a room, Log in.
The St. Regis Dubai - Al Habtoor City, Sheikh Zayed Road, Dubai, U.A.E. "Where indulgent spa treatments, sumptuous cuisines, and memorable meetings await you." Sir Winston Churchill Suite - "Located on the highest floors, and featuring delightful landscaped garden views, the three-bedroom Sir Winston Churchill Suite offers 9828 sq ft / 913 sq m sumptuous luxury."
Null Stern Hotel - "The only star is you." Safiental, Grisons, Switzerland.
Chalet du Mont d'Arbois R&C 447 chemin de la Rocaille, 74120 Megève, France. "In the heart of the French Alps, overlooking the village of Megève, the 5-star Chalet du Mont d'Arbois is a unique place steeped in history, with a mix of warm elegance and discreet luxury in the pure tradition of the Rothschild family."
HOTEL TASCHENBERGPALAIS KEMPINSKI DRESDEN - Taschenberg 3, 01067 Dresden, Germany. "Built in the 18th century by the Saxon king, August the Strong, as a pledge of love to his mistress and faithfully restored in 1995, 5-star Hotel Taschenbergpalais Kempinski Dresden is a beautiful combination of historic glory and contemporary elegance."
VILLA SAN MICHELE LHW CNT Via Doccia, 4, 50014 Fiesole (FI), Italy. One of the best small luxury hotels in Florence. Former monastery nestled on a hilltop in the middle of lush trees and terraced gardens overlooking Florence. Suites come with "unbelievable views of the City of Lilies." Historians attribute the villa's facade - which dates to the fifteenth century - to Michelangelo.
Amanjena - "An atmospheric red-walled resort on the outskirts of Marrakech echoing the style of a sultan's palace in Morocco."
The Chedi Andermatt Gotthardstrasse 4, 6490 Andermatt, Switzerland. LHW "The Alpine 5-star oasis nestling in a Swiss mountain landscape."
Grand Hotel Et Des Palmes - Via Roma, 398, 90139 Palermo, Italy. Four-star hotel located in the very heart of Palermo's historical center. Founded in 1874 and renovated in 1907 by one of the great masters of the Art Nouveau Style, Ernesto Basile, the exquisite Grand Hotel Et Des Palmes hotel exudes historical charm. Grand decor of marble floors and antiques combine nicely with very latest technology to make your stay a memorable one. Grand Hotel et Des Palmes is the most legendary hotel on the island of Sicily, having welcomed illustrious visitors since the 19th century including Richard Wagner, who finished Parsifal within one of its luxuriously-decorated suites. Read also: Grand Hotel des Palmes Mafia meeting 1957 - Wikipedia.
HÔtel des Dromonts - "The grooviest hotel in the alps." (The Times). 40, place des Dromonts, 74110 Avoriaz, France
GRAND HOTEL EXCELSIOR VITTORIA LHW. Piazza Tasso, 34, 80067 Sorrento (NA), Italy. Owned and operated by the Fiorentino family since 1834, the property has hosted Richard Wagner and Oscar Wilde, who enjoyed the same breathtaking views of the Bay of Naples and Mount Vesuvius as today's guests.
Poseidonion Grand Hotel - since 1914. Dapia, Spetses 180 50, Greece. A destination for jet-setters all year long. Poseidonion Grand Hotel has been the landmark of the island for nearly a century with its exceptional architecture echoing hotels of Côte d'Azur style.
Legendale Hotel - 5-star hotel in Beijing is the epitome of European elegance and luxury. Minutes walk from world-class shopping precincts such as Wangfujing and Oriental Plaza. A number of China's most significant landmarks and historical sites are within walking distance of the hotel, including Tiananmen Square, the Forbidden City and the Drum and Bell Towers, amongst other attractions.
Hotel Waldhaus - "A family affair since 1908." For over a century, this crenellated fortress has attracted European intellectuals and loyal families drawn to its Old World charm and resolute lack of sleek amenities (The New York Times).
Grand Hotel Villa Serbelloni - since 1872. One of the oldest and most elegant hotels in the Lake Como area and the only 5 star de-luxe hotel in Bellagio, Italy.
EMIRATES PALACE SDA. Seven star luxury hotel. Built at a cost of about US$6 billion as a landmark showcasing Arabian culture, Emirates Palace, has created a niche in luxury hospitality. Situated on 1.3 km of private beach and surrounded by 85 hectares of gardens and lawns, with 114 domes that are 80 meters high, Emirates Palace comprises 394 rooms and suites carefully designed and furnished to offer guests superior comfort and luxury. The second most expensive hotel ever built, only surpassed by Marina Bay Sands in Singapore.
Aman Canal Grande Venice ******* 24-room luxury hotel at Palazzo Papadopoli.
THE PENINSULA - "Renaissance of A Modern Day Palace."
Casa de las Olas - Tulum, Mexico. Eco-luxury escape on a secluded white sand beach. Sustainably powered by solar panels and kept comfortable with geothermal cooling.
THE GRITTI PALACE *****. Has now re-opened after an extensive handcrafted restoration.
THE GORING SLH. 15 Beeston Place, Grosvenor Gardens, London SW1W 0JW. "My Great Grandpa built The Goring in 1910. It was no coincidence that it was situated next to Buckingham Palace, and right on the doorstep of all the best London has to offer." - Jeremy Goring.
HOTEL D'ANGLETERRE - since 1755. Hotel d'Angleterre, Kongens Nytorv 34, DK-1050 Copenhagen K, Denmark. 30 rooms and 60 suites. "Balancing legacy and style with intuitive and tailored services, the d'Angleterre will complement the desires of today's refined travellers." One of the first deluxe hotels in the world. Denmark's leading five-star hotel is located in a landmark building overlooking the lovely King's Square in the heart of Copenhagen.
BVLGARI - 171 Knightsbridge, City of Westminster, SW7, U.K. "The perfect place for an indulgent experience of luxury and wellness." Also, the most expensive place to stay in Britain.
Qasr Al Sarab Desert Resort - "A Luxury Oasis In Abu Dhabi."
Tavanipupu Private Island Resort - Solomon Islands, Oceania.
HÔTEL METROPOLE LHW. Refurbished in 2004. Selected 'Best Hotel in the World' in 2010 by the Leading Hotels of the World.
HÔTEL LOTTI - since 1910. 4-star luxury hotel situated between the place Vendôme and the Tuileries gardens, near the Opera and the Louvre museum.
The Villa By Barton G. LHW. The former Versace Mansion (Casa Casuarina) at 1116 Ocean Drive, Miami South Beach, FL, U.S.A.
CLARIDGE'S CNT. Often referred to as an "extension to Buckingham Palace". "Our 5 star Art Deco hotel in London is a key part of the city's history. Stars, socialites and the crowned heads of Europe have enjoyed our Mayfair hotel for over 100 years."
HOTEL LOCANDA LEON BIANCO - Venice, Italy. Faces the Grande Canale, between Ca' d'Oro and Rialto Bridge.
BORGO SANTO PIETRO - Valle Serena, Tuscany, Italy.
HÔTEL BYBLOS - Saint-Tropez, France. LHW. Open: April 13 - October 24.
THE RITZ-CARLTON - Hong Kong. The world's tallest hotel. Soaring from the 102nd floor to the 118th floor at International Commerce Centre.
VILLA D'ESTE - Cernobbio, Italy. LHW. Voted the world's best hotel by Forbes Traveler 2009
ROYAL PENTHOUSE SUITE - Hôtel Président Wilson (Geneva, Switzerland): US$85,000 per night. Known throughout the world as the most expensive, largest and most luxurious of hotel suites, the Royal Penthouse Suite covers the hotel's highest floor. It is unique in terms of luxury and comfort and guarantees a maximum security level: 12 rooms | 12 bathrooms | One of the first suites in Europe to feature a Bang & Olufsen BeoVision 4-103 flat screen and audio installation | Billiards | Steinway grand piano | Fitness center | Private elevator | Private terrace Surface area: 1680 m2. Located on the eighth floor.
SUNSET TOWER HOTEL - iconic Art Deco-styled Hollywood landmark and host to Vanity Fair's Oscar Party.
THE COSMOPOLITAN OF LAS VEGAS - Las Vegas's newest hotel: 2,200 condominium-hotel units; 800 hotel rooms; a 75,000 sq ft (7,000 m2) casino.
MANDARIN ORIENTAL TOKYO - special offer per night plan: use of the entire hotel (178 guest rooms and suites, all nine restaurants and all spas, reserved from 3:00 in the afternoon to noon the next day. It would include a cocktail reception for 500 people) for 55 million yen (US$671,800).
SAVOY - British icon since 1889. Now accepting reservations for stays beginning October 10, 2010 after over a £100 million restoration.
THE REGENT GRAND HOTEL - Bordeaux, France.
CASA MANNI - "The Ultimate Roman Lifestyle." The most exclusive deluxe "non-hotel" in the world. Designed by the world-renowned architect, Adam D. Tihany, it is a luxury penthouse suite for just one discriminating couple wanting a unique Roman experience. Located atop a 17th century palazzo in Via di Pietra, in the very heart of Rome, Casa MANNI has the best location in town, a stone's throw from the Pantheon, the Trevi Fountain and the Spanish Steps - even the Colosseum.
ARMANI HOTEL DUBAI - 160 guest rooms and suites of minimalist elegance.
BLOW UP HALL 50 50 - Poznan, Poland. An interactive work of art with 22 luxurious rooms in this 5-star hotel. It offers a combination of luxury, high tech, the finest design and personal artistic experimentation. Its guests not only experience art but also participate in its creation. Comes with no reception area and no numbering on its individually-designed rooms. Instead of a key, each guest received an iPhone to find and open their bedroom doors by means of IT recognition technology.
GRAND HOTEL HEILIGENDAMM - Bad Doberan-Heiligendamm, Germany.
FOUR SEASONS HOTEL GEORGE V PARIS - Paris, France.
GRAND RESORT LAGONISSI - Attica, Greece.
COVENT GARDEN HOTEL - London, England.
THE WESTIN RESORT ARUBA - "Imagine the sand beneath your feet and a soft steel drum playing in the background."
21C MUSEUM HOTEL, LOUISVILLE, KENTUCKY, U.S.A. - is the first of its kind-a 90-room hotel dedicated to world class luxuries, Southern-style hospitality and contemporary art from living artists.
BADRUTT'S PALACE HOTEL - St. Moritz, Switzerland.
CANAL HOUSE HOTEL - Panama City, Panama.
CASA CASUARINA - Miami Beach, FL, U.S.A.
CASA DELL'ARTE - Bodrum, Turkey.
HOTEL ARCTIC - the world's most northerly 4 star hotel with a 5 star conference centre.
HOTEL ADLON KEMPINSKI - Berlin, Germany.
HOTEL METROPOLE - Brussels, Belgium
NIMB HOTEL - situated in the Tivoli Gardens, Copenhagen Denmark.
SANTORINI HOTELS - Santorini, Greece.
THE RICHARDSON - Perth, Australia.
VILLA D'ESTE - Cernobbio, Italy: voted the world's best hotel by Forbes Traveler 2009.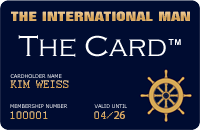 Upcoming VIP Privilege Membership Card
The International Man will in the near future be launching its own PRIVILEGE & BENEFIT VIP MEMBERSHIP CARD - named simply 'The Card'. Members will receive special privileges, benefits and preferential rates with selected partner hotels, restaurants, our LUXURY WEBSHOP, and more. Enter your name and e-mail address to receive FREE INFO about 'The Card' HERE.
RETURN TO TOP OF PAGE