Top 40 Best High-End Luxury Braces | Suspenders

SUSPENDERS (American English) or BRACES (British English) are fabric or leather straps worn over the shoulders to hold up trousers. Straps may be elasticated, either entirely or only at attachment ends and most straps are of woven cloth forming an X or Y shape at the back. Braces are typically attached to trousers with buttons using leather tabs at the ends or, incorrectly according to traditional protocol, clips.

There have been several precursors to suspenders throughout the past 300 years, but the modern type were first invented in 1822 by Albert Thurston and were once almost universally worn due to the high cut of mid-nineteenth and early twentieth century trousers, a cut that made a belt impractical. After losing popularity in the first World War, as men became accustomed to uniform belts, suspenders were still standard throughout the 1920s. Because of their image as underwear, men switched to belts during the 1930s as the waistcoats which had hidden braces became worn less. This also signaled the switch of position of the buttons from the outside of the waistband to the inside. Though the return of fuller-cut trousers in the 1940s revived braces, they did not dominate over belts again to the same extent.

High quality suspenders usually considered white collar (US), or upper or upper-middle class (UK) wear and are made to be attached to trousers by buttons only. Noted manufacturers include Albert Thurston (sold re-branded by most outfitters), who supply high-profile actors, such as Daniel Craig in the role of James Bond in Casino Royale and Michael Douglas as Gordon Gekko in Wall Street and John Barrowman as Captain Jack Harkness in Torchwood.

In traditional or formal settings, it is considered a faux pas to wear both suspenders and a belt at the same time, though this has not always been the case among all classes in the past. Further, it was considered that as underwear, suspenders should never be seen at all. As was usual before the War, the waistcoat, or for coolness in summer a jumper or cardigan, covered up parts of clothing then considered improper to be seen, such as suspenders, and similarly jumpers and jackets kept the shirtsleeves hidden. Even before the War, however, men began removing jackets in public, and so this sensibility was eroded. It is perhaps only in Britain that some still consider it "gauche" to wear (for example) brightly coloured suspenders, or suspenders with no jacket. In general however, it is now considered acceptable on both sides of the Atlantic for suspenders to be visible, and in 2008 it was even fashionable for colourful or designer suspenders to be prominently on show.

The trousers for suspenders have buttons for attaching the tabs, either on the outside (traditionally) or on the inside of the waistband, which does not have belt loops. The trousers also have a high back in the fishtail shape, though this is not so common now; this shape has an additional adjuster strap at the back as well as the two side adjusters placed on most belt-less trousers.

Top 40 Best High-End Braces | Suspenders: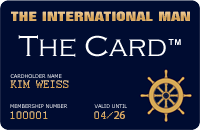 Upcoming VIP Privilege Membership Card
The International Man will in the near future be launching its own PRIVILEGE & BENEFIT VIP MEMBERSHIP CARD - named simply 'The Card'. Members will receive special privileges, benefits and preferential rates with selected partner hotels, restaurants, our LUXURY WEBSHOP, and more. Enter your name and e-mail address to receive FREE INFO about 'The Card' HERE.
RETURN TO TOP OF PAGE