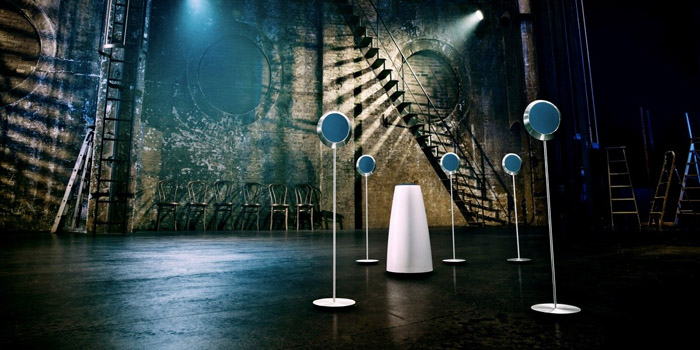 Top 100 Best High-End Audiophile HiFi Speaker Brand

A LOUDSPEAKER (or "speaker", or in the early days of radio "loud-speaker") is an electroacoustic transducer that produces sound in response to an electrical audio signal input. In other words, speakers convert electrical signals into audible signals. Non-electrical loudspeakers were developed as accessories to telephone systems, but electronic amplification by vacuum tube made loudspeakers more generally useful.

The most popular speaker used today is the dynamic speaker. The dynamic speaker operates on the same basic principle as a dynamic microphone. When an alternating current (i.e., electrical audio signal input) is applied through the voice coil that surrounds a magnet (or that is surrounded by a permanent magnet), the coil is forced back and forth due to Faraday's law, which causes the paper cone attached to the coil to respond with a back-and-forth motion that creates sound waves. Where high fidelity reproduction of sound is required, multiple loudspeakers may be used, each reproducing a part of the audible frequency range. Miniature loudspeakers are found in devices such as radio and TV receivers, and many forms of music players. Larger loudspeaker systems are used for music, sound reinforcement in theatres and concerts, and in public address systems.

A SMART SPEAKER is a stationary wireless speaker with computerized functionality that goes beyond audio playback. While utilizing of the WiFi and Bluetooth networking capability of other wireless speakers, more recent features of smart speakers include either touchscreen user interfaces for interaction with audio-dependent applications or, via an internal microphone, voice-driven user interfaces with intelligent personal assistant software, as used in the Amazon Echo and its integrated IPA Amazon Alexa.

Smart speakers became a niche consumer electronics market in the late 2010s, with Amazon Echo becoming the first major-brand smart speaker to feature a voice-driven user interface. Google announced its own smart speaker, Google Home, in May 2016.

SURROUND SOUND is a technique for enriching the sound reproduction quality of an audio source with additional audio channels from speakers that surround the listener (surround channels), providing sound from a 360° radius in the horizontal plane (2D) as opposed to "screen channels" (centre, [front] left, and [front] right) originating only from the listener's forward arc.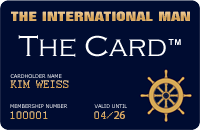 Upcoming VIP Privilege Membership Card
The International Man will in the near future be launching its own PRIVILEGE & BENEFIT VIP MEMBERSHIP CARD - named simply 'The Card'. Members will receive special privileges, benefits and preferential rates with selected partner hotels, restaurants, our LUXURY WEBSHOP, and more. Enter your name and e-mail address to receive FREE INFO about 'The Card' HERE.
RETURN TO TOP OF PAGE