National Anthems, National Hymns and National Songs

A NATIONAL ANTHEM (also national hymn, national song etc.) is a generally patriotic musical composition that evokes and eulogizes the history, traditions and struggles of its people, recognized either by a nation's government as the official national song, or by convention through use by the people. The majority of national anthems are either marches or hymns in style. The countries of Latin America tend towards more operatic pieces, while a handful of countries use a simple fanfare.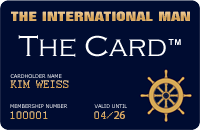 Upcoming VIP Privilege Membership Card
The International Man will in the near future be launching its own PRIVILEGE & BENEFIT VIP MEMBERSHIP CARD - named simply 'The Card'. Members will receive special privileges, benefits and preferential rates with selected partner hotels, restaurants, our LUXURY WEBSHOP, and more. Enter your name and e-mail address to receive FREE INFO about 'The Card' HERE.
RETURN TO TOP OF PAGE