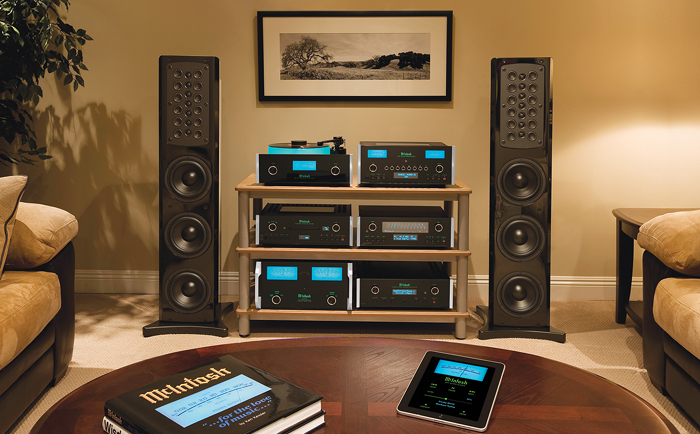 World's Top 100 Best High-End Audio and HiFi Brands

HIGH FIDLITY - or hi-fi or hifi - reproduction is a term used by home stereo listeners and home audio enthusiasts (audiophiles) to refer to high-quality reproduction of sound to distinguish it from the poorer quality sound produced by inexpensive audio equipment, or the inferior quality of sound reproduction characteristic of recordings made until the late 1940s. Ideally, high-fidelity equipment has minimal amounts of noise and distortion and an accurate frequency response.

High-resolution audio, also known as High-definition audio or HD audio, is a marketing term used by some recorded-music retailers and high-fidelity sound reproduction equipment vendors. There is no standard definition for what constitutes high-resolution audio, but it is generally used to describe audio signals with bandwidth and/or dynamic range greater than that of Compact Disc Digital Audio (CD-DA). This includes pulse-code modulation (PCM) encoded audio with sampling rates greater than 44100 Hz and with bit-depths greater than 16, or their equivalents using other encoding techniques such as pulse-density modulation (PDM).

An AUDIO POWER AMPLIFIER (or power amp) is an electronic amplifier that strengthens low-power, inaudible electronic audio signals such as the signal from radio receiver or electric guitar pickup to a level that is strong enough for driving (or powering) loudspeakers or headphones. This includes both amplifiers used in home audio systems and instrument amplifiers like guitar amplifiers. Power amplifiers make the signal--whether it is recorded music, a live speech, singing, an electric guitar or the mixed audio of an entire band through a sound reinforcement system--audible to listeners. It is the final electronic stage in a typical audio playback chain before the signal is sent to the loudspeakers and speaker enclosures.

An INTEGRATED AMPLIFIER (pre/main amp) is an electronic device containing an audio preamplifier and power amplifier in one unit, as opposed to separating the two. Most modern audio amplifiers are integrated and have several inputs for devices such as CD players, DVD players, and auxiliary sources. Integrated amplifiers commonly had dedicated inputs for turntables, AM/FM tuner, and tape recorders (cassette or reel-to-reel) back when those devices were more common. Except for the turntable, all of the inputs are line level, thus they are interchangeable. The turntable also uses RIAA equalization.

A PREAMPLIFIER (preamp) is an electronic amplifier that converts a weak electrical signal into an output signal strong enough to be noise tolerant and strong enough for further processing. Without this, the final signal would be noisy or distorted. They are typically used to amplify signals from analog sensors. Because of this, the preamplifier is often placed close to the sensor to reduce the effects of noise and interference.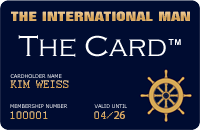 Upcoming VIP Privilege Membership Card
The International Man will in the near future be launching its own PRIVILEGE & BENEFIT VIP MEMBERSHIP CARD - named simply 'The Card'. Members will receive special privileges, benefits and preferential rates with selected partner hotels, restaurants, our LUXURY WEBSHOP, and more. Enter your name and e-mail address to receive FREE INFO about 'The Card' HERE.
RETURN TO TOP OF PAGE