Top 60 Offshore Company Formation Service Providers

Offshore outsourcing is the practice of hiring an external organization to perform some business functions ("Outsourcing") in a country other than the one where the products or services are actually developed or manufactured ("Offshore"). It can be contrasted with offshoring, in which a company moves itself entirely to another country, or where functions are performed in a foreign country by a foreign subsidiary.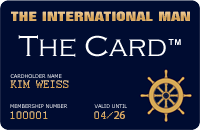 Upcoming VIP Privilege Membership Card
The International Man will in the near future be launching its own PRIVILEGE & BENEFIT VIP MEMBERSHIP CARD - named simply 'The Card'. Members will receive special privileges, benefits and preferential rates with selected partner hotels, restaurants, our LUXURY WEBSHOP, and more. Enter your name and e-mail address to receive FREE INFO about 'The Card' HERE.
RETURN TO TOP OF PAGE