8000+ Best High-End Accessories and Luxury Brands

"Before you leave the house, look in the mirror and remove one accessory." - Coco Chanel.

"If you buy the best of things, normally they're free at the end of the day." - Laurence Leamer.

"Accessories are like vitamins to fashion - as such, you should use them liberally." - Author unknown.

"A gentleman distinguishes himself with his sophisticated taste and style. Accessories offer an extra touch that sets you apart from the rest." - Sean Johnson, Specialist.

FASHION ACCESSORIES are decorative items that supplement one's garment, such as jewelry, gloves, handbags, hats, belts, scarves, watches, sunglasses, pins, stockings, bow tie, leg warmer, leggings, necktie, suspenders, and tights.

Accessories add color, style and class to an outfit, and create a certain look, but they may also have practical functions. Handbags are for carrying, hats protect the face from weather elements, and gloves keep the hands warm.

It wasn't until the 1950's with both world wars behind the western world did fashion accessories come into the limelight again. With accessories such as fruit corsages to adorn one's sweater or hat women began to accessorize again. The 1950's also saw the beginning of eyewear being used as fashion accessories with the exaggerated wing tip glasses coming to mind. The 1950's also saw the rise of the stiletto.

Many accessories are produced by clothing design companies. However, there has been an increase in individuals creating their own brand name by designing and making their own label of accessories.

DESIGNER LABELS on accessories are perceived as an indicator of social status.

In economics, a LUXURY GOOD is a good for which demand increases more than proportionally as income rises, and is a contrast to a "necessity good", for which demand is not related to income.

Luxury goods are said to have high income elasticity of demand: as people become wealthier, they will buy more and more of the luxury good. This also means, however, that should there be a decline in income its demand will drop. Income elasticity of demand is not constant with respect to income, and may change sign at different levels of income. That is to say, a luxury good may become a normal good or even an inferior good at different income levels, e.g. a wealthy person stops buying increasing numbers of luxury cars for his automobile collection to start collecting airplanes (at such an income level, the luxury car would become an inferior good).

10 posh items that have been adopted by the proletariat - The Telegraph.
15 Most Essential Accessories For Men - He Spoke Style | YouTube 9:51.
$100 Shirt vs $1000 Shirt Comparison | Kirby Allison - "Whats the difference between a $100 Carolina Herrera shirt off the rack, and a $1000 bespoke Charvet shirt made in Paris? Kirby Allison goes through all the details that separate shirts at these different price points, and gives you tips on how to look out for quality and craftsmanship, no." YouTube 30:58.
175 Very TOWN&COUNTRY People, Places & Things - "In honor of our 175th anniversary."
A history of Gucci in 10 bags - "As Gucci celebrates the opening of Vault, an experimental online space for vintage pieces from their first century, Christie's specialist Rachel Koffsky chronicles the designs and craftsmanship that built the brand."
ACCESSORIES COUNCIL - the mission of the Accessories Council is to stimulate consumer awareness and demand for fashion accessory products, and to serve as the advocate of the $30 billion accessory business in the United States.
ACE AWARDS - the ACE Awards was created in 1996 to pay homage to those individuals and groups that have made great strides in raising the awareness of the accessories industry.
Bernard Arnault Becomes World's Richest Person As LVMH Stock Rises - "French fashion tycoon Bernard Arnault is the world's richest person this Monday morning, with an estimated net worth of $186.3 billion - putting him $300 million above Jeff Bezos, who is worth $186 billion, and Elon Musk, worth $147.3 billion."
Can Bags Be Powerful? - "Especially in pop-movie culture, the concept of a 'Power Bag' belonging to the 'Boss Lady' seems particularly relevant, with the trusty carryalls of glamorous CEOs serving as perfect outfit inspirations to masses of devoted onlookers."
Fashionphile - since 1999. "Buy, Sell & Consign Authentic Used Designer Handbags." BUY, SELL and CONSIGN used designer handbags and other accessories online with FASHIONPHILE Buy Online. On the surface, FASHIONPHILE is about making pre-owned, ultra-luxury goods accessible. Rare pieces? We have them. Your favorite wishlist item for a steal? We've got that, too. We're about guaranteed-authentic Holy Grail products in great condition, and quick buy-outs on pieces you're ready to sell. But then, FASHIONPHILE is also so much more.
From HermÈs Bags to Rolex Watches, Here Are the Luxury Goods With the Best Resale Values - "It's every collector's dream to acquire pieces guaranteed to appreciate over time - and Rebag wants to help make it a reality."
Giffen good - in economics and consumer theory, a Giffen Good is a product that people consume more of as the price rises and vice versa - violating the basic law of demand in micro economics.
He Spoke Style - since 2013. "Honest, approachable, and relatable men's style inspiration and advice. That's what He Spoke Style is, but this is why we do it: When you dress well, you feel good. It's empowering. And when you feel good about yourself, you can accomplish anything." YouTube.
How HermÈs conquered the luxury industry - "Hermès eschews trends and embraces old-fashioned craftsmanship - and has seen its revenue climb."
how to prevent mildew on clothes & accessories in high humidity - "From mould-resistant fabrics to proper storage, there are plenty of ways to prevent mildew, but all is not lost if the rot has already set in."
Inside the secretive world of luxury authentication - "Luxury resale platforms and brands are improving their authentication processes in response to more sophisticated counterfeits."
King Louis - "How the world's best-known luxury label went from humble birth to brand royalty."
Louis Vuitton is Saying Goodbye to its Iconic Brown Packaging - "It's the end of an era."
LOUIS VUITTON PERSONALISATION SERVICES - special orders: custom made, made to order & product personalisation: painting, hot stamping & monograms.
Louis Vuitton Raises Prices Worldwide Due To Increased Costs & Inflation - "'The price adjustment takes into account changes in production costs, raw materials, transportation as well as inflation,' Louis Vuitton said in a statement to Reuters."
LOUIS VUITTON REVEALS A NEW RANGE OF PACKAGING - Louis Vuitton.
Louis Vuitton: The Secret (and not so secret) Places - Louis Vuitton Malletier, 18 Rue Louis Vuitton, 92600 Asnières-sur-Seine, France. It was here that Louis Vuitton set up his workshop in 1859. Until 1977, the Asnières workshop was actually the sole Louis Vuitton production facility in the world.
Louis Vuitton Unites With LEGO To Build a Birthday Cake Celebrating House Founder - "Louis Vuitton has united with LEGO to celebrate the 200th birthday of the renowned luxury house's founder, Louis Vuitton. The unique birthday cake creation was made using 31,700 bricks in an array of colors with specific customizations from a group of children using LEGO DOTS. Highlights of the cake include Vuitton's face made from white, black, lavender and pink LEGO bricks and DOTS, in addition to Vuitton's first name and several three-dimensional flowers. The cake is enclosed in a specially designed Louis Vuitton trunk with a cobalt blue-lined interior and drawers to store the thousands of LEGO pieces."
Louis Vuitton's new Monogram camping tent - "Go Glamping With The Louis Vuitton Tent & Backpack Trunk, Even If Its In Your Backyard."
luxury authenticators who keep fakes out of buyers' hands - "Despite new AI-powered technology, catching counterfeits in the second-hand market remains in the hands of a few skilled professionals."
Luxury brand HermÈs plans new factories as handbag demand soars - "Hermès, the French luxury goods maker, is opening three new factories as it struggles to keep up with demand for its £5,000-plus Birkin and Kelly handbags. French fashion house to open factories in Louviers, Sormonne and Riom as bags become must-haves."
Luxury Brands Are Taking Over the Street Art Scene - "Gucci, Louboutin and Fendi are hiring graffiti artists in a bid to fit in with street culture??? - and score points on social media."
Luxury Investments Around the World Compared - infographic - "Do you enjoy the finer things in life? For many of the world's wealthy individuals, acquiring luxury goods such as art, fine wine, and watches is a passion. Unlike traditional investments in financial assets, luxury goods can be difficult to value if one does not have an appreciation for their form. A rare painting, for example, does not generate cash flows, meaning its value is truly in the eye of the beholder. To gain some insight into the market for luxury goods, this infographic takes data from Knight Frank's 2021 Wealth Report to compare the preferences of nine global regions."
Luxury watch shortage drives growth of $20 billion secondhand market as start-ups rush to cash in - "A rush of companies are vying to become the eBay of high-end horology - including the storied online marketplace itself. Demand for high-end watches exploded during the Covid-19 pandemic. But the Big Four watch brands - Rolex, Patek Philippe, Audemars Piguet and Richard Mille - are holding firm on the limited production runs that make their timepieces so rare. The result is an online boom in the business of buying, selling and flipping pre-owned and vintage watches and a growing number of start-ups competing to become the dominant digital marketplace."
MARK CROSS objects at Metropolitan Museum of Art - "America's Original Luxury Lifestyle Brand."
Men's accessories are on the up, but do they make us less manly? - The Guardian.
MEN'S CLOTHING SIZE CONVERSIONS - suits, coats, shirts, pants, hats & shoes: European, UK, Japan & USA.
Murder In The House Of Gucci - "The call that would change everything came late in the evening of January 8, 1997. The anonymous caller asked to speak to Filippo Ninni, the head of police for the Italian region of Lombardia, and demanded a meeting. The caller did not want to say too much over the phone: 'I'm going to say just one name: Gucci.'"
Prada's $185 'paperclip' fashion's latest mundane must-have? - The Guardian.
Queen Elizabeth's Favorite Handbag Brand Launches New Retro Style in Honor of Queen's Jubilee - "No accessory is more iconic than the Queen's handbag."
Shirt collars, silk and steamy pants: a beginner's guide to perfect ironing - "Here's how the experts do it."
Spot the difference: the invincible business of counterfeit goods - "Selling cheap fakes of a successful product makes horribly good business sense. Is there any way to stop it?"
Spotern - since 2016. "Watch it & get it!" Shop every outfits and products seen on TV series, TV shows, movies and music videos worn by your favourite actors and people.
The Black Tie Guide - "A Gentleman's Guide to Evening Wear."
top 30 brands mentioned in 'Sex and the City' - The Guardian.
VERY FIRST TO - "KNOW, HAVE & DO." Enables individuals to be the first to know about, and have, newly launching luxury products and experiences.
Virgil Abloh Has a Feeling for Eco Felt at Louis Vuitton - "The accessories, and one coat, were inspired by moving blankets - and luxed up with a shimmering monogram."
Why No Other Luxury Company Compares To LVMH - "The French luxury house LVMH reached a staggering $319.4 billion (264.6 billion euros) as of February 26, 2021, surpassing Nestlé, the Swiss food giant, to become Europe's most valuable company. Most people are astonished by the size and dynamics of the luxury market. Intuitively, they assume luxury is a niche business - even people who work for luxury brands. But what many underestimate is a luxury brand's enormous value creation potential."
Why We Spend More For Luxury Watch Brands - "When consumers spend money on most luxury goods, they are, in fact, purchasing two things at once. First, they are purchasing a 'nice object' or service. That is the thing they are acquiring, and for it to be an authentic luxury, it has to be manufactured rather well, often with a refined design and using less-than-ordinary materials. But that alone doesn't make anything a luxury good. The second thing consumers are purchasing when getting a luxury good is the brand name on the good. This is a more amorphous area of value but a real one nonetheless. When you buy a brand you are in fact purchasing an association with a concept, feeling, image, or status."
Will Gucci's Digital Bag Disrupt Luxury? - "A digital version of Gucci's Dionysus Bag with Bee created for the Roblox marketplace has been sold for $4,115 - exceeding the price tag of the physical accessory IRL. The virtual bag was on sale at Gucci Garden, an experience engineered as a collaboration between Kering's jewel in the crown and the online gaming platform. Here, visitors could meet up, have their avatars try on various branded items, and make purchases."
Will Kering & HermÈs follow Louis Vuitton's lead on prices? - "When Gucci-owner Kering and Hermès report earnings this week, investors will be looking for signs that the big luxury fashion groups are confident that wealthy shoppers are willing to pay higher price tags for designer accessories."
With an empire of handbags & cognac, Bernard Arnault elbows past tech titan Jeff Bezos to top world's richest list - "French luxury mogul Bernard Arnault isn't sending anybody into outer space, but his fortunes sure are taking off."
WOMEN'S CLOTHING SIZE CONVERSIONS - dresses, suits, blouses, sweaters, bras & shoes: European, UK, Japan & USA.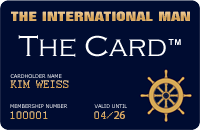 Upcoming VIP Privilege Membership Card
The International Man will in the near future be launching its own PRIVILEGE & BENEFIT VIP MEMBERSHIP CARD - named simply 'The Card'. Members will receive special privileges, benefits and preferential rates with selected partner hotels, restaurants, our LUXURY WEBSHOP, and more. Enter your name and e-mail address to receive FREE INFO about 'The Card' HERE.
RETURN TO TOP OF PAGE