8000+ Best High-End Accessories and Luxury Brands

"The best things in life are free. The second best are very expensive." - Coco Chanel.

"Fashion is never made by designers. Fashion is made by fashionable people." - Halston.

"Before you leave the house, look in the mirror and remove one accessory." - Coco Chanel.

"If you buy the best of things, normally they're free at the end of the day." - Laurence Leamer.

"Accessories are like vitamins to fashion - as such, you should use them liberally." - Author unknown.

"A gentleman distinguishes himself with his sophisticated taste and style. Accessories offer an extra touch that sets you apart from the rest." - Sean Johnson, Specialist.

FASHION ACCESSORIES are decorative items that supplement one's garment, such as jewelry, gloves, handbags, hats, belts, scarves, watches, sunglasses, pins, stockings, bow tie, leg warmer, leggings, necktie, suspenders, and tights.

Accessories add color, style and class to an outfit, and create a certain look, but they may also have practical functions. Handbags are for carrying, hats protect the face from weather elements, and gloves keep the hands warm.

It wasn't until the 1950's with both world wars behind the western world did fashion accessories come into the limelight again. With accessories such as fruit corsages to adorn one's sweater or hat women began to accessorize again. The 1950's also saw the beginning of eyewear being used as fashion accessories with the exaggerated wing tip glasses coming to mind. The 1950's also saw the rise of the stiletto.

Many accessories are produced by clothing design companies. However, there has been an increase in individuals creating their own brand name by designing and making their own label of accessories.

DESIGNER LABELS on accessories are perceived as an indicator of social status.

In economics, a LUXURY GOOD is a good for which demand increases more than proportionally as income rises, and is a contrast to a "necessity good", for which demand is not related to income.

Luxury goods are said to have high income elasticity of demand: as people become wealthier, they will buy more and more of the luxury good. This also means, however, that should there be a decline in income its demand will drop. Income elasticity of demand is not constant with respect to income, and may change sign at different levels of income. That is to say, a luxury good may become a normal good or even an inferior good at different income levels, e.g. a wealthy person stops buying increasing numbers of luxury cars for his automobile collection to start collecting airplanes (at such an income level, the luxury car would become an inferior good).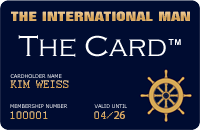 Upcoming VIP Privilege Membership Card
The International Man will in the near future be launching its own PRIVILEGE & BENEFIT VIP MEMBERSHIP CARD - named simply 'The Card'. Members will receive special privileges, benefits and preferential rates with selected partner hotels, restaurants, our LUXURY WEBSHOP, and more. Enter your name and e-mail address to receive FREE INFO about 'The Card' HERE.
RETURN TO TOP OF PAGE