Top 100 High-End Luxury Umbrella & Parasol Brands

An UMBRELLA or PARASOL (also called a brolly, rainshade, sunshade, gamp or bumbershoot) is a canopy designed to protect against rain or sunlight. The term parasol usually refers to an item designed to protect from the sun; umbrella refers to a device more suited to protect from rain. Often the difference is the material; some parasols are not waterproof. Parasols are often meant to be fixed to one point and often used with patio tables or other outdoor furniture. Umbrellas are almost exclusively hand-held portable devices; however, parasols can also be hand-held. Umbrellas can be held as fashion accessories.

Umbrellas - Pinterest.

CHECK OUT THE TOP 15 BEST BAG, BICYCLE, BRIEFCASE, KEYHOLDER, LUGGAGE, UMBRELLA & WALLET TRACKING DEVICES HERE!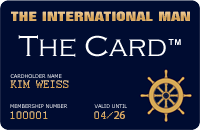 Upcoming VIP Privilege Membership Card
The International Man will in the near future be launching its own PRIVILEGE & BENEFIT VIP MEMBERSHIP CARD - named simply 'The Card'. Members will receive special privileges, benefits and preferential rates with selected partner hotels, restaurants, our LUXURY WEBSHOP, and more. Enter your name and e-mail address to receive FREE INFO about 'The Card' HERE.
RETURN TO TOP OF PAGE