Top 50 Best High-End Caviar Online Stores / Suppliers

"Fame is like caviar, you know - it's good to have caviar but not when you have it at every meal." - Marilyn Monroe.

"Some people wanted champagne and caviar when they should have had beer and hot dogs." - Dwight D. Eisenhower.

"Wit ought to be a glorious treat like caviar; never spread it about like marmalade." - Noël Coward.

CAVIAR is a delicacy consisting of salt-cured fish-eggs of the Acipenseridae family. The roe can be "fresh" (non-pasteurized) or pasteurized, with pasteurization reducing its culinary and economic value. Traditionally the term caviar refers only to roe from wild sturgeon in the Caspian and Black Sea (Beluga, Ossetra and Sevruga caviars). Depending on the country, caviar may also be used to describe the roe of other fish such as salmon, steelhead trout, trout, lumpfish, whitefish, and other species of sturgeon. Caviar is considered a delicacy and is eaten as a garnish or a spread.

The four main types of caviar are Beluga, Sterlet, Ossetra, and Sevruga. The rarest and costliest is from beluga sturgeon that swim in the Caspian Sea, which is bordered by Iran, Kazakhstan, Russia, Turkmenistan and Azerbaijan. Wild caviar production was suspended in Russia between 2008 and 2011 to allow wild stocks to replenish. Azerbaijan and Iran also allow the fishing of sturgeon off their coasts. Beluga caviar is prized for its soft, extremely large (pea-size) eggs. It can range in color from pale silver-gray to black. It is followed by the small golden sterlet caviar which is rare and was once reserved for Russian, Iranian and Austrian royalty. Next in quality is the medium-sized, gray to brownish osetra (ossetra), and the last in the quality ranking is smaller, gray sevruga caviar.

Note: Beluga caviar always comes in blue tins, Osetra in yellow tins and Sevruga caviar in red tins.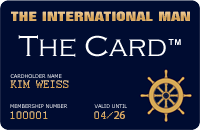 Upcoming VIP Privilege Membership Card
The International Man will in the near future be launching its own PRIVILEGE & BENEFIT VIP MEMBERSHIP CARD - named simply 'The Card'. Members will receive special privileges, benefits and preferential rates with selected partner hotels, restaurants, our LUXURY WEBSHOP, and more. Enter your name and e-mail address to receive FREE INFO about 'The Card' HERE.
RETURN TO TOP OF PAGE