Top 15 Best Domestic & Personal Robots & Assistants

A DOMESTIC ROBOT, or service robot, is an autonomous robot that is used for household chores. Thus far, there are only a few limited models, though speculators, such as Bill Gates, have suggested that they could become more common in the future. Many domestic robots are used for basic household chores. Others are educational or entertainment robots, such as the HERO line of the 1980s. While most domestic robots are simplistic, some are connected to WiFi home networks or smart environments and are autonomous to a high degree. There were an estimated 3,540,000 service robots in use in 2006, comred with an estimated 950,000 industrial robots.

A HUMANOID ROBOT is a robot with its body shape built to resemble that of the human body. A humanoid design might be for functional purposes, such as interacting with human tools and environments, for experimental purposes, such as the study of bipedal locomotion, or for other purposes. In general, humanoid robots have a torso, a head, two arms, and two legs, though some forms of humanoid robots may model only part of the body, for example, from the waist up. Some humanoid robots also have heads designed to replicate human facial features such as eyes and mouths. Androids are humanoid robots built to aesthetically resemble humans.

A PERSONAL ROBOT is one whose human interface and design make it useful for individuals. This is by contrast to industrial robots which are generally configured and operated by robotics specialists. A personal robot is one that enables an individual to automate the repetitive or menial part of home or work life making them more productive.

ROBOTICS is the branch of mechanical engineering, electrical engineering and computer science that deals with the design, construction, operation, and application of robots, as well as computer systems for their control, sensory feedback, and information processing.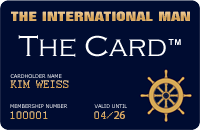 Upcoming VIP Privilege Membership Card
The International Man will in the near future be launching its own PRIVILEGE & BENEFIT VIP MEMBERSHIP CARD - named simply 'The Card'. Members will receive special privileges, benefits and preferential rates with selected partner hotels, restaurants, our LUXURY WEBSHOP, and more. Enter your name and e-mail address to receive FREE INFO about 'The Card' HERE.
RETURN TO TOP OF PAGE